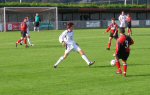 Mike Foster yn pasio i Gareth Parry.
Mike Foster passes to Gareth Parry.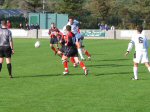 Mark Williams yn ymladd am y bel.
Mark Williams fights for the ball.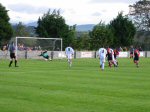 Dafydd Evans yn sgorio o'r smotyn.
Dafydd Evans scores from the penalty-spot.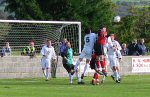 Brwydyr am y bel yn y cwrt cosbi.
A battle for the ball in the penalty box.
Cliciwch ar y lluniau uchod am luniau llawn.
Click on the above pictures for full pictures.