Nos Fercher fydd Port yn teithio i Benrhyncoch gyda phwynt I'w brofi wedi'r siomedigaethau diweddar a 'run fwy na cholli yng Nghwpan Huws Gray, canlyniad sy'n golygu colli tair yn olynnol a'r tair heb sgorio gôl. O ystyried mor rheolaidd bu'r blaenwyr yn canfod y rhwyd mae'n sefyllfa anodd i'w ddeall. Mae yna bedair gêm yn weddill i orffen y tymor ar nodyn uchel.
Lle digon anodd i gael canlyniad ydy Cae Baker, a bellach mae'r clwb o Geredigion ar rhediad da, heb golli yn eu chwe gêm ddiwethaf. Y Sadwrn diwethaf sicrhawyd tri phwynt arall gyda buddugoliaeth dros Rhuthun. Erbyn hyn maent yn 11eg yn y tabl gyda 30 pwynt.
Bydd Port yn ceisio ail ddarganfod y math o chwarae a welwyd yn erbyn Cegidfa, perfformiad gorau'rtymor, yn ennill er chwarae efo 10 dyn am hanner y gêm. Roedd y fuddugoliaeth honno yn rhan o rhediad o dair fuddugoliaeth yn olynnol gyda Sion Bradley yn sgorio 6 gôl. Bu'r garfan yn wannach yn diweddar drwy anafiadau a nifer o chwaraewyr hefyd yn chwarae ymlaen efo'u hanaf. Er waethaf y problemau, gobeithio cawn weld y tîm yn ôl ar ei orau nos Fercher. C'mon Port!

On Wednesday evening Port travel to Penrhyncoch with a point to prove after recent disappointments, none more then their dismissal from the Huws Gray Cup, a result which makes it three consecutive defeats and three games without scoring. Given the regularity with which the strikers have been finding the net this goal famine is difficult to explain away. The team now have four games remaining where they can end the season on a high.
Cae Baker is never an easy place to go and the home club are in a good run of form, undefeated in their last six games. On Saturday they gained another good 3 points away at Ruthin Town. This win lifts them into 11th place with 30 points.
Port must now look to the kind of form they showed at Guilsfield where they gave one of the best performances of the season, winning despite being down to 10 men for half the game. That win was part of a run of three straight wins with Sion Bradley bagging six goals. The squad has been depleted recently by injuries and several have been playing on despite carrying injuries. Despite the problems let's hope for return to form on Wednesday. C'mon Port!
---

Coronwyd tymor arbennig y Tîm Dan 18 wrth iddynt sicrhau teitl Cynghrair Dyffryn Clwyd a Chonwy gyda buddugoliaeth dros Cyffordd Llandudno heddiw. Gyda un gêm gynghrair yn weddill ni fydd Llanberis eu gwrthwynebwyr agosaf yn medru eu dal.
Cadwodd Port eu record diguro gyda buddugoliaeth o 7-0. Cawsant gychwyn ardderchog gyda Carl O'Hara yn rhwydo wedi 7 munud. Daeth dwy gôl mewn dau funud i'w gwneud yn 3-0 -gôl i rhwyd eu hunain a tap o ychydig lathenni gan Elis Thomas. Roedd yn dal yn 3-0 ar hanner-amser. Ar ôl 10 munud o'r ail hanner mellten o beniad gan Sol Kempster yn rhoi Port ar y blaen o 4-0. Ar ôl 72 munud, sgoriodd Reece Evans efo ergyd o ymyl y bocs i'w gwneud yn 5-0. Daeth dwy gôl hwyr, gôl gan Rhys Hughes ac un Cai Henshaw, y gôl hon wedi'i chreu gan Rhys a Siôn Roberts.
Cyn ddiwedd y tymor bydd gan yr hogiau gyfle i ennill dau dlws arall wrth chwarae mewn dwy ffeinal.
Sul 29 Ebrill: Ffeinal Cwpan y Gynghrair – Port v Llanberis, Parc Meurig, Bethesda, 1.30pm
Sul 6 Mai: Ffeinal Cwpan Ieuenctid yr Arfordir – Port v Bae Penrhyn. Parc Meurig, Bethesda.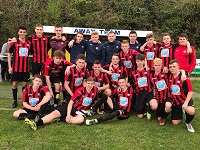 The U18s crowned what has been a remarkable season by clinching the Vale of Clwyd and Conwy League with a win this afternoon at Llandudno Junction. This means, with just one league game remaining, they cannot be caught by their nearest rivals Llanberis.
They maintained their unbeaten record with a convincing 7-0 victory. They got away to a good start with Carl O'Hara netting after just 7 minutes. Two goals in two minutes extended the Port lead with an own goal followed by an Elis Thomas tap in. The score remained 3-0 at the interval. 10 minutes into the second period a Sol Kempster bullet header made it 4-0. It became 5-0 after 72 minutes when Reece Evans fired in from the edge of the box. Two late goals completed the scoring, a Rhys Hughes tap in followed by an assist from the same player with Cai Henshaw netting.
Port, having already qualified for two Cup Finals, will therefore have the opportunity to collect further silverware before the season is out.
Sunday 29th April League Cup Final Port v Llanberis.Parc Meurig, Bethesda. 1.30pm
Sunday May 6th NWCFA Youth Cup Port v Penrhyn Bay. Parc Meurig, Bethesda.
---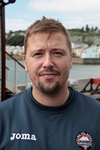 Yn dilyn siom y canlyniad neithiwr mae'r rheolwr, Craig Papirnyk, wedi rhyddhau yr asesiad canlynol o sefyllfa'r clwb. Bydd nifer fawr o'n cefnogwyr ffyddlon yn medru uniaethu â sylwadau Craig, y siomedig a'r gobeithiol fel eu gilydd. Byddant hefyd yn gwerthfawrogi ei onestrwydd arferol.

Following the very disappointing result last night manager Craig Papirnyk has released a statement assessing the current situation of the club. Most faithfull fans will identify with both the disappointments and the optimism while also appreciating the usual honesty and integrity.

"I'm still distraught by last nights result and it'll stay with me now for a long long time !! "It's been an extremely frustrating season once again and we've let the club , it's supporters and ourselves down once more.
"We are rightly subject to criticism as our league position and cup exits do not lie , it has been a bitterly disappointing season for us !!
"Looking forward however we cannot forget the progressions the club is making and everyday new developments are happening by those hard working volunteers to ensure that this club continues to grow.
"On the pitch we have a very talented young squad , most performances this season have been very good and they've proven that they can get to the levels required to be a top side in the division, consistency is key and we have had some tough lessons this season, it is down to the players to learn from these experiences and as a manager it is down to me to ensure they do and if they don't then as harsh as football is we move on and search for players that are willing to learn and grow with this club, there are no passengers in football! "This summer will be a busy period for us, we will be looking to strengthen like I believe we have every season and thankfully we have run on into May so the break between the end and start will be a lot shorter than normal which will mean we are more focused going into pre-season.
"Plans are in place to keep pushing on / off the pitch , I am here to bring success that is rightly deserved to this club and it's supporters and I'll continue to give everything to make that happen.
"I cannot put in words my disappointment in under achieving again this season but on the whole this club is in a good place and we have the platform to continue to build and ensure that the progress and success is met going forward.
"It's been a very bad couple of weeks , and it is easy to look at all the negatives at stages like this but I'll always take positives and for me we are moving in the right direction.
"I'd like to thank the supporters for continuing to get behind the club , we are moving in the right direction but Rome wasn't built in a day."
COME ON PORT !

Paps
---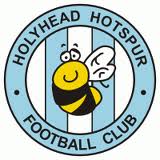 Noddwyr/Match Sponsor: TOYOTA HARLECH
Nos Fercher ar Y Traeth, bydd Port a Chaergybi yn chwarae Rownd 8-olaf Cwpan Huws Gray. Bydd yr enillydd yn sicrhau lle yn y rownd cynderfynol a gêm gartref yn erbyn Y Fflint.
Bydd Port a Chaergybi yn edrych am welliant buan ar ôl i'r ddau golli eu gemau cynghrair pnawn Sadwrn, Port yn colli yn y Fflint ac yn methu sgorio am yr ail gêm yn olynol. Collodd Caergybi yn erbyn Rhuthun gan estyn eu rhediad gwael yn colli eu 8fed gêm gynghrair yn olynol. Ond yn ystod l y rhediad gwael hwn llwyddodd y clwb o Ynys Môn i guro Cegfidfa a'u rhoi allan o'r Gwpan er iddynt orfod chwarae efo 10 dyn am 80 munud wedi'i Dean Garney weld y coch. Felly gallwn ddisgwyl gwrthwynebwyr penderfynol iawn at Y Traeth nos Fercher.
Mae'r gystadleuaeth hon yn cynnig y cyfle i'r ddau glwb i orffen y tymor ar nodyn uchel ac felly gallwn ddisgwyl dipyn o frwydr wrth i'r ddau wynebu eu gilydd am y 4ydd tro y tymor hwn. Bydd Port yn edrych i ail danio'r pêl-droed cyffrous sydd wedi arwain at gymaint o goliau gwych yn ystod y tymor ond sydd wedi diflannu yn ystod y ddwy gêm ddiwethaf, C'mon Port!

On Wednesday evening, at the Traeth, Port and Holyhead will play the Quarter Final round of the Huws Gray Cup. A place in the semi-final is at stake and that game will be played on Saturday with Wednesday night's winners at home.
Both clubs will be looking for a quick turn around in form after suffering league defeats on Saturday. Port went down at Flint after failing to score for the second successive game. Holyhead went down at Ruthin by the odd goal in three and they are on a horrendous league run of 8 straight defeats. But in the midst of this poor run they put an in form Guilsfield out of the competition and that despite being down to 10 men with Dean Garney being sent off after just 10 minutes. Clearly we can expect a determined Holyhead at the Traeth on Wednesday.
The competition gives both clubs the opportunity for an exciting end to the season and we can expect quite a battle as the two clubs face each other for the 4th time this season. Port will be looking to reignite the free scoring form that has deserted them in the last two fixtures. C'mon Port!
---

Cafodd yr hogiau Dan 18 fuddugoliaeth bwysig o 5-4 mewn gêm gynghrair agos iawn ar Y Traeth yn erbyn Bae Penrhyn.M ae'r fuddugoliaeth yn eu cadw ar frig Cynghrair Dyffryn Clwyd. Cafodd Port y cychwyn gorau posib gyda Cai Henshaw yn eu rhoi ar y blaen ar ôl dim ond 2 funud on tarodd y Bae yn ôl yn syth i ddod â'r sgôr yn gyfartal. Ar ôl 12 munud Cai Henshaw gyda'i ail gôl yn rhoi Port yn ôl ar y blaen. Ond unwaith eto tarodd Y Bae yn ôl ar ôl 20 munud i'w gweneud yn 2-2. Gôl yr un wedyn cyn diwedd yr hanner cyntaf gyda Sion Roberts yn sgorio i Port ond Penrhyn yn ei gwneud yn gyfartal 3-3.
Arhosodd yn 3-3 tan 73 munud pan aeth Port ar y blaen gyda Ifan Jones yn creu i Reece Evans sgorio. Ond dal i sgorio bob yn ail oedd yr hanes gyda Bae Penrhyn yn ei gwneud yn gyfartal yn dilyn cic gosb beryg i fewn i'r bocs. O'r diwedd sicrhaodd Port y fuddugoliaeth gyda gôl 2 funud o'r diwedd. Pêl wych gan Cai Henshaw dros yr amddiffyn i lwybr Sion Roberts a Sion yn rhwyod ar yr hanner foli. Port 5-4 Bae Penrhyn.

The U18s edged an important 5-4 victory in today's Vale of Clwyd league fixture in a high scoring game which keeps Port at the top of the table.They got off to a flying start with Cai Henshaw netting after just 2 minutes. Two minutes later Penrhyn Bay levelled the scores. Cai Henshaw found the net again after 12 minutes but once again the Bay responded to level things after 20 minutes. Two more goals before the interval with Sion Roberts netting for Port but the Bay levelled it at 3-3.
The scores reamianed at 3-3 until the 73rd minute when a good Ifan Jones assist allowed Reece Evans in to make it 4-3. But the tit for tat scoring continued as Penrhyn made it 4-4 following a free kick into the Port box. The result was in doubt to the end but, in the 88th minute, Port finally netted a winner. A great a ball from Cai Henshaw from the edge of the box over the Penrhyn Bay defenders into Sion Roberts' path, Roberts hits it on the half volley into the net. Port 5-4 Penrhyn Bay.
---

Cafodd Ffeinal Cwpan Cookson ei gynnal ar y Traeth nos Fercher 11 Ebrill rhwng Conwy a'r Bermo. Roedd yn noson llwyddianus a denwyd torf dda iawn i'r Traeth. Conwy wnaeth godi'r gwpan ar ddiwedd y 90 munud yn ennill o 3-0. Llongyfarchiadau a phop dymuniad da i'r ddau glwb.

This season's Cookson Cup was successfully hosted by Porthmadog FC on Wednesday, 11 April. An excellent crowd saw Conwy Borough lift the trophy beating Barmouth and Dyffryn by 3-0. Congratulations and well done to both clubs and best wishes for the future.
---

Hoffai'r clwb egluro i'r cefnogwyr y rhesymau i ni dynnu yn ôl ein cais am Drwydded Haen 1 CBDC. Mae nifer o elfennau sy'n ffurfio'r cais ar gyfer y drwydded Haen 1. Mae rhai sy'n hawdd eu bodloni, megis cwblhau'r dogfennau perthnasol ac mae eraill yn gofyn am fuddsoddiad ariannol gan y clwb, e.e. archwiliad o gyfrifon ariannol y clwb. Er fod cymorth ariannol gan CBDC am rannau o'r meini prawf nid yw'n cynnwys yr holl gostau. Gyda hyn mewn golwg, penderfynodd y clwb flaenoriaethu ariannu prosiectau eraill. Rydyn ni i gyd yn ymwybodol o'r problemau parhaus gyda'r cae ac efallai y bydd angen gwaith sylweddol dros fisoedd yr haf. Mae gennym hefyd gynlluniau i wella'r prif eisteddle ac ystafelloedd newid yr ymwelwyr a'r dyfarnwyr maes o law. Rydym hefyd yn ymwybodol y gallai fod angen uwchraddio'r system llifoleuadau i gyrraedd yr gofynion angenrheidiol ac rydym yn ymchwilio i'r ffordd orau i gyflawni hyn.
Rydym wedi tynnu'n ôl o'r broses oherwydd ein bwriad i barhau â datblygiad y clwb a sicrhau bod cyllid yn cael ei ddefnyddio yn y y ffordd orau bosibl. O ystyried y camau a wnaed yn ystod y blynyddoedd diwethaf ar y cae ac oddi arno, mae'n amlwg ein bod yn glwb uchelgeisiol ac rydym wedi ymrwymo i broses Trwyddedu Haen 1 CBDC ac rydym yn hyderus ar yr adeg iawn y byddwn yn llwyddo i gael Drwydded.

The club would like to clarify the reasoning behind our withdrawal for the FAW Tier 1 Licence application to the supporters. There are a number of elements that make up the application for the Tier 1 licence. Some are easy to meet, such as completing relevant documentation and others require financial investment by the club, such as having the club's financial accounts audited. While there is financial support from the FAW for parts of the criteria is does not necessarily cover all costs. With this in mind, the club decided to prioritise funding other projects. We are all aware of the ongoing issues with the pitch and that may require substantial work over the summer months and we also have plans to improve the main stand and both the away and referee changing rooms in due course. We are also aware that the floodlight system may need upgrading to reach the required illumination and are making enquiries as how best to achieve this.
The club's withdrawal from the process is testament to the ongoing development of the club and ensuring finances are used in the best possible way. Given the strides made in recent years both on and off the pitch it is clear that we are an ambitious club and we are committed to the FAW Tier 1 Licensing process and are confident at the right time that we will be successful in obtaining the Tier 1 Licence.
---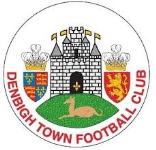 Os bydd y tywydd yn caniatau fe fydd Port yn teithio i Ddinbych nos Fercher (11 Ebrill) nesaf i chwarae gêm gynghrair. Mae Dinbych yn cael tymor da ac ar hyn o bryd yn y 5ed safle gyda 5 pwynt yn fwy na Port. Fel Port, mae Dinbych ar rediad da ond wedi colli unwaith yn eu 6 gêm ddiwethaf ac yn y Fflint ddaeth y golled honno.
Yn y gêm rhwng y ddau glwb ar Y Traeth, 4-3 i Ddinbych oedd y sgôr terfynol wrth i Ddinbych rhwydo ddwywaith mewn 3 munud yn gynnar yn yr ail hanner, a felly troi'r gêm a sicrhau'r fuddugoliaeth. Cyn flaenwr Port, Josh Davies, sgoriodd ddwy o goliau'r ymwelwyr ond erbyn hyn mae prif sgoriwr Dinbych wedi symud i Seland Newydd.
I'r ddau glwb bydd cael y cyfle i chwarae'r gêm yn rhyddhad, wrth i'r rhestr gemau fynd yn fwyfwy ar ei hol hi. Ond, yn fwy fyth, fydd y ddau a'u llygaid ar gymryd mantais o'u gemau wrth gefn er mwyn cau'r bwlch ar dîmau fel Airbus, Y Rhyl a Chegidfa sydd yn uwch yn y tabl. C'mon Port!!

Weather permitting, on Wednesday (11 April), Port will travel to Denbigh for the re-arranged league fixture. Denbigh are having a good season and currently lie in 5th spot with 5pts more than Port. Like Port they are on a good run of form losing just once in the last 6 games. That defeat came at Flint.
In the corresponding game at the Traeth, a two-goal burst 10 minutes into the second period turned the game in Denbigh's favour and they ran out 4-3 winners. Former Port striker Josh Davies scored twice that day but their leading scorer has now left the club to play in New Zealand.
For both clubs just to play a game will be a relief, as the fixture list becomes increasingly congested but, even more so, both clubs will be looking to take advantage of games in hand to close the gap on Airbus, Rhyl and Guilsfield, who are above them in the table. C'mon Port!!
---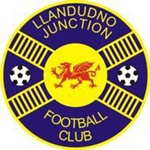 Roedd yn bwrw goliau heddiw ar Y Traeth, gyda Rhys Hughes yn rhwydo pedair gwaith, wrth i dîm Dan 18 Sion Eifion gyrraedd Ffeinal Cwpan Ieuenctid Arfordir y Gogledd gyda buddugoliaeth o 8=1 dros Cyffordd Llandudno.
Dechreuodd yr hogiau ar dân gyda Rhys Hughes yn manteisio ar gamgymeriad amddiffynol i rhoi Port ar y blaen yn y munud cyntaf. Dal ati gwnaeth y tîm ac, erbyn i 10 munud fynd heibio, roeddent 3-0 ar y blaen wrth i Cai Henshaw sgorio a wedyn Siôn Roberts yn taro ergyd i gornel ucha'r rhwyd. Ychwanegodd Port dair gôl arall cyn yr hanner, gyda Aled Williams yn rhwydo'r 4ydd ar ôl 28 munud a Rhys Huhes yn ychwanegu dwy arall i gwblhau ei hat-ric hanner cyntaf. Ar yr hanner roedd yn 6-0.
Ni ddaeth fwy o goliau tan i 75 munud fynd heibio, pan dynnodd Cyffordd un yn ôl gyda cic rhydd dda iawn. Sbardunodd hyn ymateb, a munud yn ddiweddarach rhwydodd Cai Henshaw ei ail gyda ergyd wych o tu allan y bocs. Daeth y gôl olaf yn y munud olaf a Rhys Hughes oedd y sgoriwr yn manteisio ar bêl dda gan Rhys Gough.
Ardderchog hogiau yn ennill lle yn eu hail ffeinal o'r tymor.

It rained goals at the Traeth today, with Rhys Hughes netting four times, as Sion Eifion's U18s reached the Final of the NWCFA Youth Cup with an 8-1 victory over Llandudno Junction.
They got off to the best possible start with Rhys Hughes capitalising on a defensive error to put Port ahead in the 1st minute. The lads did not sit back and by the 10th minute they were 3-0 up with further goals from Cai Henshaw and a top corner finish from Sion Roberts. They did not let up after such a rousing start, the 4th goal came from Aled Williams on 28 minutes with a shot from outside the box. Two further goals from Rhys Hughes completed a first half hat-trick and made the score 6-0 at half-time.
There were no further goals until the 75th minute when Junction pulled a goal back with an excellent free kick finding the net. But Port ended a quiet spell by striking back immediately with Cai Henshaw netting his second with a great drive from outside the box making it 7-1. The final Port goal came in the last minute when Rhys Hughes netted his 4th of the afternoon, taking advantage of a Rhys Gough cut-back.
Well done to the U18s on securing their second final place.
---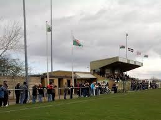 Bydd Port yn teithio i'r Fflint y Sadwrn nesaf 14 Ebrill. Ymgais arall i chwarae'r gêm sydd wedi'i gohirio ddwywaith.

The twice postponed away fixture at Flint has now been re-arranged for next Saturday 14 April.





---

Mae ysgrifennydd y gynghrair, Chas Rowlands, wedi symud yn sydyn I ad-refnu gemau yn dilyn chwalfa arall y penwythnos ddiwethaf.
Dyma nhw:
Sadwrn 14 Ebrill: Fflint (Oddi cartref)
Nos Fercher 18 Ebrill Caergybi (Cartref) (Cwpan HG) 7.30pm
Nos Fercher 25 Ebrill Penrhyncoch (Oddi-cartref) 7.45pm
Saturday 28 April FC Queen's Park (Oddi cartref)
Llun 7 Mai Fflint (Cartref) 2.30pm
Sadwrn 12 Mai Treffynnon (Cartref)

League Secretary Chas Rowlands has moved swiftly to revise the fixture list after another weekend of postponements.
Here are the revised games:
Saturday 14 April Flint (Away)
Wednesday 18 April Holyhead (Home) (Huws Gray Cup) 7.30pm
Wednesday 25 April Penrhyncoch (Away) 7.45pm
Sadwrn 28 Ebrill FC Queen's Park (Away)
Monday 7 May Flint (Home) 2.30pm
Saturday 12 May Holywell (Home)
---

Mae'n ddydd Sadwrn ac mae'n bwrw glaw ac mae'r gêm yn y Fflint (Ebrill 7) wedi'I GOHIRIO eto fyth oherwydd cyflwr y cae.
Mae 7 o'n 10 gêm ddiwethaf wedi'u gohirio. Pêl-droed Haf????

When Saturday comes it RAINS and our game at Flint (April 7) is OFF again. Waterlogged pitch.
7 of our last 10 fixtures have been postponed. Anyone for Summer football???
---

Gêm fawr i dîm Dan 18 llwyddianus Siôn Eifion pnawn Sul. â chyfle i fynd i Ffeinal Cwpan Iecuentid y Gogledd. Eu gwrthwynebwyr fydd Cyffordd Llandudno ar y Traeth a bydd y gic gyntaf am 1.30pm
Pob lwc i'r hogiau. Dewch i gefnogi pnawn Sul. C'mon Port!

On Sunday Siôn Eifion's successful U18s have the opportunity of reaching the Final.of the NWCFA Youth Cup when they take on Llandudno Junction at the Traeth in the semi-final of this year's competition. The kick off will be at 1.30pm.
Best of luck lads. Come and support. C'mon Port!
---

Y Sadwrn nesaf, Ebrill 7fed, bydd Port oddi cartref yn Y Fflint.
Gyda'r gêm Gwpan rhwng Cegidfa a Chaergybi yn dal heb ei chwarae roedd gan Port a Fflint Sadwn rhydd ar Ebrill 7fed.
Bydd y gêm rhwng Cegidfa a'r Hotspyrs hefyd ar 7 Ebrill.

Next Saturday, April 7th, Port will be away at Flint.
With the tie between Guilsfield and Holyhead still not settled, it left both Port and Flint with a free date on Saturday 7 April. Let's hope for some decent weather,
The League Cup tie between the Guils and Hotspurs will also take place next Saturday
---

Cynhelir cynhebrwng Dewi Jones ar ddydd Mercher, 4ydd Ebrill am 1.00pm yn Eglwys Santt Twrog, Maentwrog.
Bydd torch o flodau yn lliwiau'r clwb yn cael ei threfnu gyda Mr. I Foulkes, Mr R Griffiths a Mr C Hague yn cynrychioli'r clwb.

Dewi Jones's funeral is on Wednesday 4th April 1.00pm at St Twrog's Church, Maentwrog.
A wreath bearing the Club's colours has been ordered and Mr I Foulkes, Mr R Griffiths and Mr C Hague will represent the club.
---

Yn Hydref 1996 cynhaliwyd cyfarfod arbennig ar Y Traeth, roedd y clwb mewn creisis gyda'r dyledion yn tyfu. Roedd y ddyled o gwmpas £20,000 ac yn tyfu yn wythnosol gyda dyfodol y clwb mewn peryg.
Yn y cyfarfod penderfynwyd reoli gwariant yn dynn. Hefyd roedd dwy eitem arall ar yr agenda a brofodd yn allweddol i achub y clwb.
Un oedd gwneud cais i gynnal Arwerthiant Bwt Car a'r llall ceisio ail gychwyn y Bingo yn y Ganolfan.
Mae un o'r cyfarwyddwyr, Clive Hague, yn cofio'r noson yn dda ond heb wybod i lle fyddai'n arwain.
"Nid oedd yn fwriad gennyf drefnu Bingo a gofynnais i'r cyfarfod am wirfoddolwyr ond daeth neb ymlaen. Yn dilyn y cyfarfod daeth dau gefnogwr oes ymlaen, Dewi Jones ac OG Jones a chynnig helpu os fyddwn yn barod i drefnu.
"Mewn 3 wythnos cynhaliwyd y Bingo cyntaf ar nos Wener gyda Dewi ac OG yn dangos y ffordd imi, ac roedd y noson yn eitha' llwyddianus ac roedd llawer o'r chwaraewyr Bingo yn hapus i weld y sesiynau yn ôl. Yn raddol tyfodd y niferoedd ac mewn misoedd trefnwyd gyda'r banc i newid y gor-ddrafft yn fenthyciad gyda'r Bingo yn talu'r £12,000 yn ôl dros nifer o flynyddoedd.
"Heblaw am Dewi ac OG ni fyddai hyn wedi bod yn bosib' ac roedd y ddau yn treulio bob un nos Wener gyda'r Bingo. Yn achos OG, cyfnod o 14 mlynedd ac i Dewi bron i 20 mlynedd, â'r ddau yn chwarae rhan holl bwysig yn sefydlogu sefyllfa ariannol y clwb.
"Rwy'n gobeithio fod ein cefnogwyr yn sylweddoli'r ddyled sydd arnynt i unigolion fel Dewi. Dim ond ei afiechyd tua dwy flynedd yn ôl a'i rhwystrodd rhag dod i'r noson Bingo. Rhoddodd ei amser blwyddyn ar ôl blwyddyn i sicrhau dyfodol ein clwb. "

It was Autumn 1996 and a Crisis Meeting was held at the Traeth to deal with Port FC's growing debt Earlier in 1996 the club was approx £20,000 in debt.. The debt was growing each week and the Club's future was at risk.
Strict spending controls were put in place. There were also two items on the agenda which proved vital to overcoming the crisis. The first to apply for planning permission to hold a car boot sale and also seek to restart Bingo at Y Ganolfan.
One of the Club's directors, Clive Hague, remembers the evening.
"Little did I know what these two items that would lead to. I hadn't any idea of organising Bingo so I appealed to the meeting for someone to take responsibility but nobody would. After the meeting I was approached by two long time supporters, Dewi Jones & O.G. Jones who told me that they would help to re-establish the Bingo if I would get it organised.
"Within 3 weeks we held the first Bingo on a Friday evening. Dewi & O. G. showed me the ropes and our first evening was a qualified success. Many of the bingo players had been missing their regular social event and were delighted it was back.
"Admission figures rapidly grew and within a few months it was arranged that the Club's bank overdraft of £12,000 would be converted to a loan and be paid over a few years by the Bingo.
"Without Dewi & O.G. this would not have been possible and they would be giving up their Friday nights for several years. Over the years, 14 years I think in O.G.'s case and almost 20 years in Dewi's they helped to play a major part in stabilising the Club's finances.
"2 years ago ill health forced Dewi to stop attending on a Friday night, but right up to his death a couple of weeks ago he was still helping with the weekly preparations.
"I hope that our supporters realise the debt that they owe to people like Dewi who, besides paying his matchday admission, give of their time and commitment year after year to ensure the well being of our illustrious Club."
---

Yn dilyn y glaw trwm bu'n rhaid GOHIRIO'R gêm yn erbyn Y Fflint ar Y Traeth heddiw.

Today's Game against Flint is OFF following the very heavy overnight rain.
---

Fel y bydd llawer ohonoch yn gwybod, buodd rhaglen ITV1 Saturday Night Takeaway yn ffilmio ar y Traeth neithiwr. Nid yn unig roedd hwn yn gyfle i bobl yr ardal ymddangos ar y rhaglen, ond roedd hefyd yn dod a cyhoeddusrwydd gwych i'r dref ac hefyd, wrth gwrs, i'r clwb gyda dros 8 miliwn o bobl yn gwylio'r rhaglen boblogaidd. Diolch yn fawr i ysgrifennydd y clwb Rob Bennet a phawb arall fu'n cynorthwyo gyda'r trefniadau. Dyma ychydig luniau o'r noson diolch i Simon Brooks.


As many of you will by now be aware, the ITV1 show Saturday Night Takeaway came to film at the Traeth last night. Not only was this a chance for locals to appear on the programme, it was also brought excellent publicity to the town and, of course the club with over 8 million people tuning in to watch the popular show. Thanks to club secretary Rob Bennet and everyone else that helped with the preparations. Here are a few photos of the evening thanks to Simon Brooks.
---

Bu'n rhaid gohirio'r gêm yn Y Fflint heddiw. Dwr yn sefyll ar y cae wedi'r glaw trwm.

Today's game at Flint has been postponed due to a waterlogged pitch.
---

Y rhifau lwcus yn TOTE mis Mawrth oedd 2 a 29. Roedd dau enillydd. J Parry, Penygroes a V Jones, Gellilydan yn rhannu'r wobr o £580.
Bydd rhaid gwneud unrhyw gais erbyn 8 y.h. nos Wener, 6ed o fis Ebrill. Bydd y rhifau ar gyfer y Tote nesaf yn cael ei dynnu nos Wener, 27ain o fis Ebrill, yn sesiwn Bingo Clwb Cymdeithasol, Clwb Pêl-Droed Porthmadog yn Y Ganolfan.
Amlenni Tote ar gael o Kaleidoscope, Y Ganolfan, Clwb Pêl-droed Porthmadog neu Dylan 07900512345.

The winning numbers in the March TOTE were 2 and 29. There were two winners, J Parry, Penygroes and V Jones, Gellilydan, who shared a prize of £580.
Any claims must be made by 8pm on Friday, 6th April. The next Tote will be drawn on Friday, 27th April at the Porthmadog FC Social Club Bingo held at Y Ganolfan.
Tote envelopes available from Kaleidoscope, Y Ganolfan, Porthmadog F C Clubhouse or Dylan 07900512345
---

Dros benwythnos Y Pasg bydd Port a Fflint yn chwarae gemau gefn wrth gefn wrth i Port ymweld â Cae y Castell pnawn Sadwrn a Fflint yn dod draw i'r Traeth ar Lun y Pasg.
Bydd Port, a nhw ar rhediad o dair buddugoliaeth yn olynol, mewn ysbryd da wrth edrych ymlaen at y gemau i ddod. Hefyd maent wedi ennill 6 o'u 7 gêm gynghrair ddiweddaraf. Bydd angen parhau â'r rhediad os ydy Port i symud fyny'r tabl o'r 7fed safle presennol.
Cymysg fu canlyniadau diweddar Y Fflint, colli adre i Gaersws wedi sicrhau buddugoliaeth dda yn curo Dinbych.Y penwythnos diwethaf cafwyd gêm gyfartal gyda Gresffordd. Gyda Niall McGuiness, cyn rheolwr Y Rhyl, bellach yn rheoli ar Gae y Castell bydd y clwb. Sydd yn un o'r mwyaf uchelgeisiol ynyr HGA, yn edrych i orffen y tymor yn gryf.
Y tymor diwethaf Fflint oedd yn fuddugol o 2-0 ar Y Traeth tra yr un sgôr gafywd yn Y Fflint ond Port yn fuddugol yno. Roedd y gêm yn Cae y Castell yn gofiadwy, nid am y canlyniad, ond fod Y Fflint wedi gorffen efo 8 chwaraewr ar y cae gyda'r dyfarnwr Aron Wyn Jones yn dangos y cerdyn coch dair gwaith. Amser tawel y tro yma os gwelwch yn dda ond fyddai yr un canlyniad yn plesio! C'mon Port!

Over the Easter weekend Port and Flint will be involved in a fixture double header, with Port visiting Cae y Castell on Saturday and Flint will return the compliment on Easter Monday with a visit to the Traeth.
Port will approach these fixtures in good heart, with a run of three straight wins which in all makes it 7 wins in the last 8 league games. Currently Port are the form team of the HGA but will need to continue with the run if they are to make a move up the table from the current 7th spot. Port also have form player Sion Bradley, netting 6 times in the last three games.
Flint have had a mixed bag of results with a home defeat to Caersws being followed by a good win at Denbigh. Last weekend they had a home draw with Gresford. Now managed by former Rhyl boss Niall McGuinness they will be looking for a strong finish to the season as they are amongst the HGA's most ambitious clubs.
Last season Flint were 2-0 winners at the Traeth while the return game also ended in a 2-0 scoreline and this time Port took the three points. The game however remains in the memory, not so much for the result but, for a 'lively' second half when the red mist descended and referee Aron Wyn Jones showed red three times to reduce Flint to just 8 players. Let's hope for a nice quiet timebut the same result wpuld be great! C'mon Port!
---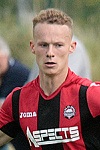 Wrth gyhoeddi ei fod wedi ail arwyddo Leon Doran o Cyffordd Llandudno, dywedodd Craig Papirnyk:
"Cafodd Leon y cyfle i chwarae'n reolaidd ers Y Nadolig, tra gyda Cyffordd, ac rwy'n ddiolchgar iddynt am wneud. Mae o'n ffit a bydd croeso iddo fel ychwanegiad at y garfan ar gyfer y gemau gefn wrth gefn gyda Fflint dros y penwythnos."
Am y sefyllfa anafiadau ychwanegodd Craig:
"Bydd Iwan Lewis ac Ifan Emlyn yn ôl yn y garfan ond yn anffodus mae Dan Roberts yn dal i gael trafferth efo'i benglîn a Gareth Jones Evans heb wella o'r dacl pnawn Sadwrn. Bydd Tomos Emlyn a Josh Banks ddim ar gael ond yn ôl at ddydd Llun.
"Bydd angen inni ddefnyddio'r garfan i gyd yn ystod yr wythnosau nesaf, gyda rhai ddim yn gant y cant ond mae gennym ddigon yno, a byddwn yn edrych i barhau a'r rhediad diweddar."

Port have moved to sign Leon Doran back from Llandudno Junction FC with Craig Papirnyk commenting:
"Leon has been getting regular game time and vital experience since Xmas and I am very grateful to the Junction for that. He is fit and will be a welcome addition to the squad for the weekend's double header against Flint."
On the injury and unavailability front he reports:
"We will see Iwan Lewis and Ifan Emlyn return but unfortunately Dan Roberts is still struggling with his knee and Gareth Jones Evans hasn't recovered from last weekend's tackle. Tom Emlyn & Josh Banks are away but will return for Monday's game.
"We will need to utilise our entire squad in the coming weeks, with some carrying knocks etc but we have the numbers and are looking forward to continuing this run that we are on."
---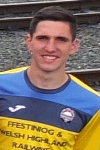 Mae Meilir Williams wedi ail ymuno a'i gyn glwb, CPD Penrhyndeudraeth, tan ddiwedd y tymor.
Meddai Craig Papirnyk heddiw, "Cafodd Mei argraff ar sawl gêm wrth ddod o'r fainc gan greu a rhwydo goliau pwysig inni.
"Mae'n hogyn gonest, gwerthchweil a ry'm wedi cytuno mai y peth gorau iddo ar y funud ydy cael amser ar y cae ac mae'n sylweddoli gyda chwaraewyr fel Joe, Ju, Cai a Brads o'i flaen fod y frwydr am le yn y tîm yn gystadleuol tu hwnt ar y funud. Mae o am gael cyfnod lle bydd yn ennill ei hyder yn ôl. Bydd yn dod yn nôl i Port yn yr haf ac rwy'n dymuno'r gorau iddo am weddill y tymor."
Pob lwc i Meilir wrth bawb yn y clwb a diolch arbennig am y gôl bwysig pnawn Sadwrn!

Meilir Williams has transferred back to CPD Penrhyndeudraeth one of his previous clubs, where he will be for the reminder of the season.
Manager Craig Papirnyk said today, "Mei has been a great impact player for us this season he has chipped in with some important goals and assists.
"He is a great , honest lad and we have agreed that this is the best thing for him right now. He wants to have a run of games and he knows that with the likes of Joe, Ju, Cai and Brads ahead of him, competition for places has never been greater at the club. He feels like he needs to go and get his confidence back in his game.Mei will be back in the summer and I wish him all the best for the rest of the season."
All at the club wish Meilir well and thank him especially for that vital goal on Saturday!
---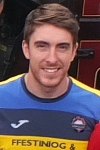 Pan rhwydodd Meilir Williams yn erbyn Rhuthun, a datgloi'r amddiffyn wedi 83 munud, fo oedd y 5ed chwaraewr o'r clwb I sgorio 10 gôl neu fwy y tymor hwn. Mae'n dilyn Joe Chapli,n sydd ar 22 o goliau, a hyn yn gyfartal â chyfanswm gorau'r tymhorau diweddar, pan sgoriodd Josh Davies 22 yn 2014/15.
Daeth rhediad diweddar Sion Bradley, o 6 gôl mewn tair gêm, a fo fyny i 17 gôl am y tymor. Y prif sgoriwr dros y ddau dymor diwethaf oedd julian Williams efo 11 gôl ar y ddau achlysur ond bellach y tymor hwn mae ganddo 13 gôl. Cai Jones sy'n cwblhau'r grwp o 5, yn cyrraedd y 10 gyda'i gôl ar yr Oval.

When Meilir Williams netted against Ruthin, to break the deadlock on Saturday, it was his 10th goal of the season and he became the 5th Port player to reach double figures. He follows leading scorer Joe Chaplin, whose 22 goals equals the best total of recent seasons achieved by Josh Davies in 2014/15.
Sion Bradley's recent fantastic burst of scoring, with 6 goals in three games has taken his total so far this season to 17. Leading scorer for the past two seasons was Julian Williams, with 11 goals on both occasions, and has so far scored 13 this time. Cai Jones completes the five, reaching the ten-goal mark when he scored at the Oval.
---