Hatric i'r ymosodwr Rhys Hughes sicrhaodd fuddugoliaeth i'r Ail-dîm mewn gem gyfeillgar gyda'r Bontnewydd.
4-1 oedd y sgôr terfynnol gyda Garret Keck hefyd yn canfod y rhwyd.

A hatrick for striker Rhys Hughes helped the Reserves win their friendly fixture with Y Bontnewydd.
The final score was 4-1 with Garrett Keck also netting.
---

Ar drothwy tymor newydd hoffai'r clwb ddiolch i'n prif noddwyr AGWEDDAU ERYRI, COLIN JONES (ROCK ENGINEERING), REGENT a RHEILFFYRDD FFESTINIOG AG ERYRI am eu cefnogaeth parod unwaith yn rhagor.
Hefyd diolch i'n holl noddwyr ag hysbysebwyr yn y rhaglen, cerdyn rhestr gemau, hysbysfyrddau a noddwyr gemau a peli.
Plîs cefnogwch y busnesau hyn, heb y gefnogaeth yma ni fyddai'n bosib cynnal clwb ar y lefel yma.

On the eve of a new season the club would like to thank our main sponsors ASPECTS OF SNOWDONIA, COLIN JONES (ROCK ENGINEERING), FFESTINIOG AND WELSH HIGHLAND RAILWAYS and REGENT for their willing support once again.
Also thanks to all our sponsors and advertisers in the programme, fixture card, advertising boards, match and ball sponsors.
Please support these businesses, without their support it would not be possible to maintain a club at this level.
---

Bydd pêl-droed cystadleuol yn dychwelyd i'r Traeth gyda ymweliad Mountain Rangers pnawn Sadwrn i chwarae Ail Rownd Rhagbrofol Cwpan JD Cymru.
Er iddynt golli yn y rownd flaenorol o 3-1 yn erbyn Nefyn cafodd y Rangers eu lle yn ôl yn y gystadleuaeth wrth i CBDC benderfynu fod Nefyn wedi torri un o reolau'r gystadleuaeth ac felly i'w diarddel.
Bydd y gic gynta' am 2 o'r gloch
Croeso nol i bêl-droed a chroeso i'r Mountain Rangers ar eu hymweliad â'r Traeth


On Saturday, competitive football makes its long awaited return to the Traeth. Mountain Rangers provide the opposition in the 2nd Qualifying Round of the JD Welsh Cup.
Despite suffering a defeat in the last round, by 3-1 to Nefyn Utd, Mountain Rangers were awarded a place in this round when the FAW Committee adjudged that Nefyn had broken one of the rules of the competition.
It will be a 2pm kick off.
A welcome return to football and a warm welcome to Mountain Rangers on their visit to the Traeth.
---

Mae'r clwb yn chwilio am wirfoddolwr i fod yn Ysgrifennydd Diwrnod Gêm ar y gyfer y tymor newydd.
Mae'n rôl bwysig yn y clwb, a byddai angen rhywun sydd â sgiliau TG digonol ac a fyddai'n gallu nodi manylion ar system Comet FAW
. Byddai hyn yn cynnwys rhoi y gwybodaeth canlynol ar y system, cofrestru y tîm a digwyddiadau a fyddai'n digwydd yn ystod y gêm, e.e., amseroedd ac enwau sgorwyr, cardiau melyn a coch, amseroedd ac enwau eilyddion ac ati.
Byddai angen i unrhyw un sydd â diddordeb fynychu pob gêm neu o leiaf rhan fwyaf o gemau cartref y clwb yn ystod y tymor.
Cysylltwch ag Ysgrifennydd y Clwb Chris Blanchard naill ai drwy e-bost crb.58@hotmail.com neu ffôn 07583 817519 am fwy o fanylion.

The club is looking for a volunteer to be Matchday Secretary for the coming season.
It is an important role within the club and would require someone who has sufficient IT skills and would be able to enter details on the FAW Comet system
. This would include entering the team line- up and events which would occur during the game, e.g., times and names of goals scorers, yellow and red cards, times and names of substitutes etc.
Anyone interested in the roll would need to be able to attend most if not all of the club's home fixtures.

Please contact the Club Secretary Chris Blanchard either by email: crb.58@hotmail.com or mobile 07583 817519 for more details.
---

Mae cyfle i noddi chwaraewyr yr Ail Dîm am £20 y chwaraewr
. Bydd cydnabythiaeth o'ch cefnogaeth yn y rhaglen a hefyd ar gyfryngau cymdeithasol y clwb.
Os oes gennych ddiddordeb cysylltwch â Gerallt Owen ar gerallt.owen@aol.co.uk neu 07920025338

There is an opportunity to sponsor a Reserve team player for £20 to sponsor your favourite player.
Your support will be acknowledged in the match programme and on the club's social media platform.
Contact Gerallt Owen: ar gerallt.owen@aol.co.uk or 07920025338
---

Yn Rownd 2 o'r Tlws bydd Port yn teithio i'r Felinheli
Bydd gemau'r Ail Rownd yn cael eu chwarae ar Awst 7.

In the 2nd Round of the FAW AmateurTrophy Port have been drawn away at Y felinheli.
The 2nd Round matches are to be played on Saturday August 7th
---

Bydd gêm gyfeillgar rhwng Port a Rhuthun yn Y Bala pnawn Sadwrn (17 Gorffennaf)
Cic gynta' am 1 pm. Mynediad am ddim I gefnogwyr

A friendly between Port and Ruthin Town will be played at Bala Town on Saturday (17 July.
Kick off will be at 1pm. Free entry for fans

Canlyniad / Result CPD PORTHMADOG 1 RHUTHUN 5
Rhys Alun (Port)
Matty Hill (2), Issac Lambert, Osian Davies & Jamie Cumming (Rhuthun)
---

Yng nghyfarfod Bwrdd Cwpanau Cenedlaethol CBDC heddiw, penderfynwyd diarddel Nefyn o Gwpan Cymru JD 2021/22 am dorri rheol 19b yn ystod eu buddugoliaeth o 3-1 yn erbyn CPD Mountain Rangers yn Rownd Gymhwyso 1. Bydd Mountain Rangers felly'n cymryd eu lle yn Rownd Gymhwyso 2 yn erbyn Port ar y Traeth ddydd Sadwrn 24 Gorffennaf.

At today's meeting of the FAW National Cup Board, the decision was taken to disqualify Nefyn from the 2021/22 JD Welsh Cup for the breach of rule 19b during their 3-1 victory against Mountain Rangers in Qualifying Round 1. Mountain Rangers will therefore take their place in Qualifying Round 2 against Port on the Traeth on Saturday 24 July.
---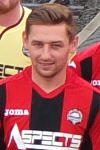 Heddiw cyhoeddodd Craig Papirnyk mai Gareth Jones Evans fydd capten y tîm am y tymor hwn. Meddai Craig, "Bu Gaz yn rhan o'r clwb hwn am fwy na degawd ac mae o'n deall yn iawn beth mae'n olygu i gynrychioli'r clwb hwn.
Fel aeth yn hyn ac yn fwy profiadol, daeth Gaz yn arweinydd go-iawn o'r grwp. Mae'n boblogaidd gyda'i gyd chwaraewyr a ganddo'r cymeriad i fod yn gapten gwych ar, ac oddi ar y cae.

Craig Papirnyk has announced that Gareth Jones Evans will captain the side for the upcoming season. He says, "Gaz has been part of the club for over a decade and understands what it means to represent us.
"As he's got older and more experienced, Gaz has become a real leader amongst the group. Popular with his peers and well respected amongst the group. I believe he has all the attributes to be a great captain for us and lead by example both on and off the pitch. "
Diolch Gaz
---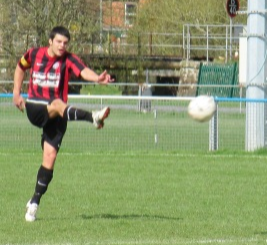 Heddiw cyhoeddodd Craig Papirnyk ei fod wedi ychwanegu tri aelod newydd i'w garfan; Ben Fisher amddiffynwr ifanc o'r Bermo. Golwr profiadol yn Dylan Roberts i lenwi'r bwlch ar ôl ymadawiad Paul Pritchard. Mae'r 3ydd yn floedd o'r gorffennol gyda dychweliad Marcus Orlik i'r garfan. Bu Marcus yn chwaraewr allweddol i Port rhwng 2006 a 2012. Isod gwelir sylwadau Craig am y newydd ddyfodiaid.

Craig Papirnyk announces three more additions to his squad; Ben Fisher a young defender who joins from Barmouth, an experienced keeper in Dylan Roberts who comes in to fill the vacancy between the sticks left by the departure of Paul Pritchard. The third signing is a real blast from the past with the return of Marcus Orlik who was a key member of the Port squad 2006-2012. Below are Craig's comments on the new arrivals

BEN FISHER Joins from Barmouth, Ben is a talented young player, he has been representing Bala U19s and has been with Barmouth for the past 3 years. A versatile player who can slot in at either full-back and step into midfield. Ben has loads of potential and I am really looking forward to helping him develop as a player for years to come.
MARCUS ORLIK - Marcus needs no introduction to the Club, a fantastic player over the years who has a recently decided he wants to play on a little longer. Marcus has a wealth of experience and will be a great addition to help the younger players in the squad learn and grow. He has been working hard in training and he will be a valuable member of this squad for the season ahead.
DYLAN ROBERTS - Dylan has signed and will be in goal for the season ahead, Dylan is well known and a great goal keeper. I've been really impressed with his qualities in the games he's played for us, he has great hands and a really good kicker of the ball.
Croeso Bois !
---

Bydd Port adra' i CPD NEFYN Utd yn 2ail Rownd Rhagbrofol Cwpan JD Cymru. Bydd enillwyr y gêm hon yn mynd ymlaen i Rownd 1 y gystadleuaeth.
Sicrhaodd Nefyn eu lle yn Rownd Rhagbrofol 2 gyda buddugoliaeth oddi cartref o 3-1 dros CPD Mountain Rangers.
Bydd y gêm rhwng Port a Nefyn yn cael i chwarae ar Y Traeth ar Sadwrn 24 Gorffennaf.
Y tymor yma bydd Nefyn yn chwarae yn Prif Adran Cynghrair Arfordir y Gogledd
Diolch yn fawr iawn i CWRW LLYN am noddi'r gêm hon.

In Qualifying Round 2 of the JD Welsh Cup, Port have been drawn at home to CPD Nefyn United. The winners will go through to Round 1 proper of the competition.
Nefyn gained a place in this round by winning their Qualifying Round 1 tie with a 3-1 away win over CPD Mountain Rangers.
The tie between Port and Nefyn will be played on Saturday, July 24th at the Traeth .
This season Nefyn will play in the North Wales Coast West League Premier Division.
Thanks to CWRW LLYN who will sponsor this Cup-tie.
---

Ar ôl colli o unig gôl y gêm yn erbyn Bae Colwyn ar Ffordd Llanelian, bu Port yn croesawu Gresffordd i'r Traeth pnawn Sadwrn. Canlyniad reit agos unwaith eto, gyda Port yn colli o 1-2. Alex Burton a cyn ymosodwr Port, Joe Chaplin, rhwydodd I Gresffordd, gyda Rhys Alun yn sgorio o'r smotyn I Port.

Following their narrow defeat at Llanelian road against Colwyn Bay, Port welcomed Gresford Athletic to the Traeth. This game also produced a tight scoreline with Port coming out on the wrong end of an odd goal 1-2 defeat. Alex Buxton and former Port striker, Joe Chaplin, netted for Gresford while Rhys Alun replied from the spot.
---

Dymuna'r clwb estyn eu cydymdeimlad diffuant â Dylan, rheolwr busnes y clwb, sydd wedi colli ei dad, Peredur Rees. Bu Mr Rees mewn gwaeledd ers cryn amser ac estynnwn ein cofion at y teulu mewn cyfnod anodd.
Dymunai'r clwb hefyd estyn eu cydymdeimlad â theulu y diweddar Glyn Jones a fu farw yn ddiweddar. Bu Glyn yn Is-Lywydd hael iawn i'r clwb dros y blynyddoedd.

The club extend their sincere sympathy to our business manager Dylan who has lost his father Peredur Rees. Mr Rees has suffered with ill-health for some time and we extend our kindest regards to the family at this difficult time.
Porthmadog FC would also like to extend their condolences to the family of the late Glyn Jones who died recently. Glyn has been a very generous vice president of the club over the years.
---

Gweler isod y wybodaeth a gyhoeddwyd gan glwb Bae Colwyn ar gyfer cefnogwyr cyn y gêm rhwng Bae Colwyn a Port ar gae Ffordd Llanelian nos Fercher.

Below is the spectator informtion ahead of the friendly between Colwyn Bay and Port at Llanelian Road on Wednesday.

"We will again be having a maximum of 250 spectators for the visit of Porthmadog on Wednesday (July 7th, 7:45pm kick off)
Away supporters are welcome and will be housed in blocks A and B of the main stand, while home supporters will occupy blocks C, D and E, along with various safe standing zones.
"Registered supporters club members and season ticket holders will be prioritised on the entrance list (no need to email interest) and anyone else who wishes to attend will need to email neilcov@icloud,com with their full name, contact number and which team they will follow on the night - this will help to control numbers in each seating block.
"Temperature checks, track and trace and face covering regulations will be in place.
"We look forward to seeing you."
---

Isod gweler y rhestr gemau ar gyfer gorffennaf/Awst gyda Port yn ymweld â Saltney ar Sadwrn agoriadoly Gynghrair.Bydd yna ddarbi lleol ar gyfer yr ail gêm gynghrair gyda Nantlle Fêl ar y Traeth. Dilynir hyn gyda ymweliad â Chae Clyd ar gyfer darbi lleol arall yn erbyn Blaenau Ffestiniog. Daw'r gêm hon ag atgofion am yr hen ddarbis tradodiadol ar Wyl San Steffan.
Gweler fod yna nifer o gêmau Cwpan yn ystod y cyfnod. Bydd yna rhestr llawn o'r gêmau ar y wefan maes o law.

24/7 Cwpan Cymru/Welsh Cup Q Rd 2
31/7 Saltney v Port
03/08 Port v Nantlle Fêl
07/08 Tlws CBDC/FAW Trophy Rd 2
14/08 Cwpan Cymru/Welsh Cup Rd1
18/08 Blaenau Ffestiniog v Port
21/08 Tlws CBDC/FAW Trophy Rd 3
24/08 Port v Llanrwst
28/08 Rhostyllen v Port<

Above are the fixtures for July and August with Port making a League opening day visit to Saltney. The first home League fixture will bring Nantlle Vale to the Traeth for an early season local derby. This will be followed by a visit to Cae Clyd for another local derby to take on Blaenau Ffestiniog. This will bring back memories of the once traditional Boxing Say game between the two clubs.
A number of Cup ties will also be played during the period. A full list of fixtures will appear on the website shortly.
---

Mae gêm gartref i Derwyddon Cefn HEDDIW wedi cael ei gohirio.
Bydd PORT yn ymweld a Bae Colwyn dydd Mercher nesa am 7.30yh a gartref i Gresffordd dydd Sadwrn nesa, 10fed Gorffennaf am 2yp

TODAY'S home match against Cefn Druids has been postponed.
PORT will play away to Colwyn Bay on Wednesday 7.30pm and home to Gresford Athletic at Y Traeth on Saturday 10th July 2pm
---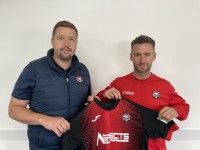 Cyfnod prysur i Craig Papirnyk yn adeiladu carfan gryf ar gyfer y btymor newydd. Medai Craig, "Rwy'n hapus i ddechrau rhyddhau gwybodaeth am y chwaraewyr neydd am y tymorsy'n dod. Isod gweler sylwadau Paps.

Craig Papirnyk is busy building his squad for the coming season and says, "I am really pleased to start releasing information on new players who have signed for the season ahead." Below are his comments regarding the three new squad members.

STUART ROGERS is a familiar face at the Traeth having represented us in the past but also as a competitor for Guilsfield, Stu has a wealth of experience along with real quality.
I am delighted that Stu has come back, he believes in the project we have and he will certainly strengthen our midfield for the challenges ahead.

JAMES MORGAN is a young centre half who can also play right back or centre midfield, he is a quality player and one I am really looking forward to managing for years to come. I believe he will get stronger and stronger with us and will impress the Port faithful when they see him.

NATHAN CRAIG has decided that Port is the place where he wants to play his football next season, Nathan doesn't need an introduction but I cannot wait to see him playing for Us, he believes in what we are rebuilding here and I am pleased that he wants to be part of it.

I am really excited about working with him and can't wait to see him in this team for the season ahead. He will bring experience and quality to this young side and along with Stu both will be a presence for us this coming season.

Welcome Nath, Stu and James !
More new signings to be announced in the coming weeks
---

Mae'r clwb yn hapus i gyhoeddi bod AGWEDDAU ERYRI, COLIN JONES (ROCK ENGINEERING), REGENT a RHEILFFYRDD FFESTINIOG AC ERYRI wedi cytuno i fod ein prif noddwyr am y tymor 2021/ 2022.
Bydd yn grêt gweld logo ein pedwar prif noddwr yn cael lle amlwg ar dudalen cartref y wefan unwaith eto.
Mae hyn yn newyddion arbennig o dda i'r clwb wrth i ni baratoi am sialens newydd yn haen 3.
Hoffai'r clwb ddiolch i Andrew Kime, David Jones, Peter Evans a Clare Britton am eu cefnogaeth parod unwaith yn rhagor.

The club is happy to announce that ASPECTS OF SNOWDONIA, COLIN JONES (ROCK ENGINEERING), FFESTINIOG AND WELSH HIGHLAND RAILWAYS and REGENT have agreed to be our main sponsors for the 2021/2022 season.
It will be great to see the logos of these four local companies feature prominently on the websites home page once more
This is extremely good news as we prepare for life in tier 3.It is a vote of confidence in the club by four promiment loccal businesses atsuch a dificult time
We would like to thank Andrew Kime, David Jones, Clare Britton and Peter Evans for their continued support.
---