Noddwr / Sponsor: DEWI I ROBERTS - ADEILADYDD / BUILDER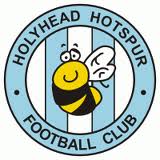 Pnawn Sadwrn bydd Port yn croesawu Caergybi i'r Traeth. Llongyfarchiadau i'r ymwelwyr ar y fuddugoliaeth rhyfeddol o 7-5 dros Bangor a chyrraedd ffeinal Cwpan Huws Gray. Y gobaith oedd cael rihyrsal o'r Ffeinal pnawn Sadwrn nes' ond yn anffodus nid oedd hyn i fod.
O ystyried eu safle yn y tabl rhaid cyfri'r canlyniad yn y rownd cynderfynol yn dipyn o sioc.Ond hyd yn oed ar yr adeg hon o'r tymor gallai hyn rhoi bywyd newydd i'w tymor. Gyda Chaergybi ond yn casglu 10 pwynt hyd yma, maent yn cael eu hunain 13 pwynt yn brin o ddiogelwch.
Bu gemau rhwng y ddau yn aml yn rhai tynn iawn ac yn y gêm ar yr Oval Newydd 1-0 oedd y sgôr gyda Iwan Lewis yn rhwydo. Tra fydd yr Hotspyrs ar ben y byd ar ôl eu buddugoliaeth bydd angen i Port godi eu hunain wedi'r siom. Ond edrych ar y record Port dim ond un gêm sydd wedi'i cholli yn 5 ddiwetha' a bydd rhaid canolbwyntio eto er mwyn sicrhau pwyntiau a gwthio fyny'r tabl. C'mon Port!!

On Saturday Port will be at home to Holyhead Hotspurs. Congratulations to our visitors for their extraordinary 7-5 win over Bangor City to reach the final of the Huws Gray Cup. There were hopes that Saturday's game would be a dress rehearsal for that final but that was not to be.
Given their league form the semi-final must rank as a shock and even at this late stage of the season it could be a real lift and revitalise their season. But with only 10 points all season they now find themselves 13 points adrift from a position of safety.
Games between the two clubs have always been tight affairs and, in the corresponding game at the New Oval, a goal from Iwan Lewis was all that separated the two teams at the end. Whereas Hotspurs might be euphoric after their win, Port will need to lift themselves following the disappointment. But looking at the league record Port have lost just once in the last five and will now be looking for the points to push further up the table. C'mon Port!
---

Bydd tîm cymysg Port yn chwarae Bermo ar Wern Mynach nos Fercher gyda'r gic gyntaf am 7.30pm.

A Porthmadog XI will play Barmouth and Dyffryn at Wern Mynach on Wednesday evening with a 7,30 kick off.
---

GOHIRIWYD gem yr Ail-dîm, a oedd i'w chwarae heno ym Mae Colwyn, oherwydd cyflwr y cae yn dilyn glaw trwm.

Tonight's Reserve team fixture at Colwyn Bay has been postponed due to a waterlogged pitch.
---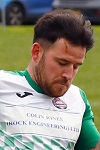 Mae Jay Gibbs wedi ail ymuno â a Port wedi cyfnod byr gyda Llandudno. Isod gweler sylwadau Craig Papirnyk ynglyn â'r penderfyniad.

Jay Gibbs will be re-joining us after a brief spell at Llandudno. Craig Papirnyk welcomed the re-signing and said;

"Jay will be a welcomed addition back to the squad and will strengthen us at an important part of the season for us.
"We currently have Dan Dascalu sidelined with a knee injury which could potentially see an end to his season, it is a real shame as Dan has come in to his own and grown from strength to strength this season.
"Jay will come straight into Saturday's squad. I would like to thank Llandudno manager Iwan Williams for his co-operation, ensurring that the tranfer went through smoothly."
---
Noddwtr y Gêm / Match Sponsor: I J PLASTERING, Porthmadog.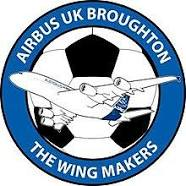 Os oeddech yn un o rheini a fethodd deithio i Frychdyn pnawn Sadwrn, wel mae'n siwr eich bod yn sylweddoli erbyn hyn eich bod wedi colli gêm y tymor. Ond 'da chi mewn lwc, bydd y ddau yn mynd ati eto ar Y Traeth y Sadwrn nesa'. Os bydd hon hanner cystal, mae yna wledd yn eich haros.
Yn barod mae'r ddau wedi chwarae eu gilydd dair gwaith, a bob gêm yn un agos iawn ond y tro yma fydd y clybiau yn cyfarfod yn rownd cynderfynol Cwpan Huws Gray. Yn y gynta' ar Y Traeth, Airbus enillodd diolch i gôl hwyr James Hooper. Wedyn cafwyd brwydr galed yng Nghwpan Cymru ac ar ôl 2 awr o chwarae roedd yn dal yn gyfartal 1-1 ac angen ciciau o'r smotyn i setlo'r ornest, Wedyn cyfartal y Sadwrn diwetha' wedi sioe o bêl-droed ymosodol.
Gyda teitl yr HGA bellach yn eu poced gall clwb Y Maes Awyr lygadu'r dwbl; tra fydd Port, sydd yn dal i anelu i orffen mor uchel a phosib yn y gynghrair, yn llygadu cod'ri gwpan am y tro cynta' ers blynyddoedd.
Y tro diwetha' i hyn ddigwydd oedd yn ôl yn 2002/03, blwyddyn y llwyddiant triphlyg. Enillodd Port y gwpan yn 1998/99 hefyd. Ond eleni ydy'r cyfle ola' i Airbus godi'r cwpan ahynny am y tro cynta'.
Dewch inni sicrhau torf fawr pnawn Sadwrn i godi'r hogia' i fuddugoliaeth. C'mon Port!!

COFIWCH WYLIO/GWRANDO AR GYFWELIADAU DYLAN ELIS GYDA PAPS A MIKE SHARPLES (Trydar / Youtube)

If you missed last Saturday's match at the Airfield then you missed a treat but, luckily Port and Airbus will be doing a repeat this Saturday at the Traeth. If the game is even half as good this time round, then a treat awaits us.
The clubs meet this time in the semi-final of the Huws Gray Cup, having already met three times this season and each game has been a tight affair. In the first at the Traeth, Airbus edged it with a late goal by James Hooper. The Welsh Cup tie proved a titanic contest with the scores level at 1-1 after two hours of play. The Plane-makers went through on penalties and, last Saturday after a marvellous show of attacking football, the scores were level on 1-1.
With the league title more or less sewn up, the Broughton club can set their sights on the double, while Port, still aiming for as high a league finish as possible, will eye the opportunity of collecting some silverware for the first time in years.
Port are former winners of the trophy, achieved in the treble winning season of 2002/03. Port also won in 1998/99. Airbus have yet to lift the trophy, so, in the last ever Huws Gray Cup competition this is it, the last chance. Let's make it a bumper crowd on Saturday, Support the lads. C'mon Port!!

TAKE A LOOK/LISTEN to THE DYLAN ELIS INTERVIEWS WITH PAPS AND WITH MIKE SHARPLES (Twitter/Youtube)
---

Bu cylchgrawn 'Welsh Football' yn bwrw golwg ar rhaglenni clybiau o'r Huws Gray Alliance yn ei rhifyn cyfredol, a hyn yn cynnwys rhaglen Port. Isod gweler y sylwadau.

The magazine 'Welsh Football' in it's current edition has been taking a look at the match programmes of some HGA clubs. This includes a review of the Port programme. Below are their comments.

"PORTHMADOG has a fine tradition in match programmes and their current season issues don't disappoint: 48 pages, bi-lingual and priced at a very fair £1-50. The centre-spread results and appearance statistics tabulation is excellent (a feature of the best ptogrammes in my view). One of the copies I'm looking at included a page examining the debate on the value and future of printed match programmes, while there's also a regular supply of news from the wider football world, north Wales and beyond."
Llongyfarchiadau i'r golygydd gweithgar, Rhydian Morgan. Congrats to our busy editor.
---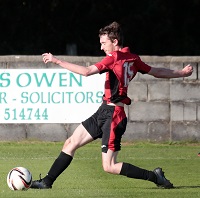 Aeth Port drwodd i Ffeinal Cwpan Tân Gwyllt Lock Stock wrth guro Llamdyrnog o 4-1 ar y Traeth heno.
Roedd y gêm yn ddi-sgôr tan i 28 munud fynd heibio, pan rhwydodd Dion Roberts i Port gyda peniad. A dyna'r sgôr ar yr hanner hefyd 1-0 i Port a ni chafwyd ychwanegiad pellach i'r sgôr tan y 10 munud olaf pryd cafwyd 4 gôl arall!.
Ar 81 munud rhwydodd Aled Williams yn crymanu ei ergyd o ymyl y bocs. Hyn wedi'i ergydion Sion Parry a Cai Henshaw gael eu harbed. Mewn 3 munud llwyddodd Sion Parry droi croesiad Jack Davies i gefn y rhwyd a'i gwneud yn 3-1 i Port.
Dal i ddod gwnaeth y goliau, wrth i'r ddau dîm ennill ciciau o'r smotyn, Rhwydodd Matthew Williams y gynta' i Llandyrnog yn ei gwneud yn 3-1 a Sion Parry yn ymateb i Port. Felly bydd Port yn y ffeinal yn dilyn buddugoliaeth o 4-1. Da iawn Hogia'.

Port went through to the final of the Lock Stock Fireworks Cup beating Llandyrnog United by 4-1 in tonight's semi-final at the Traeth.
The game remained scoreless until the 28th minute when Dion Roberts' headed in from a corner. There were no additions to the score during the first half and that's how it remained with Port retaining their slender lead until the final stages. Then in the last 10 minutes there were four goals.
On 81 minutes Aled Williams netted with a curling shot from the edge of the box after initial efforts from Sion Parry and Cai Henshaw had been blocked. Three minutes on and Sion Parry turned a Jack Davies cross into the net.
The goals kept coming and in the space of two minutes each team was awarded a penalty. Matthew Williams for Llandyrnog made it 3-1 and Sion Parry for Port, also converted his spot kick to make the final score 4-1 and put Port into the Final.
---

Mae Academi CPD Porthmadog am ymestyn ei dîm o hyfforddwyr gan apwyntio 2 berson o'r newydd. Dyma gyfle cyffrous i ymuno a thim o hyfforddwyr ymroddedig. Yr anghenion.
– Bod ar gael pob nos Lun ar gyfer sesiynau hyfforddi
Arolygu gemau timau'r Academi, cartref ac i ffwrdd, a'u cynhelir fel arfer ar ddydd Sul
Cymwysterau – hyfforddwyr gyda thrwydded 'C' neu yn gweithio tuag at sicrhau y cymwyster. 'Rydym yn barod hefyd i ystyried ymgeiswyr brwdfrydig sydd a'u bryd ar sicrhau cymwysterau priodol a dilyn gyrfa leol yn y maes hyfforddi.
Bydd angen ymrwymo i'r archwiliadau cefndir angenrheidiol cyn cychwyn ar y swydd Cysylltwch a – Rob Bennett, Ysgrifennydd Cyffredinol ar obcounty@aol.com neu 07773488163

Porthmadog FC is looking to increase its number of qualified coaches and is looking for at least 2 new members to join our Young Players Academy. This is an exciting opportunity to join a team of committed coaches. You will
– Have to be available every Monday night to undertake training session
Oversee the Academy games, home and away, that are usually played on Sundays
Qualifications – a coach who has achieved a 'C' Licence or is working towards achieving it. We are also ready to appoint enthusiastic candidates who want to develop a career as a coach.
Before embarking on the post the necessary background checks will have to be undertaken Contact – Rob Bennett, General Secretary at obcounty@aol.com or 07773488163
---