Mel Charles yn ymweld â'r Traeth
Mel Charles visits the Traeth


Saesneg / English

Roedd cefnogwyr Porthmadog wrth eu boddau fod eu cyn seren, Mel Charles, wedi cytuno i ddychwelyd i'r Traeth ar achlysur aduniad tîm 1956. Seren o gyfnod arall oedd Mel ond mae ei gampau ar Y Traeth yn dal yn fwy yng nghof cefnogwyr rheolaidd y chwedegau. Pan adawodd Mel y Traeth yn 1967 i ymuno a Port Vale, ysgrifennodd Rol Williams gyfres o benillion ac mae'r aduniad wedi gwireddu'r pennill hwn:

Despondent let us never be
For you can never tell,
The Traeth at Port may give again
A welcome back to Mel.

Er na ymddangos eto fel chwaraewr ar y Traeth cafodd llawer fwynhau ei gwmni a chofio'r hen ddyddiau ddydd Sadwrn. Mel gyflwynodd anrhegion i nodi'r achlysur i dîm 1956 a bu'n brysur iawn yn llofnodi ac yn ysgwyd llaw gyda'i ffans niferus - hen a newydd.

Wrth glicio ar y linc isod cewch weld mwy o benillion gan Rol Williams sydd yn siwr o rhoi gwên ar wyneb llawer o gefnogwyr o oes aur y chwedegau:

Y Penillion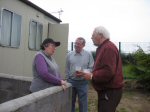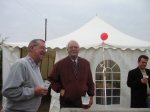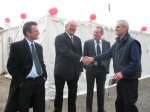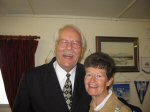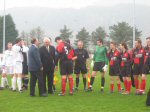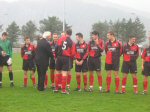 English
Porthmadog supporters were delighted that their former star Mel Charles agreed to return to the Traeth on the occasion of the re-union of the team of 1956. Mel was of course a star of another era but his heroics at the Traeth are still fresh in the memory of those who were regular supporters during the mid-sixties. When Mel left the Traeth in 1967 to join Port Vale, Rol Williams wrote some verses to mark the occasion and this re-union enabled these particular words to come true:

Despondent let us never be
For you can never tell,
The Traeth at Port may give again
A welcome back to Mel.

Though he was never to return as a player many enjoyed his company on Saturday to talk over old times. He presented the team of 1956 with their mementos and was kept busy signing autographs and shaking hands with his many fans old and new.

Below are a few more of the verses by Rol Williams which will no doubt bring a smile to the faces many of the older supporters.

Pictures

Penillion / Verses

In eighteen months he scored some goals
And others he saved well
For in North Wales they all did fear
The power of our Mel.

And as the high balls came across
"Right Ivor" he did yell
For in command right through the game
Without a doubt was MEL.


The story of "That penalty"
Remains for some to tell,
But let us not forget of course
No man is perfect MEL


But in his last game at the Traeth,
Revenge had such sweet smell
That goal from fully 40yards
Was typical of Mel

His Wolseley 1500 car
Could not be classed as "swell"
But from Cwmbwrla to the Traeth
It safely brought our MEL

The book is closed-and we are told
Portmadoc had to sell
And at Port vale we all do wish
The best of luck to MEL.

Rol Williams, Chwefror / Febuary 1967.