Tomi does some research for the FAW


It seems that D. Day is getting closer and by that I mean Disaster Day. Before I go any further, let me tell you that I was against any reduction in the size of the Welsh Premier League to ten, or now, twelve clubs from the onset, and my opinion is not in any way compromised by my clubís current league position.

League secretary, John Deakin, quoted in the Western Mail on 26th October 2009, ďchange had to be made to improve the standards of a League that many Welsh supporters think has stagnated in recent seasons.Ē

What I would like to know is how many supporters have been consulted about these standards and were they all of the opinion that reducing the league to ten or twelve clubs was going to improve standards? I have yet to come across any supporters who are in agreement with this philosophy and I have consulted with supporters the length and breadth of the principality.

In the same article, John Deakin also responded to my negative opinion of this proposed reduction in the number of teams by saying, ďIím sure that any advice he may have on this would be greatly appreciated given his experience and service to football in Wales.Ē This was five months ago, I didnít expect to be asked and it didnít surprise me when I wasnít.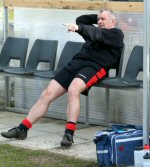 Iím hoping that the FAW and John Deakin will appreciate me contacting all the managers in the league for their opinion of the new structure. To be diplomatic, I will only say it was an unanimous NO to a twelve league structure. The vast majority wanted a league of sixteen clubs, playing each other twice and with two cup competitions thrown in. It would be a very manageable fixture list taking into consideration the travelling aspect and cost. Several of my managerial colleagues had some excellent ideas on how to improve things in Welsh football, but the loudest shout was for better playing surfaces which would definitely improve the standard. Unfortunately, that is not a pre-requisite for obtaining a domestic licence.

Playing each other 4 times a season was a definite no, no and if anything would have an adverse effect on gates. Here are a list of questions that I would like the FAW to answer :

1. Whatís driven the change?
2. Will it develop better players?
3. What benefits will Welsh football derive from the change?
4. Is the league being reduced so that clubs will get more investment from the FAW to improve facilities?
5. Why are we reducing our numbers when other countries in Europe are looking to increase numbers of teams e.g. Scotland?
6. Are we copying other countries instead of having our own blueprint for the future?
7. Has anyone thought of the different geographical areas in Wales who will have no representation in the Welsh Premier League and consequently, no opening for young players?

One of the arguments for the new structure is that it will improve playing standards as the better players will join the top twelve clubs. Unfortunately this argument does not hold water as players are not in favour of the new league and many of the players I have spoken to have indicated that they wonít play in the league next season, mainly due to the travelling aspect.

Travelling from north to south in Wales is a tortuous journey due to the winding roads. Clubs have to leave at 7 am in the morning to reach their destination and donít return until 10 pm. With 44 games, clubs will be forced to double the journeys next season, as well as mid-week fixtures that necessitate taking a day off work. Itís easy to understand why players will be reluctant to sign up for that when they can play for clubs along the A55 or M4 corridor and minimise travelling time.

Thereís only one reason they will do it and that is for a lot more money for the extra commitment. Can the clubs afford that? Can clubs afford to put all their players on contracts for a season? If they donít they can leave at any time under the current rules.

I wonder how the media feel about the new structure. The league never recovered from falling foul of the press in 1992; can we afford to do that again?

Itís not too late for the FAW to change their mind, but I donít expect they will.

Tomi Morgan.