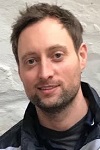 Mae'r is-reolwr Sion Tudor wedi penderfynu gadael y clwb ac isod gweler ei ddatganiad.
Diolch Sion am dy holl waith dros y clwb a phob dymuniad da at y dyfodol.

Assistant manager Sion Tudor has decided to leave the club and has released the following statement.
The club wishes to thank Sion for his great contribution and wish him well for the future.

"Jt's with a neavy heart I've taken the decision to step down from my position as assistant manager. I'm disappointed to be leaving the club but also know it's th right decision for me personally. I'd like to thank CPD Porthmadog for my time and opportunity and I wish the club all the best for the future. I wish to see a swift return to the success that the club warrants and the supporters deserve in return for their support and loyalty.Dioldh yn fawr a phob lwc."
---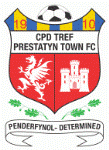 Noddwyr/Match Sponsors: LJ PLASTERING
Y ceffylau blaen yn erbyn y clwb ar y gwaelod fydd hi pnawn Sadwrn, wrth i Brestatyn ymweld â'r Traeth. Pan fydd yr hyder yn isel, ymweliad gan y clwb sydd wedi bod wrthi yn sgorio am hwyl ydy'r peth ola' i'w ddymuno. Ond rhaid i'r frwydr am bwyntiau fynd yn ei blaen, a'r sialens ydy cadw cydbwysedd, bod yn drefnus a dal i gredu fod y garfan, sydd a nifer dda o'r chwaraewr a orffennodd yn 3ydd llynedd, â phrofiad Mel McGinness a John Owen wedi'i ychwanegu, a ddigon o dalent i sbarduno'r adfywiad.
Mae Prestatyn wedi cychwyn y tymor ar dân, yn ennill 6 o'u 7 gêm, gyda Rhyl yr unig glwb i'w curo. Yr ystadegyn sy'n sefyll allan ydy'r 25 gôl maent wedi sgorio, 11eg yn fwy na neb arall yn y Cymru North. Daeth y rheolwr, Neil Gibson, a nifer fawr o'r garfan a enillodd yr HGA yn 2016/17 yn ôl i Gerddi Bastian, a hyn wedi talu ffordd yn amlwg wrth i'r clwb fynd ar rhediad unwaith eto. Ymysg yr enwau cyfarwydd a ddaeth yn ôl mae Mike Parker, Jack Kenny and Jordan Davies.
Tasg anodd felly ond C'mon Port !! Amdani!!

It will be top against bottom when Prestatyn visit the Traeth on Saturday. When you are down on your luck, a visit from the free scoring league leaders is hardly what you need, as the desperate search for points continues. The challenge is to keep cool, be organised and believe that a squad containing a substantial number of last season's squad which finished 3rd and, with experienced additions in Mel McGinness and John Owen, can spark a revival in fortunes.
Prestatyn have started the season with a bang winning 6 of their 7 matches, with the only setback coming against 2nd placed Rhyl. The stand out stat from their current record is the 25 goals they have scored; 11 more than any other club in the Cymru North. Manager Neil Gibson has brought back to Bastian Gardens many if not most of the HGA title winning squad of 2016/17 and this has paid off. They have taken the league by storm as they did three seasons ago with familiar names like Mike Parker, Jack Kenny and Jordan Davies all back at the club.
It's certainly a tough one C'mon Port!!
---

Bydd yr AIL-DÎM yn chwarae gêm gynghrair pnawn Sadwrn, oddi cartre yn Bae Cinmel. Bydd y gêm yn gyfle i cadw'r pwysau fyny ar frig y tabl. Ar y funud maent yn yr ail safle, un pwynt tu ôl i Ddinbych. Bydd y gic gynta' am 2.30pm.

The RESERVES return to league action on Saturday with an away fixture at Kinmel Bay. They will be looking to keep up their challenge for the top spot. They currently lie in 2nd spot a point behind Denbigh Town. Kick off Saturday will be at 2.30pm.
---

Enillydd y "Draw Wythnosol" am wythnos 37 yw Rhif 61 JACKIE REES yn ennill gwobr o £75!!!
Llongyfarchiadau!
Cefnogwch y Clwb - Ymunwch a'r "DRAW WYTHNOSOL" Siawns i ennill £75 am £1 yr wythnos.
Am fwy o wybodaeth cysylltwch a Enid Owen 07901876120 neu Dylan Rees 07900512345 / rees48wesla@gmail.com

The "Weekly Draw" winner for week 37 is No. 61 JACKIE REES winning the £75 prize!!!
Congratulations!!
Support the Club - Join the " WEEKLY DRAW" £1 weekly for your chance to win £75!!
For more information contact Enid Owen 07901876120 or Dylan Rees 07900512345 / rees48wesla@gmail.com
---

Cymrwch olwg ar 'chydig o hanes balch clwb Porthmadog yma.
Mae'n rhan o gyfres gan Dave Jones ar ei wefan nwsport.co.uk 'Legends of the Llyn' . Dafydd Wyn sy'n cyfrannu'r geiriau i gydfynd efo un o gasglaid lluniau Gerallt Owen o'r tri brawd o Abersoch Ieuan, Will (Bilws) a Moss a gynrychiolodd Port yn yr 1950au.

Check out a piece of Port's illustrious football history here.
It is part of Dave Jones's 'Legends of the Llyn' series on his website nwsport.co.uk with Dafydd Wyn providing the text and Gerallt Owen the photo of the three Griffiths brothers from Abersoch, Ieuan, Will (Bilws) and Moss who represented Port during the 1950's.
---

Setlwyd y gêm hon gan gic o'r smotyn yn ddwfn yn yr amser ychwanegol. Gethin Jones yn rhwydo i ennill y gêm i Llanberis o 3-2 gan sicrhau lle yn Ail Rownd Cwpan y Gynghrair.
Gethin Jones hefyd sgoriodd y gôl hwyr i fynd a'r gem i amser ychwanegol. Cynt roedd Port wedi mynd 2-0 ar y blaen diolch i goliau gan Mathew Jones ac Arwyn Parry Jones. Daeth gôl gan Richard Lloyd Jones a'rsgôr i 2-1.

Llanberis came from behind at the Traeth tonight to take the game into extra-time and then clinched it with a late Gethin Jones penalty to make the final score 2-3 with the visitors going through to the 2nd Round of the Lock Stock Fireworks Cup.
Port had taken an early lead through Mathew Roberts with Arwyn Parry Jones doubling the advantageafter 50 minutes. Three minutes later Richard Lloyd Jones cut the deficit netting for Llanberis and in the 81st minutes Gethin Jones levelled the scores to take it to extra-time

Carfan Port / Port squad: Kai Williams, Ryan Williams, Mathew Roberts, Ben Williams, Sol Kempster, Matthew Barley, Tomos Hughes, Arwyn Parry Jones, Sion Guto, Cameron Jones, Ethan Jones. Subs: Tomos Roaney, Sion wyn Jones, Berian Hughes, Rhodri Jones, Tyler Rolfe.
---

Pnawn Sadwrn bydd Port yn teithio i Landudno gan barhau i chwilio am bwyntiau yn y gynghrair. Roedd yn rhyddhad i gael y pwynt cynta' nos Fawrth er y gallai'n hawdd wedi bod yn dri. Roedd yn dipyn gwell perfformiad gyda pasio cywir, egni uchel a llawer mwy o greadigrwydd. Da gweld John Owen yn rhwydo yn ei gem gynta' yn ôl a Mel McGinness yn sgorio ei gôl gynta mewn crys Port. Digon felly inni fod yn obeithiol.
Cychwyn cymysg mae Llandudno wedi'u gael i'r tymor, yn ennill eu gêm gynta' yn erbyn Corwen a hefyd yn sicrhau buddugoliaeth dda dros Y Rhyl. Ar y llaw arall maent wedi colli 4 gêm y tair ddiwetha' ohonynt yn olynol yn erbyn Bae Colwyn, Conwy a Bwcle.
Bydd y ddau glwb felly wir angen y tri phwynt pnawn Sadwrn a cawn obeithio am gêm agored gystadleuol -a 3 phwynt i Port?!! Amdani hogia'!!

On Saturday Port travel to Llandudno to continue their search for league points. It was a relief to get the 1st point on Tuesday. It was certainly a much-improved performance, individually and collectively. With John Owen netting on his return debut and Mel McGinness finding the net for the first time in a Port shirt, things are beginning to look-up. Overall the quality of passing, the tempo and energy shown were all signs of a growing confidence.
We will travel to Maesdu to take on a Llandudno team that has had a mixed start to the season. They opened their season with a win over Corwen and have also gained a good win over Rhyl but in their most recent games they have suffered straight defeats, going down to Colwyn Bay, Conwy Borough and Buckley Town.
Both teams will certainly be looking for a win on Saturday. Let's hope for a good open game and three points for Port?!! C'mon Lads!!
---

Bydd yr Ail-dîm yn chwarae gêm yng Nghwpan y Gynghrair nos Wener nesaf, 13 Medi. Y gwrthwynebwyr fydd Ail-dîm Llanberis â'r gic gynta'am 7.30pm.
Bydd y gêm hon yn cymryd lle un a oedd i'w chwarae gyda Llanelwy.
Sylwer fod y Gynghrair Ail-dimoedd yn mynd i weithredu efo 14 clwb gan fod Conwy wedi tynnu allan o'r Gynghrair.

The Reserves will play a League Cup tie next Friday 13 September against Llanberis at the Traeth. Kickoff 7.30pm.
This game now replaces the fixture with St Asaph.
Note that the Reserve League will now operate with 14 clubs as Conwy Borough have withdrawn from the division.
---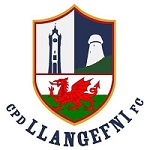 Noddwr y Gêm / Match Sponsor: HARLECH TOYOTA

Bydd Port yn bwrw 'mlaen a'u hymdrechion i sicrhau y pwyntiau cynta o'r tymor wrth i glwb Llangefni ymweld â'r Traeth. Mae clwb yr Ynys wedi cael cychwyn derbyniol i'w tymor yn ôl yn yr Ail Haen ac wedi codi pwyntiau mewn 3 o'u 5 gêm hyd yma. Cafwyd cychwyn da yn curo Gresffordd o 2-0 yn y gêm agoriadol, cyn mynd ymlaen i sicrhau pwyntiau o'u gemau cyfartal gyda Bae Colwyn a Bwcle. Ar eu hymweliad â'r Belle Vue cafwyd gem agos iawn ond yn colli o 2-1. Daeth eu hunig siom, hyd yma, yn colli o 4-0 yng Nghonwy.
Golyga'r canlyniadau yma y gallwn ddisgwyl gêm anodd arall nos Fawrth wrth geisio codi'r pwyntiau cynta'. Roedd yna arwyddion cadarnhaol yn y gemau yn erbyn Bwcle a Bangor tra yn Y Fflint cafwyd ymateb da yn yr ail hanner ond dim ond ar ôl cychwyn trychinebus yn mynd 3-0 lawr yn yr hanner awr gynta'. Bu'r cychwyn ddim yn hawdd i Sion Eifion gyda anafiadau a diffyg argaeledd chwaraweyr yn golygu na fu carfan gyfan ganddo ar unrhyw adeg. Bu'n rhaid iddo fod heb Iddon Price , Rob Evans, Josh Banks a John Owen yn Y Fflint tra fod y chwaraewr canol cae allweddol Ifan Emlyn yn dal i wella o anaf a gafodd mewn gêm cyn dymor.
Un peth calonogol pnawn Sadwrn oedd fod y chwaraewyr yn benderfynol o godi'r clwb o'r gwaelodion. C'mon Port!!

Port will continue their efforts to pick up their first points of the season when Llangefni Town visit the Traeth. The Anglesey club have made a steady start to life back at Tier 2 level picking up points in 3 of their 5 fixtures. They got their season off to a good start, beating Gresford by 2-0 on the opening day and have gone on to pick up further points with draws against Colwyn Bay and Buckley. They also ran Rhyl close going down 2-1 at the Belle Vue. Their only serious setback was a 4-0 defeat away at Conwy.
All of this means that Port will face a tough test on Tuesday if they are to break their duck. There were positive signs in their performances against Buckley and Bangor while at Flint on Saturday they gave a much improved second half performance but this followed on from a disastrous first half hour when they conceded 3 goals Sion Eifion has not had the easiest of starts in his role as manager, with injuries and unavailability meaning that he has not had a full squad at any stage this season. Iddon Price, Rob Evans Josh Banks, together with new signing John Owen were not on duty on Saturday while key midfielder, Ifan Emlyn, is not yet fully recover from a pre-season injury.
One thing the performance last Saturday showed is that the players are fully committed to turning things around. C'mon Port!!
---

Enillydd y "Draw Wythnosol" am wythnos 36 yw Rhif 11 CLIVE HAGUEyn ennill gwobr o £75!!!
Llongyfarchiadau!
Cefnogwch y Clwb - Ymunwch a'r "DRAW WYTHNOSOL" Siawns i ennill £75 am £1 yr wythnos.
Am fwy o wybodaeth cysylltwch a Enid Owen 07901876120 neu Dylan Rees 07900512345 / rees48wesla@gmail.com

The "Weekly Draw" winner for week 36 is No. 11 CLIVE HAGUE winning the £75 prize!!!
Congratulations!!
Support the Club - Join the " WEEKLY DRAW" £1 weekly for your chance to win £75!!
For more information contact Enid Owen 07901876120 or Dylan Rees 07900512345 / rees48wesla@gmail.com
---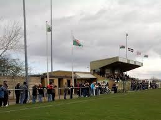 Pnawn Sadwrn bydd Port yn gwneud yr ail daith o'r tymor i'r Fflint, gan obeithio am well lwc y tro yma. Mae'r cweir a gafwyd yng Nghwpan Nathaniel MG yn dal i frifo a byddai Sion Eifion,mae'n siwr, wedi dymuno lle haws i ymweld ag o gyda Port yn dal i chwilio am eu pwyntiau cynta'o'r tymor.
Bu'n gychwyn da iawn i'r Fflint y tymor hwn, a maent yn yr 2ail safle yn y tabl tu ôl i Prestatyn ar wahaniaeth goliau. Cafwyd buddugoliaethau dros Conwy, Bwcle a Bae Colwyn yn barod, gan golli unwaith yn erbyn Y Rhyl. Hefyd mae seren y clwb, Mark Cadwallader, wedi'i enwi yn chwaraewr y mis am Awst.
Ers colli'n drwm ar Gae Castell mae perfformiadau Port wedi gwella a buont yn anffodus i beidio cael rhywbeth ym Mhwcle. Yn erbyn Bangor, y Sadwrn diwetha, roedd yr amddiffyn yn edrych yn dipyn mwy cadarn na chynt. Bydd cefnogwyr yn falch i weld John Owen yn ôl, gan obeithio mai fo fydd y catalydd sydd angen i'r llinell flaen ddangos eu gwir dalent.
Bydd hon yn gêm anodd ond yr adeg ddelfrydol i'r tîm droi'r gongl C'mon Port!!

On Saturday Port will make their 2nd journey of the season to Flint and hope for better luck this time round. The heavy defeat in the Nathaniel MG Cup still hurts and Sion Eifion would have wished for an easier place to visit in search of the first league points of the season.
Flint have made a great start to the season and lie in 2nd spot in the table, behind Prestatyn on goal difference. They have recorded wins over Conwy, Buckley and Colwyn Bay, with the only loss coming against Rhyl. Their star man Mark Cadwallader has been named player of the month for August.
Since the defeat at Cae y Castell, Port have made progress and were unlucky not to take something from the visit to Buckley, while last Saturday the defence looked far tighter against Bangor than in previous games. Supporters will now be looking to new signing John Owen to be the kind of catalyst needed to release the talent that exists in our attack.
If Port are to turn the corner then next Saturday, despite the difficulty, would be the ideal time to do so. C'mon Port!!!
---
.
Llongyfarchiadau i'r Ail-dîm yn sicrhau eu 3ydd buddugoliaeth yn olynol heno yn curo Llanrwst ar Y Traeth. Yn dilyn 40 munud cynta di-sgôr bywiogodd y cyfan gyda Arwyn Pary Jones yn rhwydo 2 waith mewn munud i'w gwneud yn 2-0 ar yr hanner. 3 munud fewn i'r ail hanner cwblhaodd Arwyn ei hatric gyda chic o'r smotyn. Munudau yn ddiweddarach a sgoriodd Tomos Hughes i'w gwneud yn 4-0. Ond yn dilyn y 4 gôl mewn 10 munud, Llanrwst sgoriodd nesa' (Aron Hughes) a dyna oedd y sgôr terfynol 4-1

The Reserves completed a third straight league win at the Traeth tonight against Llanrwst United Res. Following a goalless first 40 mins the game burst into life in the closing minutes of the first half with Arwyn Parry Jones scoring twice in the space of 2 mins. Just 3 minutes into second period and Arwyn completed his hat-trick from the penalty spot. The goals continued to come with Tomos Hughes soon making it 4-0. But following this burst of 4 goals in 10 mins it was Llanrwst who pulled one back (Aron Hughes), making the final score 4-1.

Carfan heno / Tonight's Squad: Morgan Jones, Ryan Williams, Ben Williams, Math Roberts, Sol Kempster, Arwyn Parry Jones, Tomos Hughes, Ethan Jones, Sion Guto, Cameron Jones, Morgan Slater. Subs: Matthew Williams, David Jones, Tomos Roaney, Berian Hughes, Adam Griffiths.
---

Nid un i guddio ydy Sion Eifion yn dilyn cychwyn siomedig i'r tymor. Ar ôl colli i Fangor pnawn Sadwrn mewn gêm lle roedd un gôl yn ddigon mae'n barod i roi ei farn i Dylan Elis mewn cyfweliad yn dilyn y gêm. Cewch wrando ar y sgwrs yma ar YOUTUBE.



The above draws attention to Dylan Elis's interview (in Welsh) with manager Sion Eifion, which is now on Youtube.
---

Roedd Sion Eifion yn falch iawn i gyhoeddi heno fod John Owen i ddychwelyd i'r Traeth, a hynny ar fenthyg o'r Derwyddon Cefn. Darn o fusnes da cyn i'r ffenest gau nos yfory!
Yn ystod ei gyfnod blaenorol gyda Port rhwng 2012-14 chwaraeodd 28 (+3) o gemau gan sgorio 10 gôl. Ers gadael Port mae hefyd wedi chwarae i Llandudno ac Aberystwyth.
Wrth iddo groesawu John yn ôl d'wedodd Sion Eifion, "Dyma drosglwyddiad y buom yn gweithio arno yn ystod yr wythnos neu ddwy ddiwetha' ac yn hapus iawn i lwyddo. Mae John wedi profi ei hun ar y lefel ucha' yng Nghymru a bydd yn ychwanegiad at y talent sydd eisoes gennym yn y llinell flaen. Bu'n gychwyn anodd i'r tymor a bydd John yn rhoi hwb i'r garfan a'r cefnogwyr wrth wynebu taith i'r Fflint pnawn Sadwrn. Croeso nol John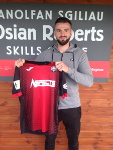 Sion Eifion was very pleased to announce tonight a good piece of business which will see former Port forward John Owen return to the club on loan from Cefn Druids.
During his time with Port from 2012-14 he played 28 (+3) games scoring 10 goals.Since leaving his former clubs also include Llandudno and Aberystwyth.
Sion Eifion welcomed John to the club and said, "This is a transfer that we've worked hard on the past couple of weeks and we're all delighted that we've now got it over the line. John is proven at the top level of Welsh football and he'll no doubt add to our already talented forward line. it's been a difficult start to the season and John will give that much needed boost to the squad and fans going into Flint next Saturday. Croeso nol John!"
---

Yn dilyn eu dwy fuddugoliaeth yn olynol dros Nantlle Fêl a Phrestatyn bydd yr Ail-dîm adra nos Fercher (Medi 4ydd), Bydd tîm Aaron Rickards yn chwarae Ail-dîm Llanrwst, gyda'r gic gynta am 7,30pm.

After successive victories over Nantlle Vale and Prestatyn, the Reserves will be home again next Wednesday (Sept 4th). Aaron Rickards's team will take on Llanrwst United with a 7.30pm kick off. C'mon Port!
---

Enillydd y "Draw Wythnosol" am wythnos 35 yw Rhif 224 JOSiE HAVELOCK yn ennill gwobr o £75!!!
Llongyfarchiadau!
Cefnogwch y Clwb - Ymunwch a'r "DRAW WYTHNOSOL" Siawns i ennill £75 am £1 yr wythnos.
Am fwy o wybodaeth cysylltwch a Enid Owen 07901876120 neu Dylan Rees 07900512345 / rees48wesla@gmail.com The "Weekly Draw" winner for week 35 is No. 224 JOSIE HAVELOCK winning the £75 prize!!!
Congratulations!!
Support the Club - Join the " WEEKLY DRAW" £1 weekly for your chance to win £75!!
For more information contact Enid Owen 07901876120 or Dylan Rees 07900512345 / rees48wesla@gmail.com
---

Buddugoliaeth oddi cartref i'r Ail-dîm heno, yn teithio i Gerddi Bastian i chwarae Prestatyn. Roedd gôl gan Tomos Hughes yn gynnar yn y gêm yn ddigon i sicrhau buddugoliaeth o 1-0 a'r 3 phwynt i hogia' Aaron Rickards.Daeth y cynorthwy gan Math Roberts. Da iawn hogia'!!

A good away win for the Reserves tonight in a tight contest at Bastion Gardens, Prestatyn tonight. One goal from Tomos Hughes, early in the game, was enough to give Aaron Rickards' team the 3 points and a 1-0 win.Math Roberts provided the assist Well done lads!!

Sylw'r reolwr Aaron Rickards / Manager's response:
Proud of everyone of the lads tonight. Didn'tget to play the nice on the eye football we like to play but dug in as a team and got a massive 3 points from a very tough away day and a good young Seasiders side who made us work for it. We go again Wednesday!
---

Y rhifau lwcus yn y TOTE mis Awst oedd 13 + 31. Roedd 3 enillydd (hyn i'w gadarnhau) Billy Murray, Vanda Hassall a June Wild yn rhannu gwobr o £840. Bydd rhaid gwneud unrhyw gais erbyn 8 y.h. nos Wener nesa'.
Bydd y rhifau ar gyfer y Tote nesaf yn cael ei tynnu nos Wener, 27ain o fis Medi, yn sesiwn Bingo misol Clwb Cymdeithasol, Clwb Pêl-Droed Porthmadog yn Y Ganolfan.
Amlenni Tote ar gael o Siop Pikes, Y Ganolfan, Clwb Pêl-droed Porthmadog neu Dylan 07900512345.

The winning numbers in the August TOTE were 13 + 31. There wre 3 winners, Billy Murray, Vanda Hassall and June Wild sharing a prize of £840. This to be confirmed. Any claims must be made by 8pm next Friday.
The next Tote will be drawn on Friday, 27th September at the monthly Porthmadog FC Social Club Bingo held at Y Ganolfan.
Tote envelopes available from Pikes Newsagents, Y Ganolfan, Porthmadog F C Clubhouse or Dylan 07900512345
---

Gyda'r ffenest drosglwyddo yn cau ganol nos, nos Lun nesa', mae Sion Eifion wedi cryfhau ei garfan trwy arwyddo Telor Williams, chwaraewr â symudodd o Gaernarfon i Llandudno yn ystod y tymor diwetha' gan chwarae 10 o gemau Uwch Gynghrair i'r clwb.
Treuliodd Telor cyfnod cyn dymor yr haf ar brawf gyda Chaerlyr (Leicester City), Sheffield Wednesday a hefyd Salford. Ond bellch, mae wedi cymryd y penderfyniad i arwyddo i Port.
Mae'r chwaraewr ifanc ochr chwith wedi cynrychioli Colegau Cymru ac Academi Cymru ar lefel Dan 18. Wrth groesawu Telor i'r Traeth dywedodd Sion Eifion, "Bu Telor efo ni ynystod y cyfnod cyn dymor ac mae pawb yn hapus iawn ei fod wedi arwyddo i ni, Cafodd brofiadau gwych yn ystod yr haf gyda chlybiau proffesiynol ond, erbyn hyn, am gadw ei ben i lawr a sicrhau ei lle yn rheolaidd yn y tîm. Mae'n chwaraewr ochr chwith naturiol a bydd yn ychwanegu tipyn o'r gydbwysedd sydd angen ar ein tîm. 'Da ni gyd yn edrych ymlaen i'w weld yn tyfu a datblygu ymhellach efo ni ar Y Traeth. Croeso Telor!"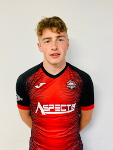 With the transfer window closing at midnoght on Monday, Sion Eifion has moved to strengthen his squad with the signing of Telor Williams who switched from Caernarfon to Llandudno during last season and made 10 Welsh Prem appearances.
Telor has spent pre-season on trial with three professional clubs; Leicester City, Sheffiield Wednesday and Salford City.but has now made the decision to sign for Port.
The young left sided player has has also represented the Welsh Colleges and the Wales Academy team at U18 level.
Welcoming him to the Traeth, Sion Eifion said, "Telor has been with us all pre-season and we're all delighted that he's now signed on with us at the club. He's had some great experiences during pre-season at professional clubs but he's now ready to get his head down and work for a starting position in our team. He's a natural left sided player which will add some much needed balance to our team. We all look forward to watch him grow and develop further with us here at Port. Croeso Telor!"
---