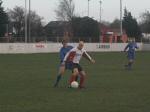 Jason Sadler yn cael ei farcio'n dyn.
Jason Sadler is closely marked.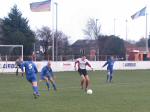 Richard Hughes - unig sgoriwr y gêm.
Richard Hughes scored the game's only goal.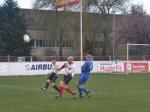 Golgeidwad Airbus yn curo Sadler at y bêl.
The Airbus keeper beats Sadler to the ball.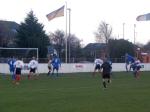 Croesiad tuag at Lee Webber.
The ball is crossed towards Lee Webber.
Cliciwch ar y lluniau uchod am luniau llawn.
Click on the above pictures for full pictures.