Enillydd y "Draw Wythnosol" am wythnos 19 yw rhif 13 ELAINE BRIERLEY yn ennill gwobr o £75 Llongyfarchiadau!!
-Ymunwch â'r "DRAW WYTHNOSOL" Siawns i ennill £75 am £1 yr wythnos.
Am fwy o wybodaeth cysylltwch a Enid Owen 07901876120 neu Dylan Rees 07900512345 neu rees48wesla@gmail.com

The "Weekly Draw" winner for week 19 is no. 13 ELAIN BRIERLEY who wins the £75 prize Congratulations!!
Join the " WEEKLY DRAW" £1 weekly for your chance to win £75!!
For more information contact Enid Owen 07901876120 or Dylan Rees 07900512345 / rees48wesla@gmail.com
---

Llongyfarchiadau fil i dîm Genod Port am eu buddugoliaeth wych heddiw dros Genod Fflint i ennill Tlws Merched y Gogledd. Yr hyn sy'n gwneud y llwyddiant yn fwy fyth o gamp ydy mai hwn yw eu tymor cynta' o fodolaeth. Da iawn Genod a llongyfarchiadau a diolch i Gethin Jones a'i hyfforddwyr.
Daeth y fuddugoliaeth heddiw yn dilyn curo'r rownd gynderfynol dros Llanrwst; 3-2 ar giciau o'r smotyn ar gae CPD Penrhyndeudraeth nos Iau
Dyma goron ar y tymor yn dilyn 3ydd safle y Tîm Cyntaf a Dwbwl gwych yr Ail-dîm. Ymlaen at fwy o lwyddiant yn 2019/20.

Congratulations to the Girls Team who have, in their first season of existence, picked up the North Wales Girls Shield with a win over Flint Girls today. A great achievement for the Girls and thanks and congratulations to Gethin Jones and his coaches.
The win in the Final follows last Thursday's exciting penalty shoot-out in the semi final played at CPD Penrhyndeudraeth against Llanrwst. At the end of full time it was 1-1 and the decision went Port's way 3-2 on penalties.
This win provides a great finale to a great season, which has also seen the senior team finish in 3rd place and a fantastic double by the Reserves. On to next season and more success in 2019/20.
---

Mae cyhoeddiad Y Gymdeithas Bêl-droed ynglyn â Trwyddedau Haen 2 yn cadarnhau fod Port wedi derbyn y dystysgrif anghenrheidiol ar gyfer Pencampwriaeth CBDC (Y Gogledd) ar gyfer y tymor nesa'. Mae bob un o'r 16 clwb yn yr HGA wedi derbyn y drwydded gan gynnwys Treffynnon, Caergybi a Dinbych; y tri fydd yn disgyn allan o'r gynghrair.
Mae Llangefni a Llanfair, y ddau sydd wedi ennill dyrchafiad, hefyd wedi cael eu trwyddedau wedi'u cadarnhau. Mae Corwen, gyda un gêm yn weddill i'w chwarae ac yn sicr o orffen yn y 2 uchaf yng Nghynghrair Ardal Wrecsam, hefyd wedi sicrhau y Drwydded Haen 2.
Mae hyn hefyd yn wir am Bae Colwyn a Llandudno, dau glwb arall fydd yn y Bencampwriaeth y tymor nesa'.

The FAW announcement regarding its Tier 2 Licence awards means that Port have received the necessary certification to be part of the FAW Championship (North) for next season. All HGA clubs have been awarded their Tier 2 Licences including the relegated trio of Holywell, Denbigh and Holyhead.
Promoted clubs Llangefni and Llanfair have both had their Licences confirmed. Corwen, with one game remaining to be played on Saturday and certain to secure a top 2 finish in the Wrexham area league, have also had their Tier 2 licence confirmed.
Llandudno and Colwyn Bay have also had their Tier 2 Licences confirmed.
---

Daeth y fuddugoliaeth o 5-2 dros Llandtnog a thymor diguro arbennig yr Ail-dîm i ben. Nos Fawrth cawsant y 24ain fuddugoliaeth o'r tymor a hefyd dwy gêm gyfartal. Agorodd Josh Hughes y sgorio ac 1-0 oedd y sgôr ar yr hanner. Yn yr ail hanner sgoriodd Math Roberts a Sion Parry dwy yr un i wneud y fuddugoliaeth yn saff. Daeth y goliau â chyfanswm rhyfeddol Sion Parry am y tymor i 41 gôl gynghrair.
Llongyfarchiadau i'r Ail-dîm ar dymor gwych yn rhoi y ffarwel orau posib' i Sion Eifion wrth iddo symud i fyny i ofalu am y Tîm cyntaf.
Wrth ffarwelio meddai Sion Eifion; "Y tymor diguro, gwneud y dwbl, y Gynghrair a'r Gwpan. gyda grwp o hogia' grêt, yn dod i ben! Ymlaen i'r tymor nesa' a mynd â'r clwb yn ôl i lle ddylai fod!"

A 5-2 win over Llandyrnog brought the Reserves remarkable unbeaten season season to a close. On Tuesday evening they recorded their 24th league victory of the season with the two games ending as draws. Josh Hughes opened the scoring for Port and it remained 1-0 at the interval. Further goals came in the 2nd half with Math Roberts and Sion Parry both netting twice each for Port. These goals brought Sion Parry's tally for the season to an outstanding 41 goals.
Congratulations to the Reserves on a tremendous season and a great send-off to head coach Sion Eifion as he moves up to take charge of the senior team.
Sion Eifion's final comment as heprepares to bid farwell was: "Unbeaten season, winning the League and Cup double with a great group of lads has come to an end! Onto next season to take this Club back to where we belong! "
---

Enillydd y "Draw Wythnosol" am wythnos 18 yw rhif 28 GERALLT OWEN yn ennill gwobr o £75 Llongyfarchiadau!!
-Ymunwch â'r "DRAW WYTHNOSOL" Siawns i ennill £75 am £1 yr wythnos.
Am fwy o wybodaeth cysylltwch a Enid Owen 07901876120 neu Dylan Rees 07900512345 neu rees48wesla@gmail.com

The "Weekly Draw" winner for week 18 is no. 28 GERALLT OWEN who wins the £75 prize Congratulations!!
Join the " WEEKLY DRAW" £1 weekly for your chance to win £75!!
For more information contact Enid Owen 07901876120 or Dylan Rees 07900512345 / rees48wesla@gmail.com
---

Dydd Sadwrn nesa', Mai 4ydd, cynhelir y 3ydd Gwyl Bêl-droed Flynyddol ar Y Traeth. Bydd timau Dan 6 oed , Dab 8 oed a Dan 10 oed yn cystadlu.
Bydd corestru yn cychwyn am 8.30 am
Hyd yma mae 35 o dimau wedi cofrestru.
Y gost fydd £25 y Tîm
I gofrestru cysylltwch â gl-jones@hotmail;co;uk neu ffoniwch 07874033552

Next Saturday, May 4th the 3rd Annual Grassroots Football Festival will be held at the Traeth. Teams U6, U8 and U10s will take part.
Registration starts at 8.30am.
To date 35 teams have entered.
The cost per team is £25.
To register contact gl-jones@hotmail.co.uk or phone 07874033552
---

Enillydd y "Draw Wythnosol" am wythnos 17 yw rhif 151 JOHN PARRY yn ennill gwobr o £75 Llongyfarchiadau!!
-Ymunwch â'r "DRAW WYTHNOSOL" Siawns i ennill £75 am £1 yr wythnos.
Am fwy o wybodaeth cysylltwch a Enid Owen 07901876120 neu Dylan Rees 07900512345 neu rees48wesla@gmail.com

The "Weekly Draw" winner for week 17 is no. 151 JOHN PARRY who wins the £75 prize Congratulations!!
Join the " WEEKLY DRAW" £1 weekly for your chance to win £75!!
For more information contact Enid Owen 07901876120 or Dylan Rees 07900512345 / rees48wesla@gmail.com
---

Amser am fargen yn Siop y Clwb!
Nigel a Rose yn tynnu £10 ffwrdd o bris y Crysau Cartref . Maent ar gael am y PRIS ARBENNIG o £20.
Ewch I Siop y Clwb Arlein!!

Its bargain time at the Online Shop!
Nigel and Rose taking £10 off the price of home shirts. They are now available at the BARGAIN PRICE of £20.
Check it out on the SHOP ONLINE!!.
---

"Am dymor!! Mae'r hogia' yma yn gredyd I'w hunain ac i'r Clwb," oedd sylw balch y Prif Hyfforddwr Sion Eifion yn dilyn buddugoliaeth ei dîm, gyda gôl hwyr yn ystod yr amser anafiadau yn sicrhau ennill Cwpan Her Tân Gwyllt Lock Stock.
Roedd codi'r Gwpan yn cwblhau tymor gwych i'r Ail-dîm wrth iddynt wneud y Dwbwl yn ennill y Gwpan a'r Gynghrair.
Nid un o'r buddugoliaethau arferol gyda digon o goliau oedd hon gan bu'n rhaid i'r hogia' frwydro pob modfedd o'r ffordd i guro Ail-dîm Bae Colwyn nos Wener ar Y Morfa, Conwy.
Port aeth ar y blaen yn y munud cyntaf a hynny yn y modd mwyaf annisgwyl. Y golwr Morgan Jones oedd yn gyfrifol, yn taro cic gôl ar hyd y cae i'r rhwyd, Rhyfeddol!! Ond ar ôl 10 munud roedd hogia'r Bae yn gyfartal 1-1. Ychydig cyn yr Hanner Amser roedd Morgan yng nghanol pethau eto. Tynnodd ymosodwr Y Bae i lawr- cic o'r smotyn. Wedyn arbedodd yn gic o 12 llath!
Dim mwy o goliau yn ystod y 90 munud, er i Cai Henshaw rhoi'r bêl yn y rhwyd ar 87 munud, ni chafodd ei chanatau. Roedd amser ychwanegol yn edrych yn anorfod OND yn y 3ydd munud o amser anafiadau, dyma Guto Gwenallt yn rhwydo 2-1 i Port ac amser i'r dathliadau gychwyn!!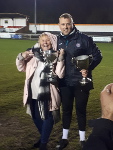 "What a season! These boys are an absolute credit to themselves and the Club," was the proud comment of Port Res Head Coach, Sion Eifion following his team's tense added time victory to lift the Lock Stock Fireworks Challenge Cup at Y Morfa, Conwy on Friday evening.
The Cup win completed a magnificent season for the Reserves as they completed a memorable League and Cup double as the unbeaten season continues.
This win was not of the high scoring variety as the lads were made to fight every inch of the way by the Colwyn Bay Res. Port went ahead in the 1st minute from the unlikely source of keeper Morgan Jones who netted directly from a goal kick!! But in the 10th minute Colwyn drew level,1-1. Just before the interval keeper Morgan Jones found himself in the middle of the action. First, he brought down a Bay forward and then proceeded to save the penalty that followed.
There were no further goals during the 90 minutes, though Cai Henshaw netted on 87 mins only for it to be ruled out, and extra time seemed inevitable. The in the 3rd minute of added time Guto Gwenallt settled the game, 2-1 to Port and the celebrations could begin!!

Y Garfan yn y Ffeinal / Squad for the Final.
Morgan Jones, Aled Williams, Meilir Edwards, Ben Williams, Cedri Jones, Dion Roberts, Math Roberts, Guto Gwenallt, Cai Henshaw, Rhys Hughes, Sion Parry.
Ar y Fainc / Subs: Kai Williams, Sol Kempster, Jac Davies, Arwyn Jones, Josh Hughes, Reece Evans, Toby Foskett
---

Y rhifau lwcus yn TOTE mis Ebrill oedd 25 + 38. Roedd 1 ennillydd, hyn i'w gadarnhau, Richard Williams, Porthmadog yn ennill £570!!!!! Bydd rhaid gwneud unrhyw gais erbyn dydd Gwener 3ydd Mai. Llongyfarchiadau!!
Bydd y rhifau ar gyfer y Tote nesaf yn cael ei tynnu nos Wener, 31ain o fis CMai, yn sesiwn Bingo misol Clwb Cymdeithasol, Clwb Pêl-Droed Porthmadog yn Y Ganolfan.
Amlenni Tote ar gael o Siop Pikes, Y Ganolfan, Clwb Pêl-droed Porthmadog neu Dylan 07900512345

The winning numbers in the April TOTE were 25 + 38. There was 1 winner, this to be confirmed, Richard Williams, Porthmadog, winning the £570 prize!! Any claims must be made by 8pm on Friday 3rd May. Congratulations!!
The next Tote will be drawn on Friday, 31st May at the monthly Porthmadog FC Social Club Bingo held at Y Ganolfan.
Tote envelopes available from Pikes Newsagents, Y Ganolfan, Porthmadog F C Clubhouse or Dylan 07900512345
---

Nos Wener 26 Ebrill bydd yr Ail-dîm yn chwarae yn Ffeinal Cwpan Her Tân Gwyllt Lock Stock. Eu gwrthwynebwyr fydd Ail-dîm Bae Colwyn. Chwaraeir y gêm ar Y Morfa, cartref clwb Conwy Borough. Bydd y gic gyntaf am 7.30pm.
Cefnogwch yr Hogia' C;mon Port!!

On Friday, 26 April, the Reserves will be playing in the Final of the Lock Stock Fireworks Challenge Cup against Colwyn Bay Res.The game will be played at The Morfa, the home of Conwy Borough FC. Kick off will be at 7.30 pm.
Support the lads. C'mon Port!!
---

Dathlodd yr Ail-dîm ennill y Bencampwriaeth, gyda buddugoliaeth arall heno. Curwyd Llangefni o 2-0 gyda Sion Parry a Guto Gwenallt yn sgorio.
Daw ei gôl heno a chyfanswm goliau Sion Parry i 39 yn y Gynghrair a'i gyfanswm yn y Gynghrair a'r Cwpan i 47 gôl.

The Reserves celebrated their title win with another victory tonight. They won by 2-0 at Llangefni with the goals comig from Sion Parry and Guto Gwenallt.
His goal tonight, takes Sion Parry's total League tally to 39 and League and Cup total to 47 goals!!!
---

Llongyfarchiadau I Sion Eifion a'r hogiau yn sicrhau Pencamwriaeth Cynghrair Ail-Dîmau'r Welsh Alliance 2018/19 gyda buddugoliaeth swmpus arall ar Y Traeth heddiw. Daw hyn â chyfanswm eu buddugoliaethau i 22 mewn tymor diguro, gyda 2 gêm gyfartal a 118 o goliau -record wirioneddol ardderchog. Ar ddiwedd y gêm cyflwynwyd Tlws y Gynghrair i'r Tim.
Heddiw cafwyd buddugoliaeth o 10-0 dros Prestatyn gyda'r peiriant goliau Sion Parry yn ychwanegu 7 gôl (saith) at ei gyfanswm am y tymor.
Ar ôl y gem cyflwynwyd y Tlysau am dymor cofiadwy:
Chwarewr y Tymor: CAI HENSHAW
Chwaraewr y Chwaraewyr: CAI HENSHAW
Chwaraewr y Rheolwr: DION ROBERTS
Y Prif Sgoriwr: SION PARRY
Bydd yr Ail-dîm yn teithio i Llangefni nos Lun gyda'r gic gynta am 7.30pm.

Congratulations to Sion Eifion and his squad who today secured the points they needed to become Welsh Alliance Reserve League Champions for 2018/19, with another big win at the Traeth.
It brings the tally of league victories in their unbeaten season up to 22, wth 2 draws and the goal total to 118 – a really remarkable season.
Today there was a 10-0 win over Prestatyn with goal machine Sion Parry adding another 7(seven) goals to his already impressive tally for the season.
The following Awards for a memorable season were made:
Player of the Season: CAI HENSHAW.
Players' Player of the Season: CAI HENSHAW
Manager's Player of the Season: DION ROBERTS
Top Scorer: SION PARRY.
The Reserves will be away to Llangefni on Monday night. Kick off 7.30pm.
---

Enillydd y "Draw Wythnosol" am wythnos 16 yw rhif 274 JOSIE HAVELOCK yn ennill gwobr o £75
Llongyfarchiadau!!
-Ymunwch â'r "DRAW WYTHNOSOL" Siawns i ennill £75 am £1 yr wythnos.
Am fwy o wybodaeth cysylltwch a Enid Owen 07901876120 neu Dylan Rees 07900512345 neu rees48wesla@gmail.com

The "Weekly Draw" winner for week 16 is no. 274 JOSIE HAVELOCK who wins the £75 prize
Congratulations!!
Join the " WEEKLY DRAW" £1 weekly for your chance to win £75!!
For more information contact Enid Owen 07901876120 or Dylan Rees 07900512345 / rees48wesla@gmail.com
---

Llongyfarchiadau i Fflint a sicrhaodd yr ail safle yn nhabl yr HGA wrth iddynt ddod yn ôl i gael buddugoliaeth o 2-1 dros Prestatyn heddiw. Flly y trydydd safle mwy na pharchus i Port a gollodd y cyfle am yr 2ail safle drwy golli adre yn erbyn Cegidfa y Sadwrn diwetha'.

Congratulatiosn to Flint Town United who secured the runners-up spot in the HGA table, coming from behind to defeat Prestatyn by 2-1 today. Port finished in a more than creditable 3rd spot but last Saturday's defeat at home to Guilsfield meant missing out on the runners-up place.
---

Mae gêm yr Ail-dîm heno wedi'i GOHIRIO gan fod Llandyrnog methu codi tîm.

Tonight's RESERVE game is OFF as Llandyrnog are unable to raise a team.
---

Mae'n wythnos fawr i'r Ail-dîm wrth iddynt geisio sicrhau yr un pwynt sydd angen i sicrhau fod teitl Gynghrair yr Ail-dimau, y Welsh Alliance yn dod i'r Traeth.
Bu'n dymor gwych i garfan ifanc Sion Eifion, a fydd o'n awyddus i gwblhau'r gwaith yn llwyddianus cyn iddo gamu fyny i swydd rheolwr y tîm cynta'.
NOS FAWRTH, gyda'r gic gynta' am 7.45pm, bydd y clwb yn croesawu Llandyrnog i'r Traeth.
Bydd un pwynt yn ddigon i sicrhau teitl Cynghrair am 2018/19. Ar hyn o bryd mae 11 pwynt yn gwahanu Port oddi wrth Dinbych a Llanberis, y ddau sydd yn 2ail a 3ydd.
Gwelwn fod record balch diguro'r hogia' mewn 23 o gemau yn cynnwys 21 buddugoliaeth a dwy gêm gyfartal. Yn ogystal, sgoriwyd 109 o goliau gyda ond 28 yn eu herbyn. Cyfranodd Sion Parry 31 o rhain, 18 i Cai Henshaw a 11 gôl i Rhys Hughes. P'nawn Sadwrn bydd Prestatyn yn ymweld â'r Traeth. Cic gynta' am 2.30pm.
Cefnogwch yr hogia'. C'mon Port!!

A big week lies ahead for the Reserves as they seek to clinch the Welsh Alliance Reserve League title. It has been a great season for Sion Eifion's young squad and Sion will be keen complete this final act before he steps up to become the main man in charge of the first team.
On TUESDAY night, the Reserves will entertain Llandyrnog United at the Traeth, kick off 7.45pm. A single point will ensure that the title comes to the Traeth. 11 points currently separates them from the chasing two of Denbigh and Llanberis.
Their proud unbeaten playing record in this outstanding season shows 21 wins from the 23 games played and the other two ended in draws. They have also scored 109 goals while conceding just 28 goals. Sion Parry contributed 31 of these goals while Cai Henshaw netted 18 and Rhys Hughes 11.
On Saturday, Prestatyn will be the visitors to the Traeth. Kick off 2.30pm.
Support the lads. C'mon Port!!
---

Dyma enillwyr y gwobrau ddiwedd tymor:
Chwaraewr y tymor y Cefnogwyr: Gruff John Williams
Chwaraewr y Tymor Y Chwaraewyr: Gruff John Williams
Chwaraewr y Tymor y Rheolwr: Ceri James
Prif Sgorwyr: Shaun Cavanagh.
Tlws 'Chwaraewr y Gêm' (dewis y gwrthwynebwyr): Sion Edwards
Llongyfarchiadau i Gruff John a fethodd bron y cyfan o'r tymor diwetha; drwy anaf ond, sydd wedi stormio 'nol y tymor hwn gyda perfformiadau cyson. cry' a gyda'r bonws mawr o sgorio 8 gôl.Cael ei wobrwyo trwy gael ei ddewis gan y Cefnogwyr a hefyd ei gyd chwaraewyr.
Bu'r profiadol Ceri James yn ddylanwad mawr ar y tîm ac yn chwaraewyr allweddol yng nghanol amddiffyn a gadwodd 13 llechen lân mewn gemau cynghrair a 3 arall mewn gemau cwpan.
Da iawn Shaun Cavanagh, chwaraewr ifanc yn ei dymor cynta' gyda'r clwb, yn sgorio 13 o goliau mewn gemau cynghrair a chwpan.
Sion Edwards a'i allu i droi amddiffyn a newid cwrs gêm yn cael ei enwi gan y gwrthwynebwyr
Diolch i Dylan Elis a'r teulu am noddi'r tlysau.


The end of season award winners were as follows:
Supporters Player of the Season: Gruff John Williams
Players' Player of the Season: Gruff John Williams Manager's Player of the Season: Ceri James
Top Scorer: Shaun Cavanagh.
'Man of the Match' Award (opponents' selection): Sion Edwards
Congratulations to Gruff John, who missed virtually the whole of last season through injury, but has made a storming return this season with his quality consistent performances and with the added bonus of scoring 8 goals.Rewarded with both the Supporters and fellow Players' Award
The experienced Ceri James has been a great influence on the team and a key performer in the centre of a defence that kept 13 league clean sheets and 3 more in cup games.
Well done to Shaun Cavanagh, a young player in his first season at the club, top scoring with 13 league and cup goals
With his ability to open defences and change the course of a game Sion Edwards has earned the nomination from opponents.
Thanks to Dylan Elis and family who sponsored the trophies.
---

Enillydd y "Draw Wythnosol" am wythnos 15 yw rhif 25 YVONNE PREECE. Yn ennill gwobr o £75 Llongyfarchiadau!! -Ymunwch â'r "DRAW WYTHNOSOL" Siawns i ennill £75 am £1 yr wythnos.
Am fwy o wybodaeth cysylltwch a Enid Owen 07901876120 neu Dylan Rees 07900512345 neu rees48wesla@gmail.com

The "Weekly Draw" winner for week 15 is no. 25 YVONNE PREECE who wins the £75 prize Congratulations!! Join the " WEEKLY DRAW" £1 weekly for your chance to win £75!!
For more information contact Enid Owen 07901876120 or Dylan Rees 07900512345 / rees48wesla@gmail.com
---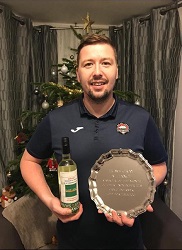 Gyda ymweliad Cegidfa â'r Traeth pnawn Sadwrn, daw cyfnod 5-mlynedd Craig Papirnyk ar Y Traeth i ben, ac felly mae hon y foment iawn i ddweud diolch yn fawr iddo am y cyfan mae wedi'i gyflawni ac am osod safonau cwbl broffesiynol.
"Parting is such sweet sorrow", meddai bardd mawr Lloegr ac yn achos Craig mae'n berffaith addas. Tristwch am nad oedd ganddo unrhyw awydd i adael y swydd, a melys gan ei fod wedi gwneud cymaint, â gwaith eto i'w orffen, â'r croeso iddo yn dal mor frwd ag erioed.
Mae llawer rheolwr yn gorffen gyrfa mewn siom ac weithiau aniddigrwydd ond, yn achos Craig, mae'n gadael nid drwy ddewis ond, oherwydd amgylchiadau. Yn rhannol, fel mae'n cyfaddef, mae rhain o'i wneuthuriad ei hun. Ond gadael a wnaiff a'i ben yn uchel, wedi ennill parch pawb yn y gêm, yn swyddogion, cyd rheolwyr, chwaraewyr a chefnogwyr.
Daeth i'r swydd ar Y Traeth a fo yn ifanc iawn i fod yn rheolwr ond camodd i fyny gan brofi ei hun yn arweinydd naturiol, yn hyderus, rhugl a hunan feddiannol. Ond gan iddo fod yn rheolwr ar ei glwb cartre' yn Y Bermo pan oedd yn 22 oed nid yw fawr o syndod.
Bellach mae'r clwb mewn sefyllfa gref gyda llawer o ddatblygiadau oddi ar y cae yn mynd yn dda. Bu'r Ail-dîm, gyda Sion Eifion, yn llwyddiant ysgubol. Tyfu mae'r Academi gyda phwyslais ar ddatblygu pêl-droed merched. O dan lygad craff Gethin Jones, mae'r Cynllun Pêl-droed yn y Gymuned wedi datblygu gan roi'r clwb yn blwmp yng nghanol y gymuned yn Ne Gwynedd.
Mae hyn i gyd wedi bod yn gymorth i Craig wrth iddo gyflawni un o'i brif amcanion sef creu cyfleoedd i hogiau lleol gynrychioli'r clwb. Os gychwynodd Craig efo cynllun 5-mlynedd, mae'n rhaid ei fod wedi'i blesio gan y modd mae'r cyfan wedi dod i fwcl. Pan gychwynodd ar y daith hon, mae'n siwr fod dychwelyd i UGC yn rhan bwysig o'i uchelgais. Ni chyrhaeddwyd y nod yna.... ETO, ond eleni llwyddodd i hel carfan gre' at ei gilydd sydd wedi mynd â'r clwb ond cam yn fyr o wlad yr addewid. Yn sicr, mae'n gadael sefyllfa gadarn, gwerth ei gael i Sion Eifion. Gydag ychydig iawn o addasiadau, gall ddod â'r dyrchafiad mae pawb yn dymuno ei weld.
Yn syml iawn, diolch Paps a phob dymuniad da at y dyfodol.



Perfformiad y clwb dan Caraig Papirnyk / Club's performance under Craig Papirnyk
| Tymor/ Season | P | W | D | L | F | A | Pts | Pos | Gls/Game | Pts/Game |
| --- | --- | --- | --- | --- | --- | --- | --- | --- | --- | --- |
| 2018/19 | 29 | 17 | 6 | 6 | 60 | 30 | 57 | 2 | 2.06 | 1.97 |
| 2017/18 | 28 | 13 | 5 | 10 | 70 | 46 | 44 | 7 | 2.50 | 1.57 |
| 2016/17 | 30 | 16 | 2 | 12 | 64 | 48 | 50 | 4 | 2.13 | 1.67 |
| 2015/16 | 30 | 13 | 2 | 15 | 47 | 54 | 41 | 10 | 1.57 | 1.37 |
| 2014/15 | 30 | 15 | 5 | 10 | 63 | 35 | 50 | 6 | 2.10 | 1.67 |


With Saturday's game with Guilsfield marking the end of Craig Papirnyk's 5-year period in charge at the Traeth it seems a good time to say thank-you for a job well done and for the professional way it has been carried out.
"Parting is such sweet sorrow", says the bard and in Craig's case it's certainly true. He did not want to leave and neither had he outstayed his welcome. Sorrow therefore, but sweet also because he can depart in the knowledge that he has moved things on considerably while occupying the manager's chair at the Traeth.
Many managerial stints end in disappointment and at times bitterness, but that is not true of Craig, as he leaves, not through choice but through circumstances partly, as he admits, of his own making. He leaves, however, with head held high, having earned the respect of people throughout the game, from officials, fellow managers, players and supporters Craig took over at the Traeth at a very young age for a manager, but stepped up to the plate and has proved himself a natural leader, confident, articulate and assured. This is hardly surprising given that he managed Barmouth, his home town club, at the ripe old age of 22 years.
Our club is now in a strong position with developments off the field continuing. The Reserve team has been a huge success under Sion Eifion. The Academy has continued to grow with the opportunities for girls becoming a strong part of that growth. Under the skilled eye of Gethin Jones the award-winning Football in the Community Scheme has developed and has put the club right at the heart of the community in South Gwynedd.
All this has been very satisfying for Craig as one of his key aims was to give local players the opportunity to represent the club and play at the highest level. If Craig started out with a 5-year plan then he must feel very pleased with the outcome. A return to the WPL must have been high on his agenda. That has not been achieved … YET, but this season he has assembled a really strong squad and has taken the club a step short of the promised land. He most certainly leaves a worthwhile legacy for Sion Eifion one, with only a few adjustments, that can bring about the promotion everyone desires.
Put simply, thanks Paps and very best wishes for the future.
---
Noddwr / Match Sponsor: HAFOD WEN, Harlech.

Pnawn Sadwrn daw'r llen i lawr ar dymor Port yn 2018/19, gyda gêm ar Y Traeth yn erbyn Cegidfa. Mae gan Port gyfle yn dal i orffen yn yr 2il safle yn y tabl yn nhymor olaf y Cymru Alliance cyn i Bencampwriaeth y Gogledd (FAW) gymryd drosodd. Bydd sicrhau yr 2il safle yn ddibynnol ar ganlyniadau Y Fflint sydd a dwy gêm yn weddill.
Ond gyda'r 3ydd safle yn barod wedi'i sicrhau a gobethion am yr 2il yn dal yn fyw bydd pnawn Sadwrn yn ddiweddglo addas i gyfnod Craig Papirnyk ar Y Traeth.
Gwrthwynebwyr anodd fu Cegidfa ar hyd y blynyddoedd. Mae dwy fuddugoliaeth mewn 4 niwrnod wedi'u codi nhw i'r 7fed safle. Y Sadwrn diwetha' cawsant fuddugoliaeth dda o 3-2 dros Prestatyn ac yna curo Rhuthun o 2-0 nos Fawrth.
Mae buddugoliaeth y Sadwrn diwetha dros Llanrhaeadr yn ei gwneud yn 6 buddugoliaeth yn y 7 gêm ddiwetha' i Port â'r golled honno yn erbyn Rhuthun yw'r unig gêm a gollwyd yn ystod y rhediad cynghrair o 10 gêm. C'mon Port! Amdani er mwyn Paps!!

Port bring the curtain down on their 2018/19 season with the re-arranged fixture with Guilsfield FC. Port come to this game still with a chance of ending the season as runners-up in what is the final season of the Cymru Alliance before we switch to the FAW Championship (North). Achieving a runners-up spot will depend on Flint's results and the Deeside club still have two games remaining.
With a 3rd place finish guaranteed and hopes of the 2nd place, make it a fitting finale to Craig Papirnyk's time in charge at the Traeth.
The Guils have never been anything but difficult opponents. Two wins in 4 days has lifted them to 7th place in the table. Last weekend they gained a good 3-2 win over Prestatyn and followed this up with a 2-0 victory over Ruthin Town.
Saturday's win over Llanrhaeadr make it 6 wins in the last 7 games for Port and that defeat at Ruthin is the only blot on an otherwise unbeaten run of 10 league games. C'mon Port!! Do it for Paps!
---

Parhau â'r tymor cynghrair diguro gwnaiff yr Ail-dîm gyda buddigoliaeth o 4-0 dros Penmaenmawr. Roedd yr hanner cyntaf yn ddi-sgôr ond ar ôl yr hanner amser cododd yr hogia' eu gêm gyda Sion Parry, Dion Roberts, Rhys Hughes a Josh Hughes yn sgorio'r goliau. Da iawn hogia'.
Diolch i Hywel am y Trydar.

The Reserves continued their unbeaten league season with a 4-0 win away at Penmaenmawr. The first half remained goalless but, after the interval, the lads got into gear with goals coming from Sion Parry, Dion Roberts, Rhys Hughes and Josh Hughes. Well done lads.
Thanks Hywel for the updates.
---

Mae cael ein cynnwys yn rhestr Deg Ucha Dave Jones o wefanau pêl-droed y gogledd yn fater o falchder, a felly hefyd cael cymeradwyaeth gan newyddiadurwr mor brofiadol. Gwelir y rhestr ar ' 'Sgôr – Dave Jones's North Wales Sports Blog'. Cewch y Blog yma
Bu Dave yn garedig iawn ei sylwadau a dyma sampl:
"Information-wise, Port's website is a trailblazer for Welsh football."
"...updated regularly"
"...massive plus for Port's website is it is bilingual."
".... there is a superb archive going back to 1997/98"
Gan mai trosglwyddo gwybodaeth a sylwebaeth am y clwb oedd y rheswm am gychwyn y wefan, a hynny mewn dwy iaith, mae'r sylwadau yma yn dderbyniol iawn.
Ei gasgliad oedd mai Porthmadog ydy amddiffynwr canol cry' dibynadwy tîm pêl-droed y gwefanau a hwn yn sylw y medrwn dderbyn yn hapus.
'Da ni'n ymwybodol fod angen ychydig o ail wampio ar y wefan a rhywbryd gobeithio bydd amser yn caniatáu i wneud hyn!! Ond yn y diwedd y wybodaeth a dderbynir sy'n sicrhau gwefan dda ac mae Craig Papyrnik bob amser o blaid cyfathrebu yn dda.

We take it as a great honour to be included amongst Dave Jones's top ten websites on the north Wales football scene It has to be a matter of pride being named by this highly experienced journalist. He includes us in his list on ' 'Sgôr – Dave Jones's North Wales Sports Blog''. The Blog' is found here Dave is very generous in his comments and here is a sample:
"Information-wise, Port's website is a trailblazer for Welsh football."
"...updated regularly"
"...massive plus for Port's website is it is bilingual."
".... there is a superb archive going back to 1997/98"
Since the website was commenced to provide information and comment for supporters and other interested parties in two languages, the above comments are very satisfying.
Dave's summing up of "Porthmadog's is the strong and dependable centre-half in the football team of websites," is something we would happiy take.
We realise that the website could do with a revamp to include more photograhs and one day we hope time will permit us to achieve this aim.
A websirte is only as good as the information it recieves and Craig Papirnyk has been a believer in good communication.
---

Bydd yr Ail-dîm oddi-cartref nos Fawrth (Ebrill 9fed) gan ymweld â Phenmaenmawr.
Bydd y gic gynta' am 6,45 pm.

The Reserves have an away fixture on Tuesday (April 9th) when they play Penmaenmawr Phoenix.
Kick off is at 6.45 pm.
---

Enillydd y "Draw Wythnosol" am wythnos 14 yw rhif 56 Jean Bigwood. Yn ennill gwobr o £75 Llongyfarchiadau!! -Ymunwch â'r "DRAW WYTHNOSOL" Siawns i ennill £75 am £1 yr wythnos.
Am fwy o wybodaeth cysylltwch a Enid Owen 07901876120 neu Dylan Rees 07900512345 neu rees48wesla@gmail.com

The "Weekly Draw" winner for week 14 is no. 56 who wins the £75 prize Congratulations!!
Join the " WEEKLY DRAW" £1 weekly for your chance to win £75!!
For more information contact Enid Owen 07901876120 or Dylan Rees 07900512345 / rees48wesla@gmail.com
---

Noddwr / Match Sponsor: Llanfair Slate Caverns / Farm Park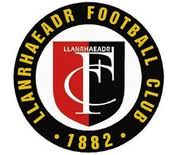 Pnawn Sadwrn fydd Port yn croesawu Llanrhaeasr-ym-Mochnant I'r Traeth ar gyfer gêm ola' ond un y tymor. Mae gan y clwb o'r canolbarth 3 gêm yn weddill o'u tymor cynta' yn ôl ar lefel 2 o'r pyramid. Er nad ydynt yn hollol matemategol ddiogel maent yn y 12fed safle a byddai angen i rhywbeth anghyffredin ddigwydd iddynt lithro i'r 3 safle isa'. Mae yna 9 pwynt rhyngddynt â Penrhyncoch yn y 3ydd safle o'r gwaelod.
Colli y ddwy gêm ddiwetha' ydy eu hanes; adre' i Prestatyn ac yr wythnos cynt yng Nghonwy. Ond cyn hynny cafwyd buddugoliaethau dros Rhuthun a Penrhyncoch, a gêm gyfartal gyda Gresffordd.
Pan gyfarfu'r ddau glwb yn Llansantffraid, 2-0 oedd y sgôr, gyda Port yn gweithio'n galed am y fuddugoliaeth mewn tywydd mawr. Josh Banks a Shaun Cavanagh oedd y sgorwyr.
Roedd angen gôl hwyr iawn ar Port i sicrhau'r fuddugoliaeth yn Nhreffynnon pnawn Sadwrn, ond maent ar rhediad da, yn ennill 5 o'r 6 gêm ddiwetha'. Un pwynt tu ôl i'r Fflint, sydd â gêm mewn llaw, mae'r ail safle yn dal yn bosibilrwydd i Port. Felly bydd cefnogwyr ag un glust am y diweddara o'r Maes Awyr pnawn Sadwrn. C'mon Port!!

On Saturday Port will entertain Llanrhaeadr-ym-Mochnant in the season's penultimate fixture. The mid-Wales club have 3 games remaining of their first season back at Tier 2 level. They are in 12th place in the table and though not statistically safe from the drop, it would need something extraordinary for them to slip into the relegation spots. There is a 9-point gap between them and the 3rd relegation place.
They have lost their last two games; at home to Prestatyn last weekend and, away at Conwy the previous week. Previously there were wins over Ruthin and Penrhyncoch and a draw with Gresford.
When the two clubs met at Llansantffraid, Port gained a workmanlike 2 -0 victory with goals from Josh Banks and Shaun Cavanagh.
Though they needed a very late goal for the win at Holywell, Port are on a good run, winning five of the last six games. The odd one out coming at Ruthin. Still in with a chance of 2nd place, supporters will be keeping one eye on the latest at Broughton. C'mon Port!!
---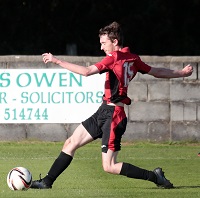 Mae Geralt Owen, ystadegydd y clwb, wedi dod o hyd i ffaith gwirioneddol ryfeddol wrth archwilio record Port yn y Cymru Alliance ar ddiwedd oes anrhydeddus y gynghrair honno sy'n ymestyn yn ôl i dymor 1990/91.
Y FFAITH – Gôl Sion Parry yn yr amser ychwanegol, pnawn Sadwrn yn Nhreffynnon, oedd y 1,000 gôl i'r clwb sgorio yn y Cymru Alliance.
Wow Sion Parry!!

Club statistician Gerallt Owen has dug up a truly amazing fact while researching and looking back at Port's record in the Cymru Alliance League which is now in the final season of its proud existence stretching back to 1990/91.
That amazing fact Sion Parry's injury time winner at Holywell on Saturday was the 1,000 goal scored by the club in the Cymru Alliance!!
Take a bow Sion Parry!!
---

Yn barod mae paratoadau Sion Eifion at y tymor nesaf yn mynd yn eu blaen. Eisoes mae'r tîm hyfforddi a ffitrwydd yn ei le. Isod gweler datganiad Sion sydd yn dilyn ymlaen o gyhoeddiad Craig yr wythnos ddiwethaf ei fod yn gadael y clwb ar ddiwedd y tymor.

Sion Eifion is already building for next season when he takes over as Manager at the Traeth. Planning is clearly well advanced and already his backroom staff is taking shape.. Below we have Sion's statement which comes on the back of Craig's announcement that he will be leaving the club at the end of the season.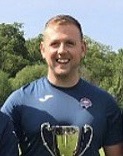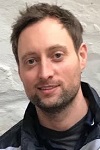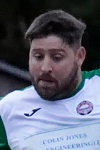 "First of all, I would like to echo my gratitude to Craig for his honest decision to step away at the end of the season. Although disappointing for myself, I fully appreciate and respect his decision. Craig has had a fantastic 5 seasons at the Club and leaves a solid foundation for me to take forward. Pob lwc Paps!
"Going forward, I strongly believe that having the right team off the field is important to support the players and give us the best possible chance of success on-field. Therefore, Sion Tudor Jones will step up to be my Assistant Manager. Sion has worked with the first team this season and is someone that I clearly needed to keep in the dressing room. He's calm, well-spoken and his knowledge of football is second to none. Sion is a B Licence accredited coach and will be looking to apply for his A Licence in the near future.
"Another member of the coaching staff next season will be current player Ceri James. I'm pleased that Ceri has accepted the role of player/coach. Ceri is a very influential figure in the dressing room who has the utmost respect off all players. Whilst still offering his qualities as a player, Ceri's knowledge and experience of the league will be invaluable for myself. Cedri Roberts will step up with myself from the reserves to be first team fitness coach. Cedri's work ethic and attention to detail will be a huge asset to the coaching staff. Finally, Lindsay Morris will stay on as club physio and will work closely with Cedri in ensuring players' physical well-being is maintained.
"On a personal level, I can't stress how privileged I am at being given the opportunity to lead this fantastic club going forward. Port is a huge club in Welsh football and need to be playing at the highest level. Planning is well under way for the new season and targets have been set. As I said, Craig has left a fantastic foundation to work with and it is now my responsibility to ensure that success is brought to this club. Again, planning for pre-season is well under way with some exciting games planned that will be announced in due course.
"I can't wait to get started and look forward to give my everything to bring the success that our fantastic fans only deserve! C'MON PORT!! "
Sion Eifion
---

Tarian Coffa BOB OWEN / Bob Owen Memorial Shield
NEFYN v MENAI BRIDGE TIGERS
Y Traeth Nos Fercher / Wednesday 3 Ebrill / April
---

Enillydd y "Draw Wythnosol" am wythnos 13 yw rhif 136 Megan Roberts yn ennill y wobr £75!!!
Llongyfarchiadau!
Ymunwch a'r "DRAW WYTHNOSOL" Siawns i ennill £75 am £1 yr wythnos. Am fwy o wybodaeth cysylltwch a Enid Owen 07901876120 neu Dylan Rees 07900512345 / rees48wesla@gmail.com

The "Weekly Draw" winner for week 13 is No.136 Megan Roberts winning the prize £75!!!
Congratulations!!
Support the Club - Join the " WEEKLY DRAW" £1 weekly for your chance to win £75!! For more information contact Enid Owen 07901876120 or Dylan Rees 07900512345 / rees48wesla@gmail.com
---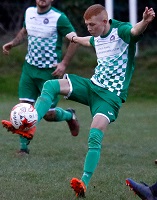 Heddiw cafodd yr Ail-dîm fuddugoliaeth fawr arall ar Y Traeth. Bae Cinmel oedd y gwrthwynebwyr. Gyda'u prif sgoriwr, Sion Parry, yn rhwydo gôl i ennill y gêm i'r tîm cynta'yn Treffynnon, camodd Cai Henshaw a Reece Evans i'r adwy mewn ffordd arbennig. Sgoriodd Cai 7 gô1) a Reece yn rhwydo 4 mewn buddugoliaeth o 13-0.Cedri Jones a Dion evans cafodd y goliau eraill
Dyma'r 20fed buddugoliaeth o'r tymor yn y Gynghrair gyda'r goliau heddiw yn mynd â'r cyfanswm am y tymor i 105.

Today there was another big win for the Reserves, netting 13 goals against Kinmel Bay at the Traeth. It proved to be a special day for Cai Henshaw and Reece Evans. With Reserves leading scorer Sion Parry scoring the winner for the 1sts at Holywell up stepped Cai Henshaw and Reece Evans. Cai found the net 7 times and Reece scored 4 goals.The other goals came from Dion Evans and Cedri Jones.
This was their 20th league win of the season and today's goals brings the season's total to 105.
---

Y rhifau lwcus yn y TOTE mis Mawrth oedd 17 + 32. Nid oedd enillydd!! Felly bydd y wobr £270 yn cael ei ychwanegu at cyfanswm mis Ebrill!!
Amlenni TOTE ar gael o Siop Pike's, Y Ganolfan neu y Clwb Cymdeithasol yn Traeth.

The winning numbers in the March monthly TOTE were 17 + 32. There were No Winners, therefore the prize £270 will be added to April's total.
TOTE envelopes available from Pike's Newsagents, Y Ganolfan or from the Porthmadog F C Clubhouse.
---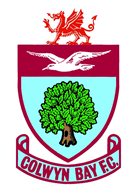 Isod, mae penderfyniad y Gymdithas Bêl-droed ynglyn â chais Bae Colwyn i ymuno a Pyramid Cymru.
"Mae CBDC heddiw wedi derbyn cais Bae Colwyn i chwarae yn y Pyramid yng Nghymru'r tymor nesaf.
"Mi fyddan nhw yn chwarae'r tymor nesaf yng Nghynghrair Newydd Ail Haen CBDC.
"Mi fydd 17 o glybiau yn y gynghrair newydd yn ystod tymor 2019-20. Mae hyn yn golygu na fydd effaith ar y clybiau fydd yn disgyn i'r trydedd haen o Gynghrair Huws Gray.
"Y tymor nesaf bydd tîm Craig Hogg yn chwarae yng Nghwpan JD Cymru o'r rownd gyntaf ar Hydref 19, 2019."
Golyga'r penderfyniad i fynd efo 17 clwb bydd rhaid i un clwb yn eu tro, fod heb gêm bob Sadwrn o'r tymor.

Below, is the decision of the FAW regarding Colwyn bay's application to join the Welsh Pyramid.
"The Football Association of Wales today accepted Colwyn Bay Football Club's application to participate in the Welsh domestic game.
"From next season Colwyn Bay will play their football in the newly formed FAW Tier Two League.
"The new league will operate with 17 clubs in the 2019-20 season. This means that there will no impact on relegation from the Huws Gray Alliance League to Tier Three this season.
"Next season Craig Hogg's team will enter the JD Welsh Cup at the First Round stage on October 19th,2019."
The decision to go with 17 clubs means that each club will have to take its turn to be without a fixture each Saturday of the season.
---

Bydd yr Ail-dîm yn croesawu Bae Cinmel i'r Traeth yfory (Saturday) am gêm gynghrair. SYLWCH Cic Gynta 12.00.

The Reserves will welcome Kinmel Bay to the Traeth tomorrow (Saturday). NOTE Kick Off 12.00
---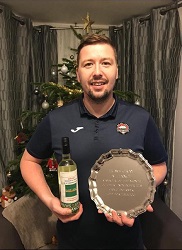 Mae Craig Papirnyk wedi penderfynu gadael y clwb ar ddiwedd y tymor. Newyddion trist ond isod mae'n rhoi ei rhesymau dros newid ei feddwl ac yn gwneud hynny gyda'i onestrwydd arferol a'i feddwl clir. Bydd yn gadael gyda'r balchder o wybod ei fod wneud gwneud swydd arbennig o dda gan adael gwaddol sylweddol i'w olynydd, Sion Eifion adeiladu arno.
Isod gweler ei ddatganiad:.

Craig Papirnyk has made the decision to leave the club at the end of the season. A sad day for the club but below he gives his reasons for the change of mind and does it with his usual honesty and clarity of thought. He will leave the club with his head held high, knowing that all associated with CPD Porthmadog appreciate a job well done and the formidable legacy he leaves for his successor, Sion Eifion.
Below is Craig's statement:

"It is with great sadness that I have decided to leave the club at the end of this season, in light of the new Tier 2 licensing and having to step down as 1st team manager I feel it is for the best of the club that I go although extremely gutted, it is my decision and a really difficult one to have to make.
"Myself and Sion where hopeful that I would continue to work closely and support him going forward, However I feel I need to allow Sion the opportunity to do the role without having me around, we are both big characters and have rightly made the decisions for ourselves involving team selections etc during our managerial careers and I feel going forward with me leaving there will be no confusion in who is leading the club and this is the most important thing for the players, supporters and the club itself and if there is something I have always done that is put the club first.
"I will do everything possible to ensure that Sion will be given the best opportunity to take this club forward, I am making the transition as easy as possible for him and fully supporting him with everything that's involved in running the team. We are in constant dialogue and I am offering my advice and help whenever he needs it, it is massively important that this group stays together and continues to grow and fulfil the potential I know they can.
"He is excited, enthusiastic and already making great steps in building a team off the field which will lead the one on it , he is a great young manager with lots of potential , he has my full support in stepping up to take this club forward and I hope everyone gets behind him.
"It hasn't been an easy 5 seasons for me leading this club on the field, however I am very proud in what I have achieved in strengthening the squad year on year and building a clear playing style that I know the supporters and club appreciate, we are a very good footballing side and have some of the best talent in the league representing us.
"The squad itself is a couple of players away from a serious title push and I have faith that next season they will be another year stronger together and I hope that they will push all the way for the title and get some cup success which the club so desperately deserves for all the hard work that goes on off the field.
"I recently thanked everyone with my statement of stepping down as manager and now that I am leaving, I again thank everyone associated with my time at the club for all the support you have shown me. I will be forever thankful for everyone's support over the years.
"I have no idea where I go from here but one thing is for sure Porthmadog football club will be in my heart for the rest of my life and I will be forever grateful for the opportunity and the faith that you have shown in me as a club.
"We have 3 games remaining now and could potentially finish runners up which is a clear indicator on how far this group of players has come and should be a clear sign for them as a squad, the club and its supporters that the future is very bright and exciting indeed, keep the faith and stick together.".
COME ON PORT
Paps
---

Y Sadwrn nesa' bydd Port yn teithio i Dreffynnon. Bydd y garfan yn teithio mewn ysbryd cadarnhaol yn dilyn eu buddugoliaeth drawiadol dros Gresffordd, gyda sawl chwaraewr yn cael un o'u gemau gorau o'r tymor.
Bydd Treffynnon yn dod i'r gêm hon yn dilyn colli o 4-0 yn erbyn y pencampwyr, ar Y Maes Awyr, gyda Airbus yn sicrhau'r teitl a'u dyrchafiad. Ond, gallwn ddisgwyl ymateb gan Treffynnon sydd wir angen y pwyntiau i osgoi'r peryg gwirioneddol o ddisgyn. Mae ganddynt gemau mewn llaw ond 7 pwynt yn llai na Dinbych, y clwb sydd 4 safle o'r gwaelod. Ond mae un peth yn sicr, bydd clwb sy'n cael eu reoli gan John Haseldine yn brwydro'n galed am bob pwynt. Maent wedi colli 4 o'u 5 gêm ddiwetha' gyda un yn gyfartal.
Un pwynt sydd bellach yn gwahanu Port wrth Fflint yn yr 2ail safle. Bydd Fflint yn chwarae Cegidfa pnawn Sadwrn, a'u gemau eraill fydd yn erbyn Airbus, Bangor a Prestatyn.
Byddai gorffen yn yr ail safle yn goron ar gyfnod Paps fel rheolwr, lle ail adeiladodd y clwb a chasglu carfan o safon.
Yn y gêm gyfatebol ar Y Traeth cafodd Port y fuddugoliaeth o 4-1 gyda Julian Williams (2), Shaun Cavanagh a Jay Gibbs yn sgorio.
Y newyddion da i Port ydy fod Sion Edwards wedi cwblhau ei waharddiad a bydd yn ôl yn y garfan. C'mon Port!!

Next Saturday Port will travel to Holywell. They will do so in good spirits following their bumper win last Saturday over Gresford Athletic with several player giving their best performances of the season.
The Wellmen will come into this game n the back of a 4-0 defeat at the Airfield with Airbus clinching the title and promotion. But we can expect response from Holywell who badly need points to stave off the now serious threat of relegation. They have games in hand but are 7 points adrift of 4th from bottom Denbigh Town. One thing is certain however a team managed by John Haseldine will fight to the end. Their recent record shows 4 defeats and a draw in the last five.
Port now lie just a point behind Flint whose next game is against Guilsfield and their remaining opponents are Airbus, Bangor and Prestatyn.
A runners-up finish would be a fitting end to the Papirnyk era at the club. A period of re-building and assembling a quality squad
The corresponding fixture at the Traeth resulted in a 4-1 win for Port with Julian Williams (2), Shaun Cavanagh and Jay Gibbs the scorers.
This weekend will see Sion Edwards back in the squad, now that he has completed his 2-match suspension. C'mon Port!!
---

Ffeinal CWPAN COOKSON Lock Stock
Llangefni v CPD Penrhyndeudraeth
NOS FERCHER 27 MAWRTH ar Y TRAETH
Cic gynta' 7.30pm

Lock Stock Cookson Cup Final
Llangefni Town v Penrhyndeudraeth
WEDNESDAY 27TH MARCH at the TRAETH, PORTHMADOG
KICK-OFF 7-30PM
---

Brawychwyd y gymuned bêl-droed gan y newyddion am farwolaeth annhymig y cyn chwaraewr Cai Williams, 'Cai Bach'. Daeth y newyddion trist ar yr 21ain Mawrth wedi iddo ddioddef salwch difrifol dros gyfnod o rai misoedd.
Dymuna'r clwb, yn swyddogion, chwaraewyr a chefnogwyr, estyn eu cydymdeimlad llwyraf â Linda, Dafydd Wyn, Ywain Gwynedd a'r teulu cyfan yn eu colled enfawr.
Chwaraeodd Cai nifer o weithiau dros y clwb rhwng 2000 a 2003 gan gynnwys felly y tymor eithriadol o lwyddiannus 2002/03. Cynrychiolodd y clwb 21 o weithiau gan gynnwys ymddangosiadau o'r fainc. Cofier Cai fel ymosodwr â digonedd o gyflymder, sgil a brwdfrydedd.
Coffa da amdano a dymunwn bob bendith i'r teulu yn ystod y cyfnod anodd hwn.

The football community was deeply shocked by the news of the untimely passing of former player Cai Williams, 'Cai Bach'. The sad news came on 21st March after he had suffered a serious illness over the past few months.
The club, its officials, players and supporters, extend their sincere sympathy to Linda, Dafydd Wyn, Ywain Gwynedd and the whole family in their huge loss.
Cai played for the club on numerous occasions during the period between 2000 and 2003, a period which included the memorable season of 2002/03. In all, he represented the club 21 times including appearances from the bench. He is remembered, in his time with the club, as a pacey and enthusiastic and skilful forward.
He is well remembered and our thoughts are with the family during such a difficult time.
---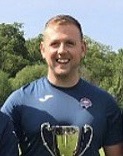 Gyda deilydd presennol swydd Rheolwr yr Ail-dîm yn cael ei apwyntio yn Reolwr y Tîm Cyntaf ar gyfer tymor 2019/20, mae CPD Porthmadog yn cychwyn chwilio am olynydd i fod yn gyfrifol am ein Ail-dîm sy'n chwarae yn Nghynghrair Lock Stock i Ail-dimau.
Mae'r Ail-dîm wedi cael eu harwain i dymor llwyddianus iawn yn 2018/19, yn ddi-guro, 10 pwynt yn glir ar frig y tabl gyda 6 gêm yn weddill a hefyd yn rownd derfynol Cwpan Tân Gwyllt Lock Stock.
Y disgwyl yw i'r rheolwr newydd â apwyntir, barhau a pholisi'r clwb o ddatblygu chwaraewyr ifanc, gan sicrhau llwybr iddynt i'r Tîm Cyntaf.
Bydd disgwyl i'r rheolwr weithio'n agos gyda Rheolwr y Tîm Cyntaf, datblygu systemau chwarae fydd yn caniatáu i chwaraewyr gamu fyny, a hefyd cymryd balchder a phleser mewn gweld chwaraewyr yn datblygu. Bydd angen i reolwr yr Ail-dîm ystyried a chynllunio er mwyn i'r clwb gael tîm yng Nghwpan Ieuenctid Cymru.
Os oes gennych ddiddordeb yn y swydd hon, cysylltwch â Sion Eifion Jones 07786 272529 / sioneifion_26@hotmail.co.uk NEU Rob Bennett obcounty@aol.com

With the elevation of our current Reserve Team Manager, Sion Eifion Jones, to being 1st Team Manager for the 2019/20 season, PFC are now starting their search for his replacement to manage our Reserve Team, who currently play in the Lock Stock Welsh Alliance Reserve League.
The PFC Reserve Team have been led to a very successful 2018/19 season, remaining unbeaten, 10 points clear at the top of the Lock Stock Welsh Alliance Reserve League with 5 matches to play, and finalists in the Lock Stock Fireworks Cup.
It is expected that the newly appointed Manager will continue the Club's policy of developing younger players, to provide a pathway to 1st Team football.
The Manager will be expected to work closely with the 1st Team Manager, work to instill similar systems of play to enable a smooth transition for players stepping up, and take pride and enjoyment from seeing players develop. The Reserve Team Manager should also be mindful of the need for PFC to enter a team in the Welsh Youth Cup and plan accordingly.
Interested parties should contact either Sion Eifion Jones 07786 272529, sioneifion_26@hotmail.co.uk or Rob Bennett obcounty@aol.com
---