26/10/09
Rhyl yng Nghwpan y Gynghrair nos Fawrth / Rhyl at the Traeth on Tuesday
Bydd Rhyl yn ymweld â'r Traeth nos Fawrth ar ôl sicrhau ond un pwynt allan o'r chwe diwethaf -sefyllfa newydd i'r clwb. Ni ddylem gymryd hwn yn fwy na rhyw blip bychan a fydd yn golygu fod Rhyl yn fwy penderfynol o ennill pan fyddant yn dod i'r Traeth ar gyfer y gêm yn wyth olaf Cwpan y Gynghrair. Bydd Port yn gobeithio parhau a llwyddiant y cwpanau sydd yn wahanol iawn i'r canlyniadau cynghrair. Dim ond tair gôl mae Port wedi sgorio mewn 9 o gemau cynghrair eleni ond yng Nghwpan y Gynghrair llwyddo i rhwydo 9 gôl mewn pedair gêm. Maent wedi sgorio ym mhob un o'r pedair gêm yng Nghwpan y Gynghrair tra yn methu sgorio mewn chwech o gemau cynghrair. Anodd deall pam mae hyn wedi digwydd ond gobeithio fydd yr ymosodwyr yn dod a'r sgidiau sgorio gyda hwy nos Fawrth.

Rhyl visit the Traeth on Tuesday in the strange position of having picked up only one point from the last two games. This should not however be taken as anything more than a blip and probably means that they will be more determined than ever to get back to winning ways when they visit the Traeth on Tuesday for the League Cup quarter final clash. Port will be hoping that they can continue the form shown in cup games which is in stark contrast to league form. Having only managed three goals in 9 league matches they have found the net 9 times in the four League Cup games. They have netted in all four games while they have failed to score in 6 of their league games. A very strange contrast -so let's hope our strikers bring their shooting boots on Tuesday!
---
26/10/09
Tîm Ieuenctid drwodd yng Nghwpan Cymru / Youth team through in Welsh Cup
Llongyfarchiadau i'r hogiau Dan-19 sydd wedi sicrhau lle yn yr 16 olaf o Gwpan Ieuenctid Cymru gyda buddugoliaeth dros y Rhyl ddoe (26 Hydref). Mae hon yn fuddugoliaeth ardderchog yn mynd drwodd 5-4 ar giciau o'r smotyn gyda Meilir Rhys Ellis yn gwneud yr arbediad holl bwysig. Ar ddiwedd yr amser ychwanegol roedd y sgôr yn gyfartal ar 3-3. y sgorwyr i Port oedd Jack Jones, Cai Jones a Tomos Owen. Y glybiau eraill sydd drwodd i'r 16 olaf ydy: Llanelli (deiliaid y gwpan), Abertawe, YMCA Casnewydd, Cwmaman, Bwcle (a gurodd TNS ar giciau o'r smotyn), Aberystwyth, Llandudno, Prestatyn, Celtic Cwmbrân, Lido Afan, Bryntirion, Elai, Wrecsam a Castell Nedd.

Congratulations to the Porthmadog U-19s who have progressed to the last 16 of the Welsh FA Youth Cup with a win on penalties yesterday (26 October) over Rhyl. This is an excellent achievement going through by 5-4 after a penalty shoot-out with Meilir Rhys Ellis making the vital penalty save. At the end of extra time the scores were level on 3-3. The Port scorers were Jack Jones, Cai Jones and Tomos Owen. Other clubs who will join Port in the draw for the last 16 include, the Cup holders, Llanelli, Swansea City, Newport YMCA, Cwmaman Institute, Buckley Town (who beat TNS on penalties) Aberystwyth Town, Llandudno, Prestatyn Town, Cwmbran Celtic, Afan Lido, Bryntirion, Ely Rangers, Wrexham and Neath.
---
23/10/09
Mwy o feirniadu ar y rheolau trosglwyddo / More criticism of transfer rules
Pan fod dau o'r rheolwyr mwyaf profiadol yn UGC yn mynegi eu consyrn at unrhyw agwedd o drefniadaeth y gêm yng Nghymru dylem ddisgwyl ymateb gan yr awdurdodau. Mae'n bwysig cofio fod Mickey Evans a Tomi Morgan wedi bod yn rhan allweddol o'r gynghrair ers y dechrau a dylai'r ddau ddisgwyl i'w barn gael eu pharchu. Bellach mae Mickey Evans wedi mynegi ei gonsyrn gwirioneddol am y ffordd mae'r rheolau trosglwyddo yn gweithio ac am eu heffaith ar glybiau UGC.
Mae gofyn am y rhesymeg tu ôl i'r newid yn gwestiwn teg, ac mae'n siwr na fydd hwn yn achos lle mae'n bosib taro'r bai ar reoliadau UEFA. Dylai'r Gymdeithas egluro sut a pham y gwnaed y penderfyniad hwn.
Ai y farn yw efallai mai dim ond clybiau sydd yn cael eu cefnogi gan arian un gwr sydd o bwys, gyda fawr o wahaniaeth beth wnaiff ddigwydd i'r clybiau 'bach' cymunedol? Y tristwch ydy fod y cyfan sydd wedi digwydd yn hawdd ei rhagweld.

When two of the most experienced managers in the WPL voice their deep disquiet at any aspect of the way football is being run in Wales, then a response from those in authority should be forthcoming. Mickey Evans and Tomi Morgan are not 'Johnny come latelys', they have figured prominently in the WPL since day one and their opinions must be treated with respect. Mickey Evans has now added his voice to the deep concern at the working of the transfer rules and their effect on WPL clubs.
To ask what the reasoning behind the change was is a legitimate question and surely in this case it cannot be shelved on to an UEFA edict. The FAW should respond to the questions of why and how this decision was reached.
Is it a case of only clubs supported by a Mr. Benefactor being worth backing while the 'smaller' community clubs who cannot put all their players on contracts are dispensable? The sad thing is that the situation which is developing was entirely predictable.
---
22/10/09
Tomi Morgan ydy Cyfarwyddwr newydd yr Academi / Tomi is the new Academy Director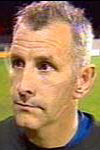 Ar ôl cyfnod o gynorthwyo'r Academi dros dro mae Tomi Morgan bellach wedi'i apwyntio i swydd Cyfarwyddwr yr Academi. Mae hyn yn dilyn ymddiswyddiad Mel Jones, rhai wythnosau yn ôl, ac mae pawb yn yr Academi yn edrych ymlaen at gydweithio gyda Tomi. Erbyn hyn mae dwy rownd o gemau Academi wedi'u chwarae –yn erbyn Cei Conna a Phrestatyn. Mae'r canlyniadau yn ymddangos ar dudalen yr Academi.
Yn anffodus cafodd y tîm Dan 11 siom pellach wrth i Wrecsam fethu chwarae ar y dyddiad a drefnwyd. Ond erbyn hyn mae'r gêm wedi'i hadrefnu ar gyfer 14 Tachwedd yn Stadiwm Queensway, Wrecsam. Cyn hynny fydd y garfan yn teithio i Ysgol Bryncoch, y Wyddgrug ar ddydd Sadwrn 31 Hydref i ddechrau amddiffyn Tarian Tom Yeoman drwy chwarae Ysgolion Sir y Fflint.

After assisting on a temporary basis after the resignation of Mel Jones as Academy Director Tomi Morgan has now been officially announced as the new Academy Director and all at the Academy are looking forward to working. Academy fixtures have now been played against Connah's Quay and Prestatyn and the results can be found on the Academy page.
The U11s unfortunately have had yet more disappointment as Wrexham have not been able to fulfil our fixture for various reasons. However it is now booked for Saturday 14th. November at the Queensway Sports Stadium, Wrexham. Before that the Squad will travel to Bryn Coch School in Mold on Saturday 31 October to begin the defence of the Tom Yeoman Shield against Flintshire Schools.
---
22/10/09
Rhagolwg: v Aberystwyth / Preview: v Aberystwyth

Bydd Port yn dal i chwilio am y fuddugoliaeth gynghrair gyntaf pan fydd Aberystwyth yn ymweld â'r Traeth. Mae'r clwb wedi gweld adfywiad ers i Christian Edwards gymryd yr awenau dros dro. Ers i Edwards gymryd drosodd mae Aber wedi sicrhau buddugoliaethau dros Bangor a'r Drenewydd a gêm gyfartal rhagorol yn erbyn Llanelli. Daeth y newid hwn ar ôl diweddu'r tymor diwethaf yn wael gan golli 4 o'r 6 gêm olaf ac ennill ond un. Yr olaf o'r gemau yma oedd colled o 4-1 ar y Traeth. Gwan fu cychwyn Aber i'r tymor hefyd gan arwain at ymadawiad Brian Coyne.
Nid yw'r newyddion i gyd yn ddrwg ar y Traeth a dydd Sadwrn diwethaf cafwyd perfformiad a oedd yn haeddu gwell na cholli o ddwy gôl -er fod nifer o chwaraewyr profiadol ddim ar gael. Roedd yna digon o chwarae taclus ond unwaith eto dim goliau. Mae ond 3 gôl mewn 8 gêm yn dweud y cyfan Bydd Chris Jones yn ôl ddydd Sadwrn ac mae o wedi sgorio yn ei ddwy gem gwpan ddiwethaf. Yn erbyn Aberystwyth yn ôl yn Ebrill sgoriodd Chris hat tric ardderchog a da byddai gweld un arall ddydd Sadwrn! Bydd yn rhaid aros i weld os oes mwy o'r chwaraewyr profiadol yn ôl ond yn bendant ni fydd Mike Thompson yn chwarae.
Ewch i

i roi bet ar Porthmadog v Aberystwyth
.

Port continue the search for their first league win of the season, against a revitalised Aberystwyth, on the Traeth on Saturday. Under caretaker manager Christian Edwards they have recorded wins over Bangor and Newtown and an excellent share of the spoils with Llanelli. This change of fortune came on the back of a poor end to last season which saw them record 4 defeats and only one win from their closing 6 games. The last of these games was a 4-1 defeat on the Traeth. Aber continued their poor form at the start of the present season which led to a parting of the ways with manager Brian Coyne.
All is not bad news at the Traeth for despite last Saturday's defeat a weakened team gave a performance which deserved more then the eventual two goal defeat. There was plenty of good approach play but again no goals. A return of only 3 goals scored in 8 games tells its own story. Chris Jones will be back on Saturday after being unavailable last weekend and he has scored in both of his last cup outings. Against Aberystwyth last April Chris scored an excellent hat-trick -let's hope for a repeat on Saturday! We will have to wait and see if more of last week's absentees are back, but Mike Thompson will definitely not play.
Visit

to place a bet on Porthmadog v Aberystwyth
.
---
19/10/09
Dafydd Iwan yng Nghlwb y Traeth / Dafydd Iwan at the Clubhouse

Bydd dathliadau'r clwb yn 125 oed yn parhau nos Sadwrn (24 Hydref) gyda chyngerdd Dafydd Iwan a'r Band yng Nghlwb y Traeth. Yn ôl pob golwg fydd y noson yr un mor llwyddiannus a chyngerdd diweddar y Tebot Piws. Ychydig iawn o docynnau sydd ar ôl. I sicrhau tocyn cysylltwch gyda Enid Owen ar 07901876120.

Saturday's concert (24 October) when Dafydd Iwan and the Band are at the Clubhouse promises to be another sell out. This is the latest in a series of events to celebrate the club's 125th anniversary. A recent concert, featuring the Tebot Piws, proved to be an outstanding success and the indications are that next Saturday night will be just as successful with only a few tickets remaining. To secure a ticket before it's too late, contact: Enid Owen on 07901876120.
---
16/10/09
Rhagolwg: v Hwlffordd / Preview: v Haverfordwest

Mae record Port yn erbyn Hwlffordd yn un siomedig iawn. Dim ond un buddugoliaeth gafwyd mewn 10 gêm. Daeth y fuddugoliaeth honno y tro olaf iddynt gyfarfod yn Ebrill 2009. Mae gobeithion Port o wella ymhellach ar y record wedi derbyn dipyn o ergydion cyn y gêm ar Ddolybont pnawn Sadwrn. Yn barod mae un o benderfyniadau bisâr y Gymdeithas Bêl-droed yn cael effaith, wrth i chwaraewyr gael yr hawl i ymuno â chlybiau yn y Cymru Alliance neu Chynghrair Cymru (y de) tra fod y ffenestr drosglwyddo, i glybiau UGC, wedi cau'n glep. Mae pedwar aelod o garfan Port wedi gadael er mwyn sicrhau gemau rheolaidd, a bellach nid oes modd arwyddo neb yn eu lle tan Ionawr. Roedd yn berffaith bosib rhagweld mai problemau fyddai'n deillio o'r penderfyniad unwaith i anafiadau a gwaharddiadau ddechrau brathu.
Ddydd Sadwrn bydd Port heb eu capten ac amddiffynnwr allweddol Ryan Davies tra fod y newyddion am Mike Thompson yn awgrymu y bydd allan am 3 mis. Ni fydd Chris Jones, sydd wedi bod ar ei orau y tymor hwn, ar gael ddydd Sadwrn chwaith. Mae hyn i gyd yn golygu fod anafiadau a gwaharddiadau a rhesymau personol wedi torri'r prif garfan i ond 11 o chwaraewyr. Ar y fainc yfory fydd tri o chwaraewyr yn eu arddegau. Dyna ichi ffordd i drefnu prif gynghrair Cymru! Byddwn yn dibynnu yfory ar yr ysbryd i frwydro, er fod ein cefnau yn erbyn y wal. Un peth y medrwn fod yn sicr ohono wrth ymweld â Dolybont –bydd y gêm yn cael eu chwarae ar gae o'r safon uchaf. Gellir dadlau mai'r Traeth a Dolybont ydy'r ddau faes gorau yn UGC ar gyfer pêl-droed.
Ewch i

i roi bet ar Hwlffordd v Porthmadog
.

Port have found games against Haverfordwest quite a problem over the last five seasons as the record of one win in 10 games shows. But that victory came in their last meeting in April 2009. Hopes of further improving this record have received some serious set backs ahead of Saturday's match at the New Bridge Meadow. Already the FAW's bizarre decision to allow players to defect to the Cymru Alliance and Welsh League while closing the transfer window for WPL clubs is beginning to take effect. Four squad players have left in search of more regular football and these cannot now be replaced. The problems arising were totally predictable -once injuries and suspensions started to bite.
On Saturday Port will again be without their captain and key defender Ryan Davies while news of Mike Thompson suggests that he could be out of action for three months. Chris Jones, who has been in outstanding form this season, is also unavailable on Saturday. All of which means that the combination of injuries, suspensions and unavailability reduces the club's senior squad to just 11 players. The bench will then consist of young teenage reserve players freshly out of U-16 football. What a way to run the so called 'flagship' competition. In backs to the wall spirit the players who are available will do all they can to strive for the three points. One thing we can be certain of, when visiting the New Bridge Meadow, is that the game will be played on an excellent surface. It could well be argued that the Traeth and the New Bridge Meadow have the best playing surfaces in the WPL.
Visit

to place a bet on Hwlffordd v Porthmadog
.
---
15/10/09
Torfeydd ar y Traeth ar gynnydd / Port gates show increase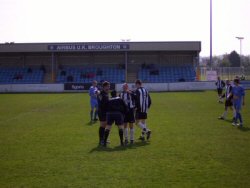 Mae'r ystadegau torfeydd am y tymor hwn (welsh-premier.com) yn ddiddorol i'w darllen. Mae cynnydd o 29% wedi bod ar y Traeth ers y tymor diwethaf sydd yn syndod o ystyried safle Port yn y tabl ond hefyd yn dangos lefel uchel teyrngarwch y cefnogwyr. Dim ond Port Talbot (66%) ac Hwlffordd (46%) sydd wedi dangos mwy o gynnydd na Port. Mae'r ffigyrau yn rhoi Port yn y 9fed safle yn rhestr y torfeydd, sef un lle yn is na TNS ac un yn uwch na Phrestatyn sydd wedi gweld gostyngiad o 23%, er eu perfformiadau da ar y cae.Llongyfarchiadau i'r Bala sydd wedi denu'r torfeydd yn eu tymor cyntaf, ac ar ben y rhestr gyda cyfartaledd o 547 y gêm.
Bydd angen cofio, wrth edrych ar y ffigyrau, mai dim ond ychydig o gemau sydd wedi eu chwarae hyd yma ond er hynny mae yna gwestiwn diddorol yn codi. O'r 10 uchaf presennol gwelwn fod Castell Nedd, Airbus, Aberystwyth a'r Drenewydd tu allan i'r rhestr o ddeg tîm sy'n denu'r gefnogaeth orau, a hynny er gwaetha'r ffaith fod Airbus a Chastell Nedd wedi gwario'n drwm i geisio prynu lle yn y 10 Disglair. Rhan o fwriad yr adrefnu oedd gwella cefnogaeth ond yn raddol efallai fydd y Gymdeithas Bêl-droed yn sylweddoli fod gwella'r gynghrair yn dipyn fwy cymhleth a bydd angen llawer mwy o feddwl na'r torri disynnwyr sydd yn swm a sylwedd y cynllun presennol.

The attendance stats for the current season (welsh-premier.com) make interesting reading. From a Port point of view a 29% increase on last season is at the same time surprising and pleasing, showing a high degree of supporter loyalty in view of the club's position in the table. Only Port Talbot (66%) and Haverfordwest (46%) show greater % increases. It also puts Port in 9th place in the attendance rankings one place below TNS and one ahead of Prestatyn who have seen a 23% drop in support despite performing well on the field. Bala are to be congratulated for in their first season they have really drawn in the crowds topping the rankings with an average home attendance of 547.
These figures, though they should come with a health warning for these are still early days in the season, pose an interesting question. Of the current top 10 placed clubs Neath, Airbus, Aberystwyth and Newtown are not amongst the top 10 best supported clubs despite, in the case of Airbus and Neath, spending heavily in order to achieve a Top 10 place. The proposed cull of WPL clubs was in part to achieve better attendances, but gradually it may dawn on the powers that be that reforming and improving the league is a more complex matter, requiring far more thought and will not be solved by a simplistic amputation.
---
13/10/09
Dyddiad newydd ymweliad TNS / New date for TNS game

Mae dyddiad newydd wedi'i gytuno ar gyfer ymweliad TNS â'r Traeth. Rwan bydd y gêm yn cael ei chwarae ar nos Fawrth, 10 Tachwedd gyda'r gic gyntaf am 7.30 pm. Yn wreiddiol roedd Porthmadog wedi gwneud cais i'r gêm gael ei chwarae pnawn Sul diwethaf (10 Hydref) i osgoi chwarae yr un adeg a gêm y Ffindir a Chymru ond nid oedd TNS yn medru cytuno i'r trefniant hwn.

A new date has now been agreed for the visit of TNS to the Traeth. The game will now be played on Tuesday, November 10th with a 7.30 pm kick off. Porthmadog had originally asked for the game to be switched to last Sunday (10 October) to avoid clashing with the Finland v Wales game, but TNS were not able to agree to this arrangement.
---
13/10/09
Dan-18 yn y rownd cynderfynol / U-18s through to semi-final
Llongyfarchiadau i'r tîm Dan-18 sydd wedi sicrhau lle yn rownd cynderfynol Cwpan Ieuenctid yr Arfordir drwy guro Pwllheli o 2-0 pnawn Sul ddiwethaf (11 Hydref). Yn y rownd honno bydd Port yn chwarae Llandudno gyda Cyffordd Llandudno yn cyfarfod Prestatyn. Ni fydd y gemau yma yn cael eu chwarae tan 2010 -ar ddydd Sul, 28 Chwefror gyda'r gic gyntaf am 2 pm.

Congratulations to the Porthmadog U-18s who gained a semi-final place in the NWCFA Youth Cup beating Pwllheli by 2-0 last Sunday (October 11). The draw for the semi-final has paired Port with Llandudno and in the other semi-final Llandudno Junction take on Prestatyn. These games will not be played until Sunday, February 28th with a 2 pm kick off.
---
10/10/09
Anodd i Port yn yr wyth olaf / Port face tough quarter final

Yn wobr, am sicrhau eu lle yn rownd wyth olaf Cwpan y Gynghrair nos Fawrth yng Nghaersws, tynnwyd enw Port i wynebu y Rhyl -y gêm anoddaf un. Y newyddion da ydy mai gêm adref fydd hon i'w chwarae ar nos Fawrth, 27 Hydref. Y ddau dîm arall o'r gogledd sydd yn wynebu eu gilydd ydy Cei Conna a orffennodd yn ail yng ngrwp Port, a'r Bala a oedd hefyd yn ail yn eu grwp. Bydd TNS, deiliaid y gwpan, yn wynebu Aberystwyth neu Llanelli. Dyma'r gemau:
BALA v GAP CEI CONNA
PORTHMADOG v RHYL
PORT TALBOT v TECHNOGROUP TRALLWNG
TNS v ABERYSTWYTH neu LLANELLI

Port's reward, for ensuring a place in the quarter final of the League Cup on Tuesday at Caersws, is to draw Rhyl –the most difficult game of all. The good news is is that the game will be at the Traeth, and will be played on Tuesday, 27 October. The other two north Wales clubs who face each other are Connah's Quay, who were runners-up in Port's group, and Bala who qualified as the other best runner-up. The holders TNS have drawn either Aberystwyth or Llanelli.
Here is the full draw:
BALA TOWN v GAP CONNAHS QUAY
PORTHMADOG v RHYL
PORT TALBOT TOWN v TECHNOGROUP WELSHPOOL
THE NEW SAINTS v ABERYSTWYTH TOWN OR LLANELLI
---
08/10/09
Newyddion y Lotri a'r Raffl / Weekly Draw and Raffle news
Enillwyr diweddaraf y wobr o £100 yn Lotri wythnosol Clwb Pêl-droed Porthmadog yw: wythnos 37, T Williams, Llanfair, wythnos 38 E Jones, Blaenau Ffestiniog, wythnos 39 M Shakespeare, Criccieth, ac wythnos 40 L Adams, Llanystumdwy. Hefyd, tynnwyd Raffl Haf Clwb Cymdeithasol Pêl-droed Porthmadog ddydd Gwener 2 Hydref, ac rydym wedi cysylltu â phob un o'r 10 enillydd (1af 3373, 2il 4900, 3ydd 754, 4ydd 2908, 5ed 687, 6ed 4804, 7fed 1729, 8fed 287, 9fed 3906, 10fed 209)ac mae'r gwobrau wedi'u hawlio. Hoffai'r hyrwyddwr ddiolch i bawb a werthodd docynnau a phawb oedd yn ddigon caredig i brynu tocynnau.

Ffurflen Gais / Application Form

| Mandad Archeb Sefydlog / Standing Order Mandate



The latest winners of the £100 prize in Porthmadog Football Club's Weekly Draw are: week 37, T Williams, Llanfair, week 38 E Jones, Blaenau Ffestiniog, week 39 M Shakespeare, Criccieth, and week 40 L Adams, Llanystumdwy. Also, the Porthmadog Football Social Club Summer Raffle was drawn on Friday 2 October, and all 10 winners (1st 3373, 2nd 4900, 3rd 754, 4th 2908, 5th 687, 6th 4804, 7th 1729, 8th 287, 9th 3906, 10th 209) have been notified and prizes claimed. The promoter would like to thank all those who sold tickets and all those who were kind enough to purchase a ticket.
---
08/10/09
Tîm ieuenctid ffwrdd yng Nghwpan Cymru / Youth team away in FAW Youth Cup

Ar ôl cael mynediad i Ail Rownd Cwpan Ieuenctid Y Gymdeithas Bêl-droed, oherwydd fod y Bala wedi gorfod tynnu allan o'r gystadleuaeth, bydd ieuenctid Port yn teithio i gyfarfod ieuenctid clwb y Rhyl. Chwaraeir gemau yn yr Ail Rownd ar bnawn Sul, 25 Hydref gyda'r gic gyntaf am 2 pm.

Having gained entry into the 2nd Round of the FAW Youth Cup on a bye, resulting from the withdrawal of Bala, the Porthmadog youngsters will now travel to meet Rhyl FC Youth. The 2nd Round ties will be played on Sunday, October 25th with a 2 pm kick off.
---
06/10/09
Port: Ennillwyr y grŵp 3 yng Nghwpan y Gynghrair! / Port: League Cup group 3 winners!
Roedd gêm gyfartal heno yng Nghaersws yn ddigon i Port ennill grŵp 3 yng Nghwpan y Gynghrair. Yn y rownd nesaf, gallai ein gwrthwynebwyr gynnwys ein cymdogion o'r Bala a cheffylau blaen y gynghrair - TNS a Rhyl.


| | | | | | | | | |
| --- | --- | --- | --- | --- | --- | --- | --- | --- |
| | P | W | D | L | F | A | +/- | Pts |
| Porthmadog | 4 | 2 | 1 | 1 | 9 | 4 | +5 | 7 |
| GAP Cei Connah's Quay | 4 | 2 | 1 | 1 | 6 | 7 | -1 | 7 |
| Caersws | 4 | 0 | 2 | 2 | 2 | 6 | -4 | 2 |

Tonight's away draw against Caersws was enough for Port to win League Cup group 3. In the next round, our opponents could include our neighbours from Bala or possibly league front-runners - TNS and Rhyl.
---
03/10/09
Caersws Nos Fawrth yng Nghwpan y Gynghrair / Final group game at Caersws

Bydd Port yn teithio i Gaersws nos Fawrth ar gyfer eu gêm grwp olaf gan wybod fod un pwynt yn ddigon i gyrraedd rownd yr wyth olaf. Mae gan Port well gwahaniaeth goliau na Chei Conna. Mae'n bosib i ddau glwb fynd drwodd o Grwp 3 gan fod Gei Conna ar 7 pwynt. Mae Caersws a Port wedi cyfarfod ddwywaith ar y Traeth gyda'r gêm gynghrair yn gorffen yn gyfartal â Port yn ennill cymal cyntaf Cwpan y Gynghrair o 2-0 gyda Marc Evans yn sgorio'r ddwy.
Er i'r ddau glwb gael dechrau simsan yn y gynghrair llwyddodd y ddau osgoi llithro yn erbyn timau o'r Cymru Alliance, diolch i goliau hwyr. Sgoriodd Chris Melia gôl hwyr i Gaersws, yn erbyn Rhuthun, gan rhoi buddugoliaeth o 2-1. Ni all y clwb o'r canolbarth gyrraedd rownd yr wyth olaf ond byddant yn awyddus i adeiladu ar y fuddugoliaeth yng Nghwpan Cymru a paratoi at gêm bwysig yn y gynghrair yn erbyn Derwyddon Cefn.

Porthmadog go to Caersws on Tuesday for the final game in Group 3. A draw will be enough to secure a place in the quarter finals as group winners with Port having a better goal difference than Connah's Quay. Two teams could go through from this group as the Nomads have 7 points. Caersws and Port have met twice at the Traeth this season with the league game ending in a draw while Port won the first League Cup leg by 2-0 with Marc Evans scoring both goals.
Though both clubs have made a shaky start to their league programme both managed to avoid slip-ups against Cymru Alliance opposition thanks to late goals. Chris Melia scored late on against Ruthin to give Caersws a 2-1 victory. The mid-Wales club cannot qualify for the quarter final but they will no doubt wish to use the game as a platform to build on that Welsh Cup win and as preparation for the next league challenge which is a visit to Cefn Druids.
---
03/10/09
Gartref i Port yn y Rownd nesaf / Home draw for Port

Enw Porthmadog oedd y cyntaf allan o'r het ar gyfer trydedd rownd Cwpan Cymru a byddant gartref yn erbyn Rhydymwyn a gurodd Caernarfon heddiw o 1-0. Rhydymwyn ydy ceffylau blaen y Welsh Alliance eleni ac nid yw'r sgorwyr cyson wedi colli hyd yma gan ennill 7 o'u 8 gêm gynghrair.
Rhai o'r gemau eraill rhwng clybiau o Wynedd yw'r un rhwng Llanrug a Bala i'w chwarae ar Faes Tegid a'r deiliaid Bangor yn ymweld a Fflint o'r Cymru Alliance. Mae nifer o gemau rhwng clybiau o UGC gan gynnwys Hwlffordd yn erbyn Aberystwyth, Cei Conna ac Airbus ac o bosib Llanelli a Chaerfyrddin. Bydd y gemau yn cael eu chwarae ar 31 Hydref.

Porthmadog were first out of the hat in tonight's 3rd Round draw and will be at home against Rhydymwyn, 1-0 conquerors of Caernarfon. Rhydymwyn are the unbeaten early pacesetters in the Welsh Alliance and the free scoring side are currently unbeaten, having won 7 of their 8 league games.
Other games involving Gwynedd clubs bring together Llanrug and Bala who meet at Maes Tegid, while the holders Bangor will visit Cymru Alliance club Flint. There are several games involving WPL clubs including Haverfordwest and Aberystwyth, Connah's Quay and Airbus and possibly Llanelli and Carmarthen. The games will be played on 31 October.
---
02/10/09
Gêm yn erbyn TNS wedi'i gohirio / Game against TNS postponed
Ni fydd y gêm, a oedd i'w chwarae ar ddydd Sadwrn, 10 Hydref, yn erbyn TNS, bellach yn cael ei chwarae ar y dyddiad hwnnw. Gan fod y gêm rhyngwladol rhwng Y Ffindir a Chymru yn cael eu dangos yn fyw ar y teledu ar y pnawn hwnnw gyda'r gêm Dan-21 hefyd yn fyw am 12.45 pm, roedd clybiau wedi cael yr hawl i adrefnu. Ar gais John Deakin, ysgrifennydd y gynghrair, roedd y gemau i'w hadrefnu i nos Wener 9 Hydref neu bnawn Sul. 11 Hydref. Dymuniad Porthmadog oedd i chwarae'r gêm ar bnawn Sul ond nid oedd TNS yn medru chwarae ar y diwrnod hwnnw. Mae gan y ddau glwb 7 niwrnod i gytuno ar ddyddiad arall yng nghanol wythnos. Roedd yn anffodus nad oedd modd chwarae ar y Sul gan byddai'n bosib denu torf dda. â hi yn benwythnos rhyngwladol.

The game scheduled for Saturday October 10th against TNS will not now be played on that date. In view of the fact that the Finland v Wales international is to be shown live on TV on that afternoon, with the U-21 international also being shown live at 12.45 pm, clubs had been given the opportunity to switch the game to another date. League Secretary, John Deakin, had however requested that the fixture be rearranged to either Friday, 9 October, or Sunday, 11 October. Porthmadog had asked TNS to play the game on the Sunday afternoon but the Oswestry club were unable to agree to this request. The clubs now have 7 days to agree an alternative midweek date. It is unfortunate that agreement could not be reached as a Sunday match on an international weekend could have attracted a good gate.
---
02/10/09
Rhagolwg: v Penrhyncoch / Preview: v Penrhyncoch
Os ydych yn edrych am groen banana posib, yn sicr byddech yn edrych at gêm rhwng y tîm ar waelod UGC yn cyfarfod un o geffylau blaen y Cymru Alliance. Yn sicr mae Penrhyncoch wedi cychwyn y tymor ar dân o dan rheolaeth Kevin Jenkins, sydd yn ei flwyddyn lawn gyntaf ers gymryd yr awenau o ddwylo Gavin Allen. Mae'r clwb o'r canolbarth wedi ennill 6 o'u wyth gêm gynghrair, hyd yma, gyda un gêm gyfartal. Un o aelodau tîm ifanc Penrhyncoch ydy cyn chwaraewr Port, Mark Cook, sydd wedi ffurfio partneriaeth dda yn y blaen gyda Chris Wilkins, cyn chwaraewr Aberystwyth. Yn ychwanegu ei brofiad i'r tîm mae cyn chwaraewr canol cae Aberystwyth, Gari Lewis.
Bydd Port, ar y llaw arall, yn gobeithio adeiladu ar yr hanner awr agoriadol dda a gafwyd yn y Rhyl a hefyd dod a'r llwyddiant a gafwyd wrth ennill dwy gêm yng Nghwpan y Gynghrair i Ail Rownd Cwpan Cymru. Gyda John Keegan wedi'i wahardd, ac Eifion Jones yr eilydd amlwg wedi gadael, mae'n bosib bydd rhaid i Port symud Euron Roberts, sydd wedi disgleirio yn y cefn, i'r canol. Ni fydd Ceri James ar gael ddydd Sadwrn. Er gwaetha'r cychwyn anodd i'r tymor mae yna nifer o agweddau positif iawn yn enwedig y ffordd mae tri chwaraewr o'r adrannau is, sef Dan Pyrs, Euron Roberts a Marc Evans, wedi camu i fyny. Gyda Ryan Davies bellach yn ôl i'w orau yn y cefn, a Chris Jones yn profi'n fygythiad i unrhyw amddiffyn, gobeithio y medrwn ddechrau taro cefn y rhwyd yn rheolaidd. Byddai pnawn Sadwrn yn amser da i wneud hynny.

If you were looking for a potential banana skin you would look at the bottom club in the WPL taking on one of the pacesetters from the Cymru Alliance as a good bet for a slip up. There is no doubt that Penrhyncoch have started the season on fire under manager Kevin Jenkins, in his first full season after taking over the reins from Gavin Allen. The mid-Wales club have won six and drawn one of their 8 league matches to date. Their young team includes former Port striker Mark Cook who has forged a useful partnership up front with former Aberystwyth forward Chris Wilkins. Experience is provided by assistant manager and former Aberystwyth regular Gari Lewis.
Port need to build on what was an excellent opening half hour at Rhyl and take the Cup form, that has brought two League Cup victories, into this Welsh Cup 2nd round game. With John Keegan suspended, and obvious replacement Eifion Jones no longer with the club, Port will have to make a positional change with probably Euron Roberts, who has impressed at right back, switching to cover. Ceri James is unavailable for this game. Despite the difficult start to the season there have been plus points and none more so than the way in which lower league trio Dan Pyrs, Euron Roberts and Marc Evans have made the step-up. With skipper Ryan Davies now back to his very best and Chris Jones proving a real threat to the best of defences let's hope that we soon start hitting the back of the net. Saturday would be a good day to start.
---
01/10/09
Cyfle i ennill arian mawr / A chance to win big money
Tynnwyd Tote misol Clwb Cymdeithasol Pêl-droed Porthmadog ddydd Gwener 25 Medi. Ddewisodd neb y rhifau buddugol, sef 21 a 37, felly bydd £664 yn cael ei gario drosodd i tote mis Hydref a fydd yn cael ei dynnu ar ddydd Gwener 30 Hydref. I gael cyfle i ennill yr arian mawr, cofiwch godi eich amlenni tote o siop y clwb yn ystod gemau neu yn ystod y Bingo yn y Ganolfan bob nos Wener.

The Porthmadog Football Social Club monthly tote was drawn on Friday 25th September. None of the entries matched the winning numbers, 21 and 37, which gives a carry-over of £664 for the October tote to be drawn on Friday 30th October. For your chance to win big, remember to pick up the tote envelopes from the club shop on match-days or at the Bingo in the Ganolfan every Friday night.
---
01/10/09
Rheol 51.3 yn cael effaith / Rule 51.3 takes further toll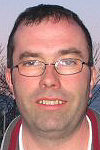 Mae ymadawiad Eifion Jones a Carl Jones yn gwanhau carfan sydd eisoes yn un fach iawn ac yn barod yn dioddef wrth anafiadau a gwaharddiadau. Newidiodd y Gymdeithas Bêl-droed rheol 51.3 dros yr haf gan adael chwaraewyr digytundeb i symud rhwng y cynghreiriau sy'n is na'r Uwch Gynghrair. Mae'r rheol newydd yn dweud "The periods for registration and transfer of players will be as follows: Players registered with a club playing in the Welsh Premier League 1st June until 31st August inclusive and 1st January until 31st January inclusive; Players registered with a club playing in a League below the Welsh Premier League 1st June until the last Thursday in March inclusive." Golyga hyn fod chwaraewyr yn medru cael eu denu gan glybiau yn y cynghreiriau is a chlybiau UGC yn methu gwneud dim i ddod a chwaraewyr eraill yn eu lle.
Daeth i'r amlwg bellach mai Pwyllgor Domestig y Gymdeithas a wnaeth y cynnig i newid y rheol. Mae nifer fawr o aelodau'r Pwyllgor hwn a chysylltiadau agos iawn â'r cynghreiriau sydd o dan UGC. Gyda ychydig o ymchwilio ar gwefan y Gymdeithas Bêl-droed gellir gadarnhau enwau aelodau'r Pwyllgor Domestig. Cadeirydd y Pwyllgor Domestig ydy Ron Bridges, sydd hefyd yn Ysgrifennydd Cyffredinol y Welsh Alliance. Hefyd ar y Pwyllgor hwn mae Trevor Forse sydd hefyd yn Is-lywydd Cynghrair Cymru (y de), Mike Casey Is-lywydd Oes o Gynghrair Cymru (y de) a Brian Fear, sydd hefyd yn Is-lywydd oes o'r gynghrair honno. Oes yna syndod felly fod newid rheol sydd mor fanteisiol i'r cynghreiriau is wedi'i gynnig gan bwyllgor sydd yn drwm lwythog o aelodau sydd a'u prif ddiddordeb yn y cynghreiriau yna.
Wrth ymateb i'r hyn sydd wedi dod i'r golwg dywedodd ysgrifennydd Porthmadog Gerallt Owen, "Mae newid y rheol wedi bod yn hollol wirion ac y cael effaith fawr iawn ar CPD Porthmadog. Os bydd pethau yn dal ymlaen fel hyn cyn ddiwedd Rhagfyr byddwn yn rhoi timau o 9 neu ddeg o chwaraewyr ar y cae am na fydd gennym fwy o chwaraewyr. Gwnaiff hyn i'r Gynghrair Genedlaethol edrych yn hurt." Ychwanegodd, "Chwaraewyr 16, 17 ac 18 oed sydd yn ein Ail Dîm a ddim eto yn barod i gael eu gwthio i chwarae yn UGC. Mae'r holl sefyllfa yn smonach llwyr."

The departure of Eifion Jones and Carl Jones further depletes an already small squad which is already disrupted by injury and suspension. The FAW changed Rule 51.3 over the summer to allow non-contract players to move to and between Leagues below the Welsh Premier. The new rule says "The periods for registration and transfer of players will be as follows: Players registered with a club playing in the Welsh Premier League 1st June until 31st August inclusive and 1st January until 31st January inclusive; Players registered with a club playing in a League below the Welsh Premier League 1st June until the last Thursday in March inclusive." This means players can be tempted away by lower League clubs while Premier League clubs can do nothing to replace them.
It has now come to light that this change of rule was proposed to the FAW Council by the FAW Domestic Committee which is dominated by individuals with close links to Leagues below the Welsh Premier League. A little research of the FAW website confirms the personnel of the Domestic Committee. The Chairman of the FAW Domestic Committee is Ron Bridges, who also happens to be the General Secretary of the Welsh Alliance Football League. Also on the Domestic Committee are Trevor Forse who is also President of the Welsh Football League, Mike Casey who is a Life Vice-President of the Welsh Football League and Brian Fear who is also a Life Vice-President of the Welsh Football League. Is it any wonder that such a rule change, which gives the Leagues below the Welsh Premier such an advantage, was proposed by a committee composed of members whose main interest lies in the leagues beneath the Welsh Premier League.
Porthmadog Secretary, Gerallt Owen commenting on the revelations said "It is a ridiculous rule change which has had a massive effect on Porthmadog FC. At this rate there is going to come a day before the end of December when we will be fielding 9 or 10 players in a game because we have no more players and that will make a total mockery of our national League". He added "Our Reserve side is dominated by 16, 17 and 18 year olds who are not ready to be thrust into a Welsh Premier game. The whole situation is a shambles."
---
01/10/09
Dau chwaraewr yn gadael y clwb / Two players leave the club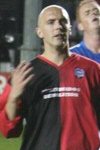 Mae CPD Porthmadog yn cadarnhau fod dau aelod arall o'r garfan wedi gadael y clwb yn ystod y dau ddiwrnod diwethaf. Mae'r amddiffynnwr canol Eifion Jones wedi dychwelyd i Gaernarfon tra fod yr asgellwr Carl Jones wedi gadael i ymuno gyda Phwllheli, ei glwb cartref.
Chwaraeodd Eifion Jones 25(+2) o gemau UGC dros Porthmadog ers ymuno yn 2008. Dim ond tair gêm mae Eifion wedi cychwyn y tymor hwn, yn dilyn dyfodiad John Keegan i'r clwb. Diolchwn i Eifion am ei gyfraniad yn cynorthwyo'r clwb i osgoi disgyn yn 2008/09. Ymunodd Carl Jones â Phorthmadog yn nhymor 2006/07 ond dros y cyfnod, er ei dalent amlwg, dim ond 20(+24) o weithiau ymddangosodd i'r clwb. Nid yw wedi cychwyn gêm y tymor hwn.

Porthmadog Football Club can confirm that two further members of the club's squad have left in the last two days. Central defender Eifion Jones has returned to Caernarfon and winger Carl Jones has departed to join his home town club Pwllheli.
Eifion Jones made 25(+2) WPL appearances for Porthmadog since joining in 2008. Eifion has only made 3 starts this season following the arrival of John Keegan. He is thanked for his part in ensuring that the club avoided relegation in 2008/09. Carl Jones joined Porthmadog in season 2006/07 but over that period, despite his undoubted talent, he made only 20(+24) appearances for the club. He has not started a game this season.
---
01/10/09
Gemau Academi i ffwrdd -unwaith eto / Academy games off -again

Mae mwy o rhwystredigaeth i dimau'r Academi. Dywedodd Eddie Blackburn, Gweinyddwr yr Academi, "Bellach mae'r Trallwng wedi dweud na fydd ganddynt Academi y tymor hwn a felly fydd yna ddim gemau i'r hogiau y penwythnos yma eto. Bydd y tîm hyfforddi yn ceisio trefnu gemau cyfeillgar i gymryd lle gemau yn erbyn y Trallwng ond fydd hynny ddim yn fater hawdd ar gymaint o fyr rybudd." Mae'r canslo hwn yn dilyn gohirio, ar ddau achlysur, gemau a drefnwyd yn erbyn Caersws.
Mae'n dda gweld fod Eddie allan o'r ysbyty ac yn ôl wrth ei waith! "Ni chaf godi pwysau, nag ymestyn gormod ond mi allaf eistedd wrth y cyfrifiadur a gweinyddu!!" mae'n dweud.
Mae Eddie hefyd yn awyddus i glirio unrhyw gamddealltwriaeth ynglyn a rôl Terry Boyle gyda'r Academi. Mae'n egluro fod "Cyd-gysylltydd Academi yn apwyntiad gan yr Ymddiriedolaeth Bêl-droed, ond sydd y caniatáu inni defnyddio'i arbenigedd i hyfforddi ein hyfforddwyr ni. Nid yw ddim o gwbl i wneud gyda swydd Cyfarwyddwr yr Academi sydd, ar hyn o bryd, yn dal yn wag." Diolch Eddie a chroeso yn ôl.

There is more frustration for the Academy teams. Academy administrator Eddie Blackburn says, "Welshpool have now informed us that they are not running an Academy this season and so there will not be any games for our boys this weekend again. The coaching team will try to come up with some friendlies to take the place of Welshpool but at such short notice this will not be easy." This follows on having to cancel on two occasions fixtures arranged with Caersws.
It is good to see that Eddie is out of hospital and back at work! "I am barred from lifting, stretching and twisting but I can sit at my computer and administer!!" he adds.
Eddie also wishes to clear up any confusion regarding Terry Boyle's role with the Academy. "The Academy Co-ordinator is a Welsh Football Trust appointment and gives us the use of his expertise in training our coaches and has nothing to do with our vacancy for Academy Director" he explains. Thanks Eddie and welcome back.
---
30/09/09
Ail Dîm ym mis Medi / Reserves September Round-up

Cychwynnodd y tîm ifanc y mis gydag ymweliad â Phentraeth lle cafwyd buddugoliaeth o 3-2 dros y tîm o Ynys Môn. Agorodd Cai Jones y sgorio ar ôl 5 munud gan ychwanegu gôl arall yn hwyrach. Torrwyd y fantais gyda gôl i'r Ynyswyr yn yr ail hanner cyn i Carwyn Price sgorio'r drydedd i Port gyda 5 munud yn weddill. Er fod Pentraeth wedi sicrhau gôl hwyr Port gipiodd y tri phwynt i'w codi i'r 4ydd safle yn y tabl.
Gêm arall yn erbyn clwb o'r Ynys a ddilynodd ac roedd yna ddim i'w paratoi ar gyfer yr hyn a ddigwyddodd. Sgoriodd Biwmares 8 gôl yn cynnwys hat tric gan Andrew Clarke. Sgoriodd Jack Jones unig gôl Port ar ôl 44 munud. Ni ddaeth gêm gwpan ac ymweliad arall ac Ynys Môn ac unrhyw newid i lwc hogiau'r Traeth. Sgoriodd Gwalchmai chwe gôl gyda Corey Sinnott yn rhwydo pedair gwaith gan roi canlyniad o 6-0.
Nid oedd yr hogiau yn edrych ymlaen at y gêm nesaf, wrth ddychwelyd at y gynghrair, gyda trefn y gemau yn dod a Gwalchmai i'r Traeth. Ond mae'n sicr fod John a Twm wedi gwneud gwaith da o'u codi at y gêm. Er fod Gwalchmai ar y blaen ar ôl 2 funud ni ddaeth yr ail gôl tan 10 munud o'r diwedd gyda Jack Jones yn gwneud y sgôr yn 1-2 parchus munud yn ddiweddarach. Mis trawmatig a dweud y lleiaf!

Porthmadog's youthful reserves began the month with a visit to Pentraeth and recorded a 3-2 victory over the Anglesey club. Cai Jones opened the scoring after only 5 minutes and added a second later on. Pentraeth cut the deficit, only for Carwyn Price to restore the two goal margin with five minutes to go. Though the Anglesey club added a late second Port held out to take the three points which lifted them to 4th place in the table.
Another league encounter with an Anglesey club followed and nothing could have prepared the young team for an 8 goal blasting by Beaumaris with Andrew Clarke completing a hat trick for the island club. Porthmadog's only reply was a 44th minute goal from Jack Jones. A Premier Cup tie and another visit to Anglesey did not bring a change of fortune for Port. This time they went down by six clear goals to league leaders Gwalchmai with Corey Sinnott netting four times.
The lads could not have been looking forward to what the fixture list threw up next with Gwalchmai due for a league visit to the Traeth. But John and Twm must have done a good job at lifting the lads for despite going behind after only two minutes they contained the Anglesey club for most of the game. The second Gwalchmai goal did not come until the 80th minute with Jack Jones reducing the deficit a minute later giving the scoreline a respectable 1-2 look at the end. Quite a traumatic month!
---
29/09/09
Neges gan y cyn-chwaraewr Roly Evans / A message from ex-player Roly Evans
Yn dilyn y diwrnod llwyddiannus a phleserus i ddathlu 125 mlynedd o bêl-droed ar y Traeth derbyniwyd y neges hon drwy e-bost oddi wrth Roly Evans. Roedd Roly yn aelod o dîm y 70au –tîm sy'n cael ei ystyried gan lawer yr un mwyaf llwyddiannus yn y 125 mlynedd o hanes y clwb - gan ennill y gynghrair ddwywaith, cwpan yr Arfordir bedair gwaith, Cwpan Alves ddwywaith a Chwpan Ansells dair gwaith. Isod gwelir beth oedd ganddo i ddweud am y diwrnod yn ôl ar y Traeth.

Following the highly successful and thoroughly enjoyable 125th Anniversary Reunion a message via e-mail has been received from Roly Evans. Roly was a member of the 1970s team -often referred to as the most successful side in Port's 125 year history- winning the League twice and amongst their other successes was the winning of the North Wales Coast Challenge Cup on four occasions, Alves Cup twice and the Ansell's Cup three times. This is what he had to say about his day back at the Traeth:

"Thanks to Dafydd and Porth for the welcome at the reunion. It was wonderful to see everyone after over 30 years. Of the 1970's side I travelled from Wrexham with Ted Turner, as did Jack Jones. We met up with Liverpool lads John Williams, John Morris, Jimmy McCarthy, and Steff Hagan. It was great to see Meilir Owen and Iolo Owen there at Y Traeth. The pitch itself looked in fantastic condition. I recall our groundsman of the 70s Idwal and the equally excellent quality of the ground then. It brought to mind that when Idwal died, as captain I was asked by his family to plant a tree behind the far goal, in his memory. Former secretary Alun Roberts pointed it out to me, and it rekindled a special memory for me. Ted and I did not stay for the Llanelli game. Ted had arranged for us to meet up with Haydn Jones in Caernarfon. This we did. We found him in fine form."
Roly was also at the Rhyl game at the Belle Vue and his comments give welcome backing for Tomi and the lads.
"A week later and I was watching you at Rhyl.......going on the first half there is a lot Porth can take heart from. Strong resistance from Ryan Davies and Foster in defence. I was impressed with Davies first half. A threat on both flanks from Porth in attack. 2nd half and Rhyl's experience told but other than top 3/4 sides I think Porth will cope. Good luck and thanks."
---
28/09/09
Diwrnod braf i ddathlu 125 o flynyddoedd / A sunny day to celebrate 125 years of Port football
Daeth criw da o tua 50 o gyn chwaraewyr Port at ei gilydd ar gyfer Aduniad CPD Porthmadog ar ddydd Sul, 20 Medi i ddathlu 125 o flynyddoedd o fodolaeth y clwb. Dywedodd trefnydd y digwyddiad Dafydd Wyn Jones ei fod yn hapus gyda'r niferoedd a ddaeth i'r achlysur a gyda'r gynrychiolaeth a ddaeth o'r gwahanol gyfnodau llwyddiannus yn hanes y clwb.
Roedd yna aelodau o dîm llwyddiannus y 50au – enillwyr Cwpan Amatur Cymru ar ddau achlysur. Hefyd cynrychiolwyr o dîm y 60au a enillodd Cynghrair Cymru (y gogledd) dair blynedd yn olynnol. Bydd y cyfnod hwn bob amser yn cael ei gysylltu gyda Mel Charles.
Daeth y gynrychiolaeth fwyaf o dîm y 70au cyfnod pan roedd nifer o'r chwaraewyr yn dod o Lerpwl. Y tîm hwn, a rheolwyd gan Johnny Williams, oedd y mwyaf cyson llwyddiannus yn hanes y clwb. Enillwyd y gynghrair ddwywaith yn y 70au ac ymysg y llwyddiannau eraill oedd ennill Cwpan Arfordir y Gogledd bedair gwaith, Cwpan Alves ddwywaith a Chwpan Ansell dair gwaith.
Cafwyd cynrychiolaeth mwy diweddar o'r 80au a'r 90au gan gynnwys chwaraewyr a gynrychiolodd Port yn nhymor cyntaf Uwch Gynghrair Cymru.
Cafwyd diwrnod llwyddiannus gyda rhai chwaraewyr a oedd heb gyfarfod am ddeugain mlynedd yn cyfarfod eu gilydd unwaith eto.


A contingent of 50 former Port players came together once more on Sunday, 20 September for the 125th Anniversary Reunion of Porthmadog FC. Organiser of the event Dafydd Wyn Jones was pleased with the turn out declaring, "The day went very well with a good representation from each of our successful eras."
The successful Welsh Amateur Cup winners of the 50s were represented as was the 60s era, the period in Port football which will always be associated with Mel Charles and his time at the Traeth. During this period they won the Welsh League (north) in three successive seasons. The main contingent represented was of the 1970s when many of the players came from the Liverpool area. This was the most consistently successful team in Porthmadog history. The team managed by Johnny Williams were League Champions twice and amongst their other successes was the winning of the North Wales Coast Challenge Cup on four occasions, Alves Cup twice and the Ansell's Cup three times.
The 80s and 90s were represented including players who appeared for Port in the inaugural season of the then League of Wales.
It proved to be an enjoyable day with players who had not met for 40 years getting together again.
---